Socksoftie Makers Circle 4.1 (Select from Basic to Advanced)
Learn to make a ultra cute sock characters from socks! [Beginner to Advanced Level]..Craft some good times with your friends!
When and where
Location
Cozy Up With Craft 25 Lorong Kilat ##02-03 Singapore, 598126 Singapore
About this event
Learn to sock craft with Sock Softie Studio! Guided by Mia Chua, a Domy Series Master (certified in Taiwan)!
- Basic sewing and stuffing techniques
*Sewing ears and attaching them to the head
*Sculpt the head, body limbs through stuffing technique
*Setting the eyes to create personality (Where applicable)
*Sewing of accessories (Where applicable)
*No prior sewing experience is required. For Advanced level kit, you should have make one socksoftie before.
*Suitable for 13 years old and up.
Note:
1. Please be punctual and arrive at least 5 mins before the class starts. We require tracetogther entry and temperature taking before start of the class.
2. Materials kits are not included. Tools are available to use in the studio.
3. You can bring your own Socksoftie Kit or purchase a kit on the same day. If you cannot complete your socksoftie charactor on that day, you can purchase a ticket for another sewing circle session and bring it to be completed in the subsequent session.
4. In the unfortunate scenario that attendance is disrupted by Covid or related situations, ticket(s) purchased will be granted a change of date (which must be within 3 months from the original workshop date).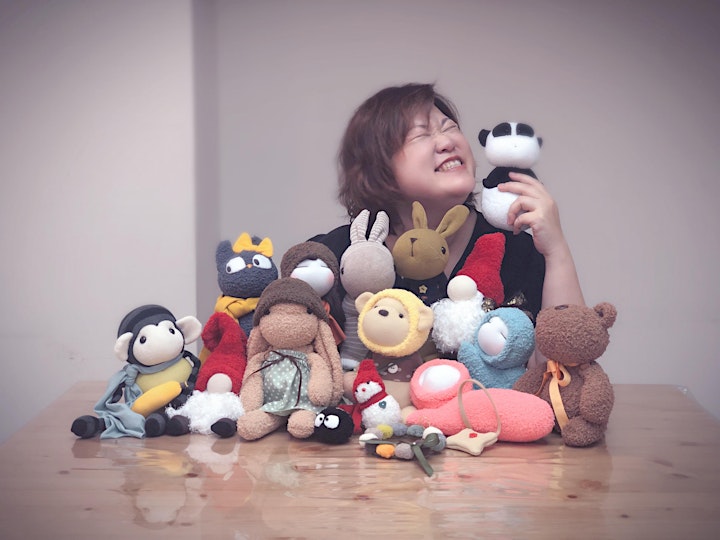 Socksoftie Studio is run by a crafter Mia who enjoys making little handmade using different types of socks. She calls them Socksoftie! Mia is trained to create 19 different sock dolls from the Domi Series. The Domi Series are the creations of Gracehandmade2. Mia is also a locally certified Adult Educator (WSQ ACTA and DACE) with more than 12 years of experience in corporate training.
Why sock craft? Different Socksoftie can take 1-5hours to sew - manageable duration for busy people! The materials (socks!) are easily to find and affordable. The knit and stretchable property of the sock makes them adaptable! Sew sock it is!

Terms & Conditions
1. Fees for scheduled workshop must be paid fully in advance to secure your booking. Your booking is only confirmed once full payment has been received.
2. Once your booking is confirmed, no refunds or transfers to another class will be given.3. Payment will be fully forfeited in the event of No Show regardless of unforeseen circumstances. We recommend that you arrange for someone to attend in your place. Please inform us of the person who will be attending in your place prior to the start of the class.
4. The organiser of the event, management and staff or anyone involved with the event will not be held responsible for any mishap due to the incorrect use of equipment/tools or any allergic reaction to the materials used during class. If you have any material allergy, kindly check with us before registering for the class. For any enquiry, please message us.
5. The organiser of the event reserves the copyrights of photography and videos taken in class for future promotional purposes, without prior notice. If you do not wish to be included in such, please email at Mia@socksoftiestudio.com prior to the class. Failure to do so will mean that you waive all rights to Socksoftie Studio/Cozy Up with Craft to use photos or videos that we have captured during the class.
6. Participant agrees to follow all safety precautions and instructions provided to prevent any injury to themselves and other participants, as well as damage to the studio
7. Participant agrees to indemnify the studio and the instructor against any damages or injuries that may be sustained to themselves, or their belongings, during the workshop.
8. The studio reserves all rights to pursue legal action for any damage to the studio or injury to the instructor.
9. Cozy Up with Craft & Socksoftie Studio reserves all rights to make changes or update these terms and conditions whenever necessary. In case of any dispute, we reserve all rights to make the final decision.