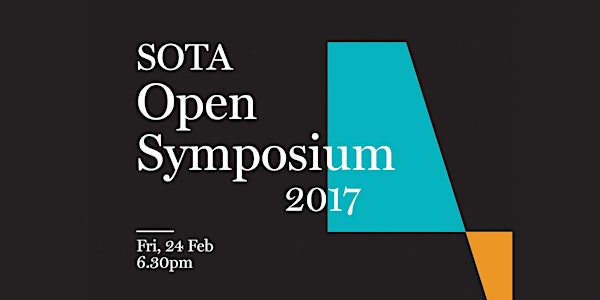 SOTA Open Symposium 2017
By School Of The Arts, Singapore
Date and time
Fri, 24 Feb 2017 18:30 - 20:00 +08
Location
School of the Arts Singapore SOTA Multi-Purpose Hall, Level 6 1 Zubir Said Drive Singapore, 227968 Singapore
Description
Thank you for your interest in SOTA Open Symposium. Registration is full.
If you wish to attend our next symposium, please come to our Open House on 8 April 2017, Saturday. More information will be available on our website soon. Follow us on Facebook for updates!
------------------------------------
Find out more about SOTA's 6-year integrated arts and academic curriculum leading to the
International Baccalaureate Diploma at our Open Symposium.

If you have a child in Primary 5 or 6 who possesses passion and aptitude for Dance, Literary Arts, Music, Visual Arts or Theatre, you will not want to miss this opportunity to find out more about SOTA.

------------------------------------
Programme
6.30pm Arrival of guests at SOTA Multi-Purpose Hall, Level 6
(Academic and Affective subject booths will be available. Parents may approach the teachers at the booths for information about the Academic and Affective subjects.)
7.00pm Start of Open Symposium
Sharing by Ms Lim Geok Cheng, Principal, SOTA
7.20pm Arts sharing sessions (at various locations)
As all sessions will take place at the same time, please select ONE artform only
8.00pm End of programme
------------------------------------
Admission is free. Seats are limited and it will be on a first-come, first-served basis.
Kindly note that parking is limited on site, and available on a first-come, first-served basis. Parking rates are available at HERE. Parking is also available at The Cathay and POMO. You are strongly encouraged to use public transport or consider arriving earlier to find alternative parking spaces.
About the organiser
The School of the Arts (SOTA) is Singapore's first national pre-tertiary specialised arts school with a six-year integrated arts and academic curriculum, leading to the International Baccalaureate (IB) Diploma or Career-related Programme, for youths aged 13-18 years old.

Under the ambit of the Ministry of Culture, Community and Youth (MCCY), SOTA offers a dedicated development path for those who have interest and show early talent in the arts, providing a learning environment where both the artistic and academic potential can best be realised.

With a vision to nurture creative citizens for the future, SOTA aims to identify and groom artistic and creative learners who positively impact Singapore and the world, through a vibrant learning environment that is anchored in the arts.