Popular in Demand! Learn how different reading methods can assist us to find clarity in life and 2022!
About this event
2021 has been a year of learning and mastering -- what can we expect in 2022?
Are you ready for a transformational year in 2022?
Clarity for 2022 - Reading in 30mins (Zoom Introduction)
We all have the inner wisdom to guide us in life. However, when life gets challenging, we may need help gaining clarity.
Reach out to six of the experienced healers/readers using different methods such as tarots, crystals, numerology, astrology and runes, to understand the unique characteristic and tune in to check which is more resonate with your heart and soul.
In this introduction session, we will invite the six healers/readers to share more about their experiences and give more insight about 2022!
The actual reading sessions on 18, 20, 21 December by various healers/readers can be booked via https://soulitaire.eventbrite.sg
About the six healers/readers:
1. Rowen Ong (@shimure) Rowen has been studying and practicing Runes, Tarot, Bazi, Astrology for more than 20 years. He is the chairman of the Tarot and Cartomancy Association (Singapore). In 2021, he led the creation of the South east Asian Myths and story (SEAMS) tarot which is a collaborative project done by 42 artists from South East Asia.
2. Eugene Leong (@hybridtarot) Eugene Leong is co-author of the Hybrid Tarot, a 43-card deck that is themed on combining the Tarot and Lenormand systems in a cohesive fashion. This deck re-imagines the Tarot by further bringing the cards to life with stories of deities, ascended masters, angels, and/or elemental guardians. The Hybrid Tarot is a self-published deck funded with the support tarot enthusiast around the world via KickStarters, a crowd funding platform.
3. Brina (@kaleidoscopereading) A self-taught psychic who can attune to personal spirit guides, crystals and animals. Able to do reading for career, overall well-being, relationship, health etc. She is capable of advising which crystals is best suited for individual and what are the crystals to avoid. Intuitive in doing fengshui crystals and crystal array for work and events.
4. Justin Saw (@justinsaw) Having achieved the perfect balance between being a tech geek and an intuit, Justin is spiritual and extremely connected with Mother Gaia. He has been drawn to nature since young and as a child he discovered that he possessed the ability to communicate to trees and enjoys collecting stones during his playtime. Justin has grown up to be an energy healer who is attuned with reiki, crystal, angelic as well as Egyptian healing. His other abilities include aura reading, channeling and divination through the use of various gift such as Oracle and Tarot cards.
5. Janet Chui (@janet.chui.art) Janet is the artist and creator behind the Self-Love Oracle. Drawing fantastical subjects since childhood and holding a B.A. in Journalism, she's worked in tourism and publishing, and is currently studying Astrology and Counseling Psychology. After her experiences with motherhood, divorce, Tibetan Buddhism, healing, and the supernatural, she pushes others to heal through radical self-acceptance and expression.
6. Oliver Yong (@the.oracle.journey) Oliver has been exploring Spirituality and Metaphysics since 2012 and has stepped up to be a practitioner and trainer for this area since 2016. He started his journey at the early age of 12, with his first Tarot deck – Osho Zen Tarot. Over the years, he has trained under many great teachers and mentors in diverse fields such as Numerology, different types of Divination, Magick, Psychic Awareness and Energy Healing - Sekhem and Reiki Healing.
Fee:
Your energy. Come in to share good vibes and well wishes for 2022!
Email to sea@soulitaire.com.sg for more information.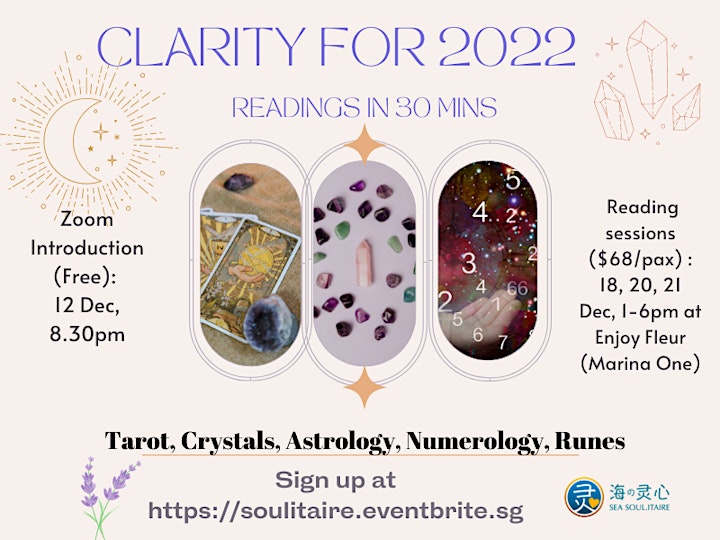 Organizer:

SEA Soul.itaire is a member of the Singapore Centre for Social Enterprise (raiSE):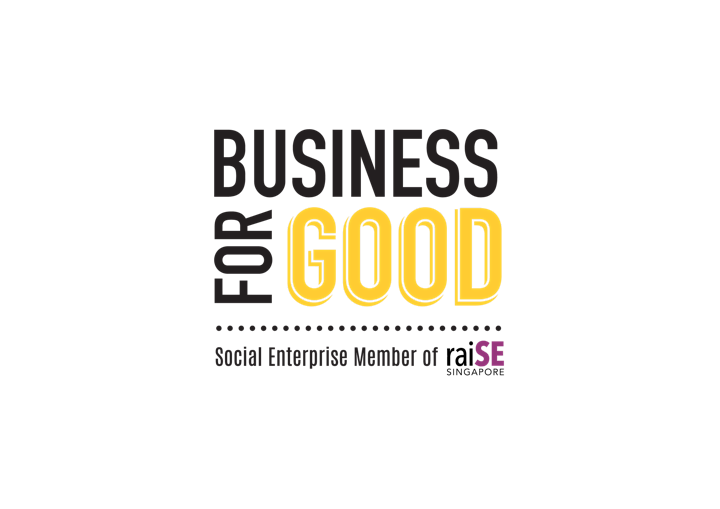 Organiser of Soul Interest: Clarity for 2022 (Free Zoom Introduction)
Soul Empowerment Agency (SEA Soul.itaire 海の灵心) is a social enterprise (member of raiSE) for purposeful living provides holistic wellness program and services/products for self-love, empowering you to be the best version of your yourself!
We also building a community for soul workers to network, outreach and contribute to the society.
SEA Soul.itaire 海の灵心 believe all souls are beautiful. We devoted ourselves to improve the mental health & well-beings of individuals and supporting a team of single mums who are dedicated and passionate soul workers. 20% of profit will be funding the Assistance Fund for low income, caregivers, stay at home mum and single-parent to receive quality services provided by the agency.
SEA Soul.itaire 海の灵心提供一系列疗愈身心灵的课程与活动,以协助人们学习关爱自己并达臻人生目标与使命。
此中心励志与各心灵连结。 在主办身心灵活动的同时,也提供一个平台让心灵导师互相交流。 心灵导师可以通过参与中心的课程和服务,提升技能及推广疗愈。
我们是一个社会企业,致力于改善人们心灵素质,并协助一群由单亲母亲组成的心灵治疗师。我们也为低收入家庭、护理者、家庭主妇、单亲家庭等提供救援津贴,为他们提供优质的身心灵服务。