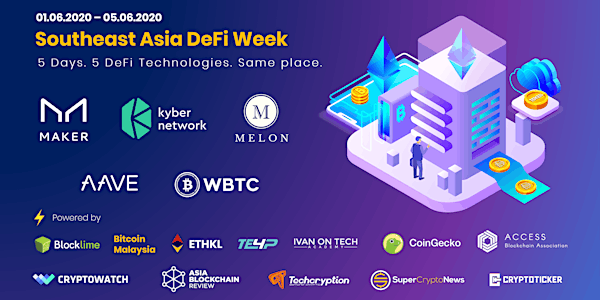 Southeast Asia DeFi Week | Learn 5 DeFi Technologies in 5 Days
Learn 5 DeFi technologies in 5 days.
About this event
Following the success of Enterprise Blockchain Week, we are very excited to bring you another round of education series with Southeast Asia DeFi Week!
Decentralised Finance (DeFi) refers to an emerging and fast growing set of financial services that are built on open public blockchains and smart contracts.
If this was a mouthful to understand, you're not alone and that's why we are here for you and make your learning experience into DeFi easy, fun and rewarding. 😄
Starting June 1st, you will be learning 5 different DeFi technologies over 5 days, what they are, how are they different and how you can use them.
Maker
Kyber Network
Melon Protocol
Aave
Wrapped Bitcoin (WBTC)
Two hours each session. Dates and time as follows: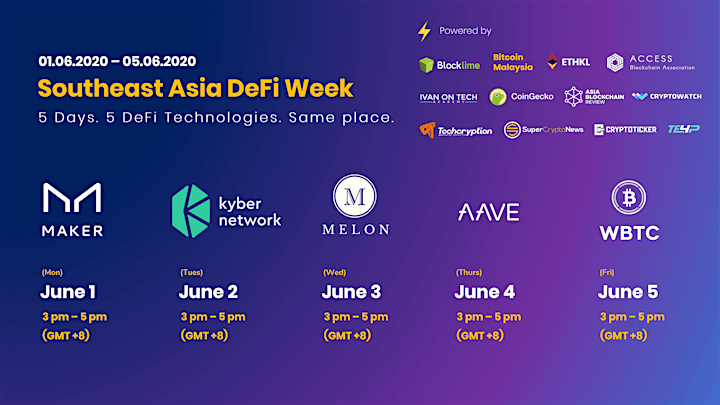 What are you going to learn in 5 days
At the end of 5 days, you are going to learn
What is DeFi
Why does DeFi now exist
What does DeFi mean for the world
What does DeFi mean for you
Where do you begin
What applications exist today - You will learn 5 in 5 days.
What can you do, what problems can you solve with these DeFi applications
What potential benefits can each application bring to you
If something excites you, how can you contribute .
Who is this event for
This event is suitable for people with basic knowledge about cryptocurrencies and blockchain technology. However, we will make it as easy as possible for the beginner to follow and understand.
We definitely welcome beginners with zero knowledge to attend because you will have a chance of leapfrogging and fast tracking your learning experience with this rare event.
How to Attend
Each session will be livestreamed on BitcoinMalaysia's Facebook Group and Partner Channels. However, we highly recommend that you register here on Eventbrite so that:
You will receive reminders via email of the event times and changes (if any).
You will be eligible to get a unique Proof-of-Attendance NFT token after each session you attend.
You will be eligible to get partner giveaways, exclusive trials or discounts (if any).
Remember, only those who register will be eligible to get ALL the good stuff. So register now and be quick too! 😉
Your Moderator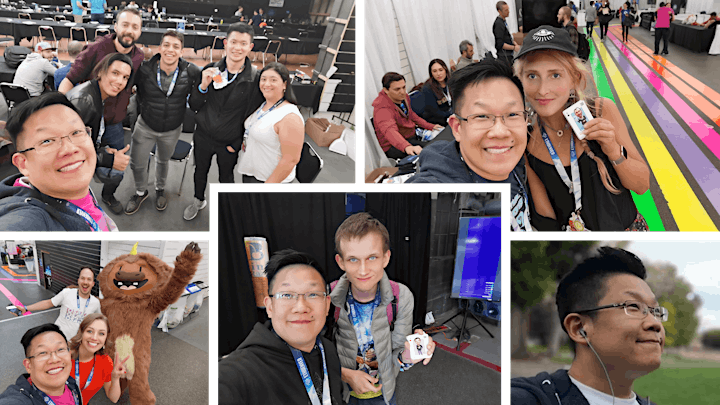 Jason Chew, Managing Partner, BitcoinMalaysia.com
Jason is a community builder and also manages BitcoinMalaysia, the largest cryptocommunity community built since 2012.
Jason's first experience in the cryptocurrency rabbit hole began with Celebrus Advisory, a recognised Top 10 blockchain consulting company in Asia Pacific. Jason has played an extensive role advocating the safe and responsible use of cryptocurrencies, helping new entrants differentiate the real and fake through his easy to understand talks. Originally from the renewable energy sector, Jason is also the founder of EMPOWER - a startup that is developing a blockchain-based decentralised finance (deFi) product for the renewable energy sector, that issue loans so that more people can install solar panels for their residential rooftops.