"Speaking & Training as a Career" Evening Workshop

Wednesday, 26 July 2017 from 19:00 to 22:00 (Singapore Standard Time Singapore Time)
Event Details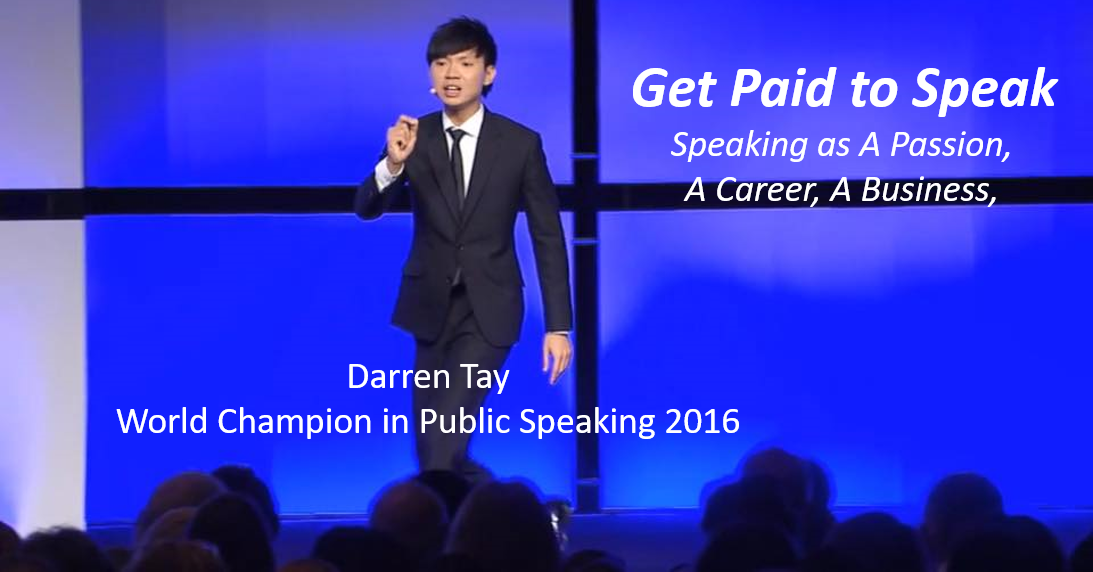 Have You Wanted To Become A
Star Speaker

?
Or even turn speaking into a
Career

?
Or
get paid on a Part Time

basis for Sharing on stage?

If the answer is yes to any of the above, please read this letter carefully!

Hi there!

I am Darren Tay and most probably know me as the World Champion in Public Speaking in 2016. After winning at the event, I travelled around the world to share my passion for speaking. But even before that, I started the Public Speaking Academy in 2008 and had a career in speaking. Allow me to share 2 common myths about being a Paid Speaker. 

Myth #1: All Great Speakers are Born With The Talent To Speak!

I agree that there are some who are born with natural advantages to mesmerize the audience. But I am sure you will also agree that with the right speaking techniques, anyone can IMPROVE on their speaking skills. And if you keep improving, it is inevitable that you too can become a great speaker who inspires on the stage.

Truth: With the Right Skills, Techniques and Practice, anyone can be a better speaker and eventually a great speaker




Myth #2: If I can speak well, I will get paid! 

The truth is, there are many speakers who can speak well, but are not paid! This is simply because they do not know HOW to GET PAID!

A sadder truth is there are speakers who are not as good but they are getting paid handsomely. The difference is not ONLY how well you can speak, but ALSO how well you can navigate your way in the business of speaking.

Truth: Without understand the Speaking Business & Career Model, you are unlikely to get paid as a speaker. 


At The "Speaking & Training as a Career" Evening Workshop (20th Feb 2017), I would like to share with you the 2 important components to becoming a Star Speaker and how to possibly turn your speaking into profits or a career.
Speaking Skills + Speaking Business & Career Models


Here's What You Will Learn…
#1: Speaking Skills
"Facts tell; stories sell. But not all stories created and delivered by speakers are created equal". Learn the 4-step proven system to craft powerful stories to motivate, inspire and persuade in 15 mins. Stories to make your audience members sit at the edge of their seats wanting more from you

Learn the secrets of the World Champion to keep you audience engaged throughout your speech

Master powerful non-verbal communication skills (vocal variety, eye contact, hand gestures, stage positioning) to turbo charge your charisma and influence speaking to your audience

Learn the key differences and preparation strategies for a (keynote speech); (workshop presentation); (premium small group training)
#2: Speaking Business & Career Models 
The Business of Star Speaker Quadrant:.Understanding which side of the quadrant you are in and how to move towards being in the Star Speaker quadrant. 

The 4 key steps to building your speaking career/ business. 

Making the Stage. How to reach an expert status and get invited to speak at events 

Actionable steps to get started in your speaking career. 
BONUS!
This workship is valued at $188, but we are looking for potential speakers who would partner us for 2017.
As such, we are giving away 30 seats free!
And you can grab a free seat at this evening workshop if the tickets are still available! 
Seats are limited due to room capacity!
About Your Speakers
Main Trainer: Darren Tay
Darren is World Champion of Public Speaking 2016 and is the founder of Public Speaking Academy. He is also the Best-selling Author of "Express to Impress" and has trained over 100,000 students and working professionals from Corporate Organisations such as HSBC Singapore and InterTrust Singapore. He spoke at multiple Conventions and Careers Fair and also represented Singapore in the International Negotiation Competition 2014 held in South Korea.
Co-Speaker: Sean Seah
Sean is an award winning speaker, and best selling author. He has been featured in the Sunday Times, 93.8fm, Investor's Central, The STAR papers (Malayisa), Investor's Digest (Canada) and many other medias and he is often invited to speak at events and conferences in Singapore and overseas. 
He will be sharing on the Speaking Business Portion and share how you can be regconized as an expert too. 
When & Where

International Plaza
10 Anson Road, International Plaza
#26-16
Singapore, 079903
Singapore

Wednesday, 26 July 2017 from 19:00 to 22:00 (Singapore Standard Time Singapore Time)
Add to my calendar
Organiser
The Public Speaking Academy, a corporate entity, is a fast growing local and regional influence in the personal and professional training domain. Focused on accentuating the aggregate confidence of individuals to express and impress, the Public Speaking Academy is honored to receive the strong support of Education Institutions as we begin efforts in transforming the public speaking culture into a more vibrant one.
Financial Joy Institute, a subsidiary of 8IH (Listed in ASX), is an organization set up to break all barriers to financial education. Their signature programme Value Investing Bootcamp, branded under Value Investing College is held in 11 different countries and works closely with top investor around the world to bring best investment systems to empower individuals.
"Speaking & Training as a Career" Evening Workshop