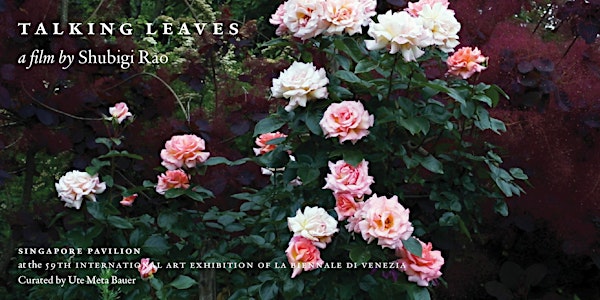 Special Screening of Talking Leaves (2022) by Shubigi Rao
This special screening is part of Pulp III: A Short Biography of the Banished Book, by artist Shubigi Rao and curated by Ute Meta Bauer.
When and where
Location
Capitol Theatre 17 Stamford Rd Singapore, 178907 Singapore
About this event
This special screening of Talking Leaves is part of Pulp III: A Short Biography of the Banished Book, by artist Shubigi Rao and curated by Ute Meta Bauer. Commissioned by the National Arts Council, Singapore for the Singapore Pavilion at the 59th International Art Exhibition of La Biennale di Venezia, Pulp III marks the midpoint of Rao's evocative 10-year project Pulp, which explores the history of book destruction and its impact on the futures of knowledge.
Held at Capitol Theatre, one of Singapore's finest cinemas in the 1930s and a significant site during the golden age of Malay cinema, this screening is a reminder of Singapore's vital film history.
Programme
Registration will start from 7.30pm
8.00–8.30pm Reception
8.30–9.00pm Opening Remarks
9.00–10.30pm Film Screening
About Talking Leaves
Filmed over five years in various locations including Venice and Singapore, Talking Leaves highlights the tales of those at the forefront of the effort to save books and libraries through personal confidences and elegiac reflections, as well as incendiary documentary and mytho-poetic languages.
Partially filmed in Venice, a city that embodies a vital history of print and open access, the film depicts, among other stories, how books from a now-defunct archive of women partisans and genocide survivors are rescued. Those at the frontlines of saving books and libraries speak of smuggling volumes out of danger, preserving endangered languages and vanishing cultures, while sharing the sorrow of losing access to personal and collective pasts and histories.
Discussions about the historical connections of access to knowledge and political power with Italian professor of book history Mario Infelise are interwoven with conversations about the strategies of tyranny to silence and censor. Venetian librarian Ilenia Maschietto shares stories of banned books and her favourite books of resistance, while academic Marco Borghi explains how alternative archives can act as safeguards of democracy. The poet Bianca Tarozzi invites us into her library sharing the books that survived the devastating 2019 floods in Venice. Singaporean writer Melissa de Silva reads aloud from a book of idioms in Kristang, an endangered language of Melaka's and Singapore's Eurasian communities.Retired librarian Saralee Turner recites passages from Not Out of Hate by Myanmar writer Ma Ma Lay, while another, who chooses anonymity, describes the threats to contemporary libraries and free knowledge. Through these stories, we see the book as an embodiment of collective thought, labour, and readership, and we recognise the book as an intimate holder of humanity and community.
Pulp III: A Short Biography of the Banished Book by Shubigi Rao and curated by Ute Meta Bauer will be presented at ArtScience Museum from 6 to 24 January 2023. Free admission.
The Singapore Pavilion is commissioned by National Arts Council, Singapore (NAC). Part of Singapore Art Week 2023.
About National Arts Council, Singapore
The National Arts Council champions the arts in Singapore. By nurturing creative excellence and supporting broad audience engagement, our diverse and distinctive arts inspire our people, connect communities and profile Singapore internationally. We preserve our rich, cultural traditions as we cultivate accomplished artists and vibrant companies for the future. Our support for the arts is comprehensive — from grants and partnerships to industry facilitation and arts housing. The Council welcomes greater private and corporate giving to and through the arts so that together we can make the arts an integral part of everyone's lives. For more information on the Council's mission and plans, please visit www.nac.gov.sg.
About Capitol Theatre
Capitol Theatre, part of a prime integrated development Capitol Singapore, is an architectural and heritage treasure. The venue remains contemporary and vibrant thanks to its exceptional interiors and leading-edge, world-class audio and visual equipment. The theatre's 977-seat venue is the first in Southeast Asia to have a rotational floor system that allows for flexible seating configurations, making it an ideal setting for any event.