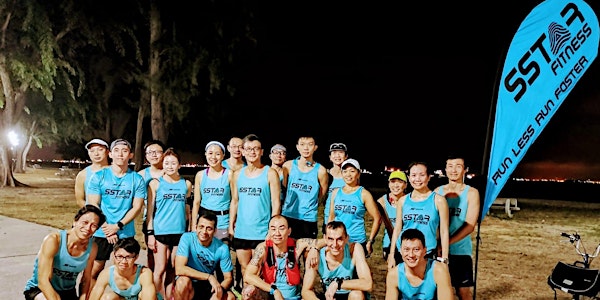 Multiple dates
SSTAR.fitness Crew weekly group running sessions (every Tue, Thu and Sat)
Join our running club if you are keen to achieve a break through in your race timing. Start with a 21-day free trial!
Date and time
April 27, 2019 · 6:45am - October 17 · 8:30pm +08
Location
behind the Sports Hub Library, Sports Hub (on Thu and Sat) and Bishan Stadium on Tues. Locations may change due to rain, so pls join this Whatsapp announcement chat group for training day updates 5 Stadium Drive Singapore, Singapore 397631 Singapore
About this event
We welcome all runners who are keen to improve their fitness, or are looking for a breakthrough to achieve a better race timing. Our running club is the only one that is founded and led by two full-time running coaches, Andrew Cheong and Diana Lee; they are the first and only Singapore couple that have achieved the World Marathon Majors Six Star medal. Between them, they have completed more than 100 marathons.
We train three times a week, on Tues, Thurs and Sat. Join us if you are interested to sign up for a 21-day free trial. After your trial, you should consider any one of our six-month training programs (prices range from $50, $100 and $200 per month). When you have completed your training, you will be a Club member and get to run for free every Thurs and Saturdays with no expiry date, plus you get to enjoy Club member benefits like discounts for running shoes, sports equipment and more.
Unlike many other running clubs, we put a lot of focus on training and preparing you for races. Of course we have our social and fun side as well! Follow our Club activities on Facebook, Instagram and Strava
Saturday 6am or 6:30am morning Long runs
We meet behind the Sports Hub Library at 6:00am or 6:30am and end by 8:30am to 9:00am. This is a easy effort, chit-chat pace, aerobic long run. Join us if you are already running 10km or longer. Depending on your race, you will building up your ability to cover between 12km to 32km.
Thursday 6:45pm evening tempo runs
We meet behind the Sports Hub Library at 6:30pm and do a 5km to 8km (sometimes 10km) tempo run. This is a comfortably hard effort, you finish the run panting but satisfied with a good workout. Tempo runs train your ability to run faster that Lactate Threshold. We use a combination of short, medium and long tempos. There will be pacers to help run with you, so choose a pace group that you are comfortable with and train to get faster!
Tuesday 6:45pm speed interval and strength training
We meet at Bishan Stadium, 6:30pm for interval training around the 400m track, we cover a range of 400m to 1600m intervals to prepare you for races from 10k to the marathon. Core, Flexibility and Strength exercises will be conducted after the run. Strength training will focus on bodyweight and unilateral movement to build strength and reduce the risk of running injuries.
Keen to start a 21-day FREE trial? Please fill up our registration form, IMPORTANT - you MUST call or Whatsapp Andrew Cheong, Head Coach and SSTARfitness founder , to confirm before coming - mobile 94239403. We want to welcome you and we don't like surprises :-)
For details and maps to our training locations - SSTAR.fitness training locations
More about Andrew Cheong - https://bit.ly/About_SSTARfitness
FAQs
Are there ID or minimum age requirements to enter the event?
The minimum age is 16 years. Our most experienced runners are aged 60+ 
What are my transport/parking options for getting to and from the event?
Stadium MRT is 100m away from the Sports Hub Library, car owners can park at Carpark L in front of the Indoor Stadium. On Tues, Bishan MRT is a few min walk from Bishan Stadium
What must I bring to the event?
You should be already in your running attire and shoes, wear a GPS enabled sports watch, and bring a towel to lay on the floor for exercises if you wish. Bring you own hydration (isotonic drink is recommended for Sat long runs) 
Is there a bag deposit before the run?
You can place your valuables and your water bottles in our cars before the run.
What happens when it rains?
When it rains on Tues or Thurs, we meet at the Sports Hub Library (no change) and train under shelter at the 100plus Promenade. If it rains on Sat, we meet and wait for the rain to stop. If there are cancellations, we announce it over Whatsapp, it's a one-way broadcast - no chatter. To join our Whatsapp annoucement group, click here
How can I contact the organizer with any questions?
Please call or Whatsapp Andrew Cheong, SSTAR.fitness at mobile 9423-9403 or email andrew@sstar.fitness one day before you come.
What's the refund policy?
Our 21-day free trial is F.O.C. Once you have completed a 6-month program, Thurs and Sat sessions are also free, with no expiry. The six-month training program fees range from $50, $100, and $200 per month. Six months has to be paid in full before you start. There are no refunds except under special circumstances (eg you are posted overseas, etc).
Do I have to bring my printed ticket to the event?
No, but if you have not registered with this link, then you will be asked to scan a QR code or register and complete a health declaration when you arrive
About the organizer
SSTAR.fitness provides personalized, customized sports coaching for runners from beginners to Boston qualifiers. Every workout is different, we follow a global, proven training methodology from the Furman Institute of Running and Scientific Training (F.I.R.S.T.), For the time-crunched, busy executive, you can run less, yet run faster.
https://www.runnersworld.com/training/a20799296/run-your-best-marathon-with-less-training/
covering speed intervals, tempo, and long runs. You will learn how to do track workouts with the right combination of active and passive recovery; improve your VO2Max and Lactate Threshold with tempo runs and cruize intervals. Improve your aerobic fitness with long runs. Correct your running gait, strengthen your core and learn running drills that will make you a more efficient runner.