Do you feel invisible in the sea of people when you are online and want to stand out? Do you want to have your voice heard and be taken seri
About this Event
NOTE: This online meeting will be conducted "LIVE". that is why you need to Register with your accurate particulars in order to access the link.
Are You Ready to LEAP?
COVID19 has changed the way we work. People are forced to make quick leaps into the virtual world. With everyone scrambling and trying to continue their businesses and work in the new norm, how can you capture people's attention and present yourself with confidence to the online audience?
This talk aims to give an overview of how knowing your body shape, fashion and personality style can help you to stand out confidently in the crowd and be the go-to authority online.
This is for WOMEN who wants to…
Rise above any crisis and challenges
Have a breakthrough in their business, professional and personal lives
Go from being stuck in FEAR to having the COURAGE to live a life of SIGNIFICANCE
Be EQUIPPED & EMPOWERED to help other women
Gain clarity and focus with YOUR life
WHAT YOU WILL GET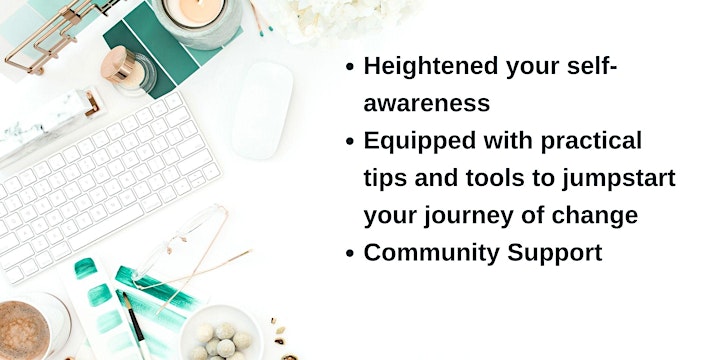 You will gain knowledge of the different PERSONALITY types and how each individual is unique and expresses themselves differently.
How to move from body IMAGE to body CONFIDENCE & creating authentic and powerful presence
You will be discover how to get READY with STYLE with CONFIDENCE under 10 minutes.
You will gain SELF AWARENESS in your thought process and emotions through introspective reflection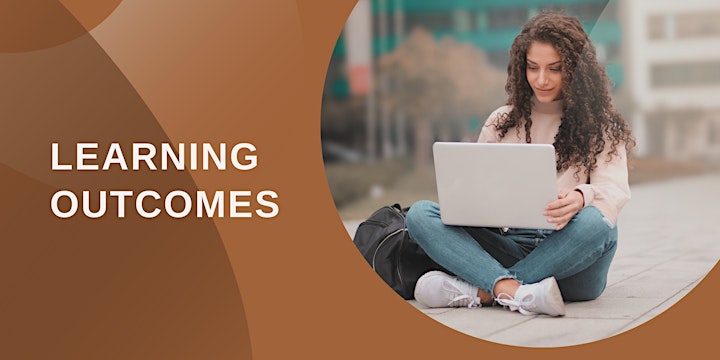 You will appreciate diversity in the personality types, that every individual is unique & different, how your personality will impact their behavioral patterns and how they express & present themselves.
You will be more self-reflective, intentional and conscious of your behavioral patterns when it comes to communication & relationship building.
Boost your personal confidence and increase personal acceptance of strengths and weaknesses.
You will have the know-how to pick clothing pieces to suit their body shape, style and in their colours so that you will dress to suit, elevating your credibility, visibility and authority as a result.
You will be able to save time in getting ready,eliminating the frustration as well as hussle. So that you will look presentable and feel more confident.
THE SPEAKERS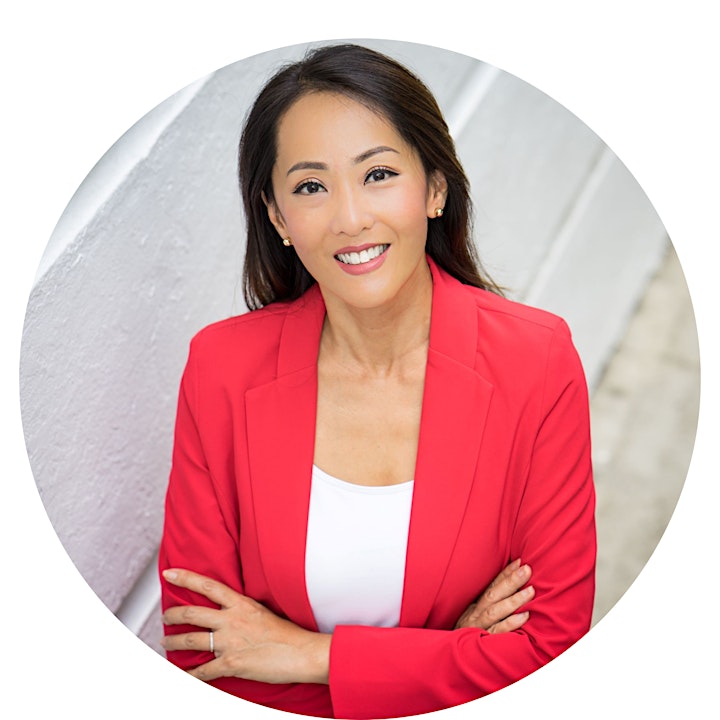 Carol is a Confidence Coach and Change Maker. She helps women unleash their inner goddess through her coaching blueprint. She is an NLP practitioner with The American Board of Neuro-linguistic Programming as well as a certified Style Coach with Style Coaching Institute, London. She was recognised as one of 100 Faces of International Iconic Influencers by Aesthetics International in India, Singapore and London in 2019.
Carol is the only Singaporean to be chosen to co-author the book - Break Through, with World's #1 motivational speaker, Les Brown. She enjoys cooking and dancing with her 2 children aged 7 and 9.
TESTIMONIALS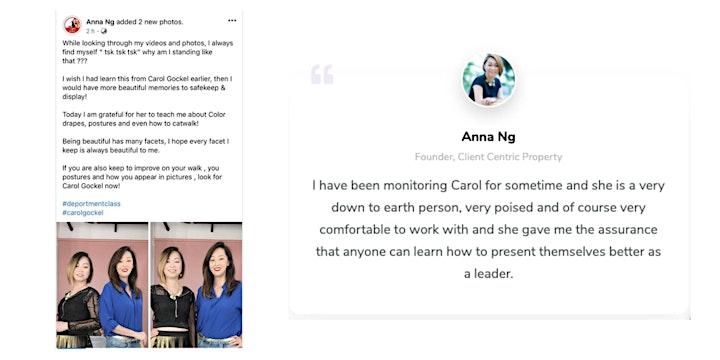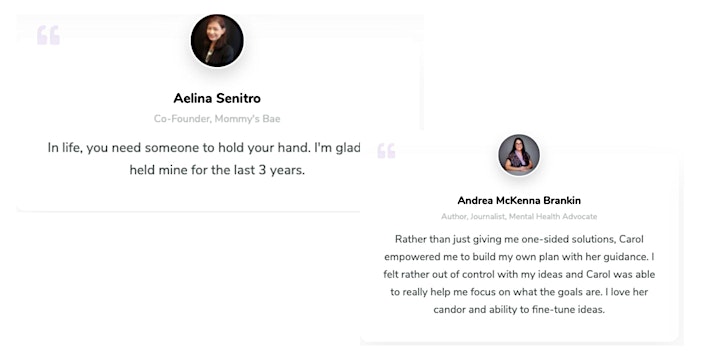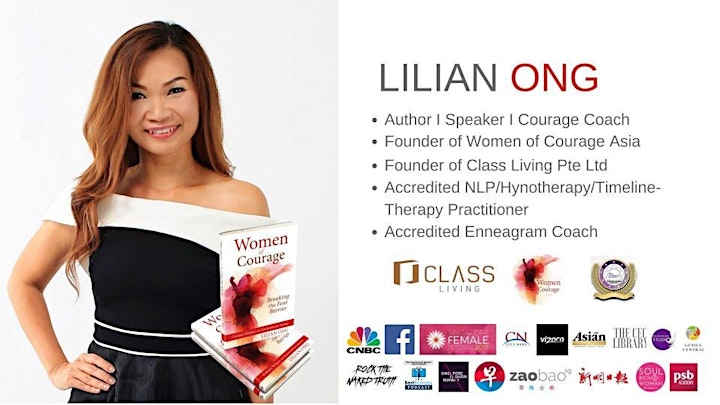 LILIAN ONG is the founder of Class Living Pte Ltd and Women of Courage Asia, which are women-empowering platforms. She is also an author, social entrepreneur, life coach, and speaker who has touched thousands of lives through sharing her story of Awakening Courage and Breaking the Fear Barrier.
She has volunteered in many projects around the region, including the Singapore Girls Home and Mercy Team Cambodia. But what most don't know is that for many years, Lilian struggled with self-doubt & fear; battled with postnatal depression, had body image issues and attempted suicide a few times.
Now Lilian focus her time in inspiring & empowering women by awakening their courage to live a life of Significance through Coaching, Mentorship and Community Support.
TESTIMONIALS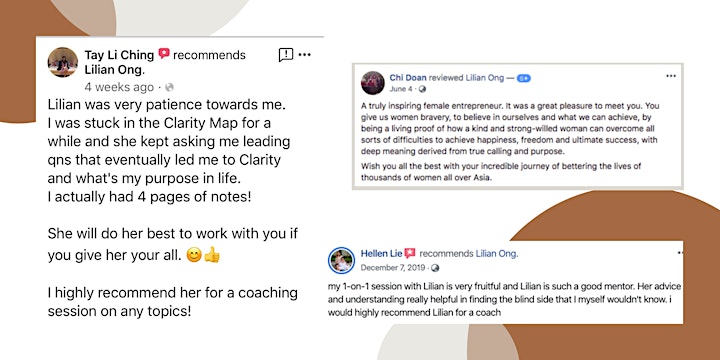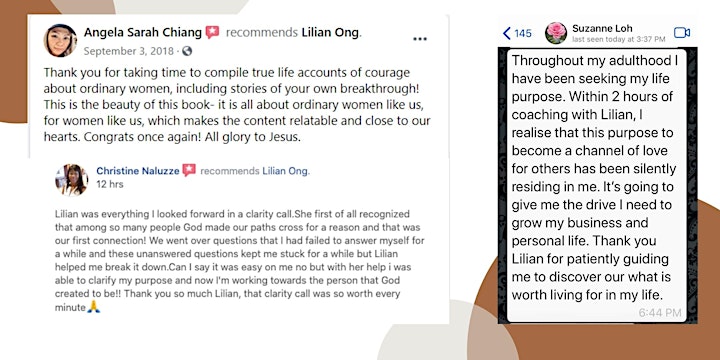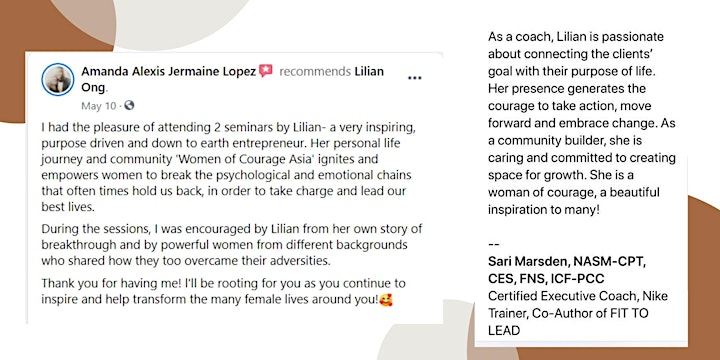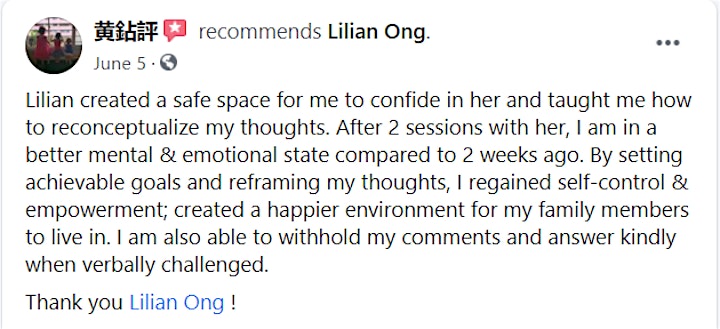 To know more about Lilian and what others are saying about her, click on the link below.
REGISTER NOW!
Your TIME is NOW!!!
It's time to Go from being stuck in FEAR to living a life of COURAGE!
It's time to build healthy Relationships that last!
It's time to Rise above any crisis and challenges!
It's time to win back your life!
*NOTE:
IN ORDER TO RECEIVE THE LINK & DETAILS, PLEASE MAKE SURE YOU SUBMIT YOUR ACCURATE PARTICULARS.