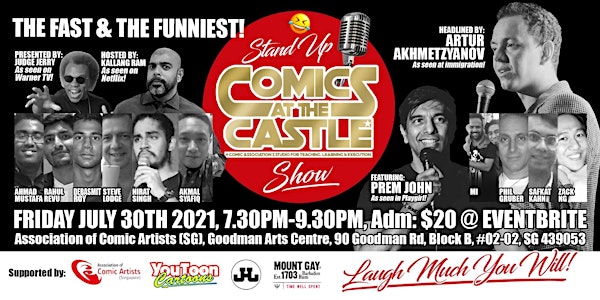 Stand Up COMICS At The CASTLE Show
From ComicBooks to Stand-Up Comics, the Association of Comic Artists (Singapore) (ACAS) is proud to present its Live Comedy Show this July!
When and where
Location
Association of Comic Artists (Singapore) (ACAS) @ The CASTLE Goodman Arts Centre, 90 Goodman Road Block B, #02-02 Singapore, Singapore 439053 Singapore
About this event
SOLD OUT!
WE'RE BACK HOME!
Last month, CATC returned after the much dreaded Covid break, though that was at our sister venue, Crane (which will now happen bi-monthly, with featured special acts).
So this month we're absolutely ecstatic to be back at The CASTLE (Comic Association's Studio for Teaching, Learning & Execution).
Once again, DJ Judge Jerry will be here to greet guests with an eclectic blend of Caribbean reggae and USA heavy funk. He sets the mood by introducing co-founder and host, Kallang Ram, who gets the party started with his unique and fast growing welcoming satire.
THE FAST AND THE FUNNIEST theme is then put on rapid display, with 11 comics hitting the stage in timely succession. The evening is split into two halves, with the first segment being headlined by Prem John of Channel 5 fame, and later, topping the night will be none other than, Artur Akhmetzyanov.
Artur is, amongst many accolades, the winner of the 2018 Bangkok International Comedy Competition. He's also Singapore's only Russian comedian, blazing a trail on the Singapore comedy circuit. Artur has massive appeal, making a name for himself as an incredible storytelling comic with powerfully funny punchlines.
Reserve your place ASAP!
Event Details
Date: Friday 30th July 2021
Time: 7.30pm-9.30pm
Location: Association of Comic Artists (SG), Goodman Arts Centre, 90 Goodman Rd, Block B, #02-02, Singapore 439053
Admission: $20.00 per Individual (Audience M18++),
Presented by: Jerry 'Judge' Hinds, as seen on Warner TV!
Hosted by: Kallang Ram, as seen on Netflix!
Headlined by: Artur Akhmetzyanov, as seen at immigration!
Featuring: Prem John, as seen in Playgirl!
Also Showing:
Ahmad Mustafa
Rahul Revu
Debasmit Roy
Steve Lodge
Nirat Singh
Akmal Syafiq
MI
Phil Gruber
Safkat Kahn
Zack Ng
"Laugh Much You Will!" =)