Description
"Anyone can cook, but only the fearless can be great."
– Chef Gusteau (Ratatouille)
Are you a home cook with culinary skills that people rave about?
Are you ready to take on the challenge of cooking in a professional kitchen?
A chance to win attractive cash prizes?
Introducing the inaugural Star Chef Competition (Home Edition) 2017, jointly organised by the Restaurant Association of Singapore and Singapore Chefs Association!
This is the first time the respected annual Star Chef Competition for professional chefs is launching an edition for home cooks, and only 16 teams of 2 persons each will be admitted for a chance to win cash prizes.
The Home Edition is a platform for non-professional cooks to showcase their culinary skills and gain the unique experience of working in a professional kitchen.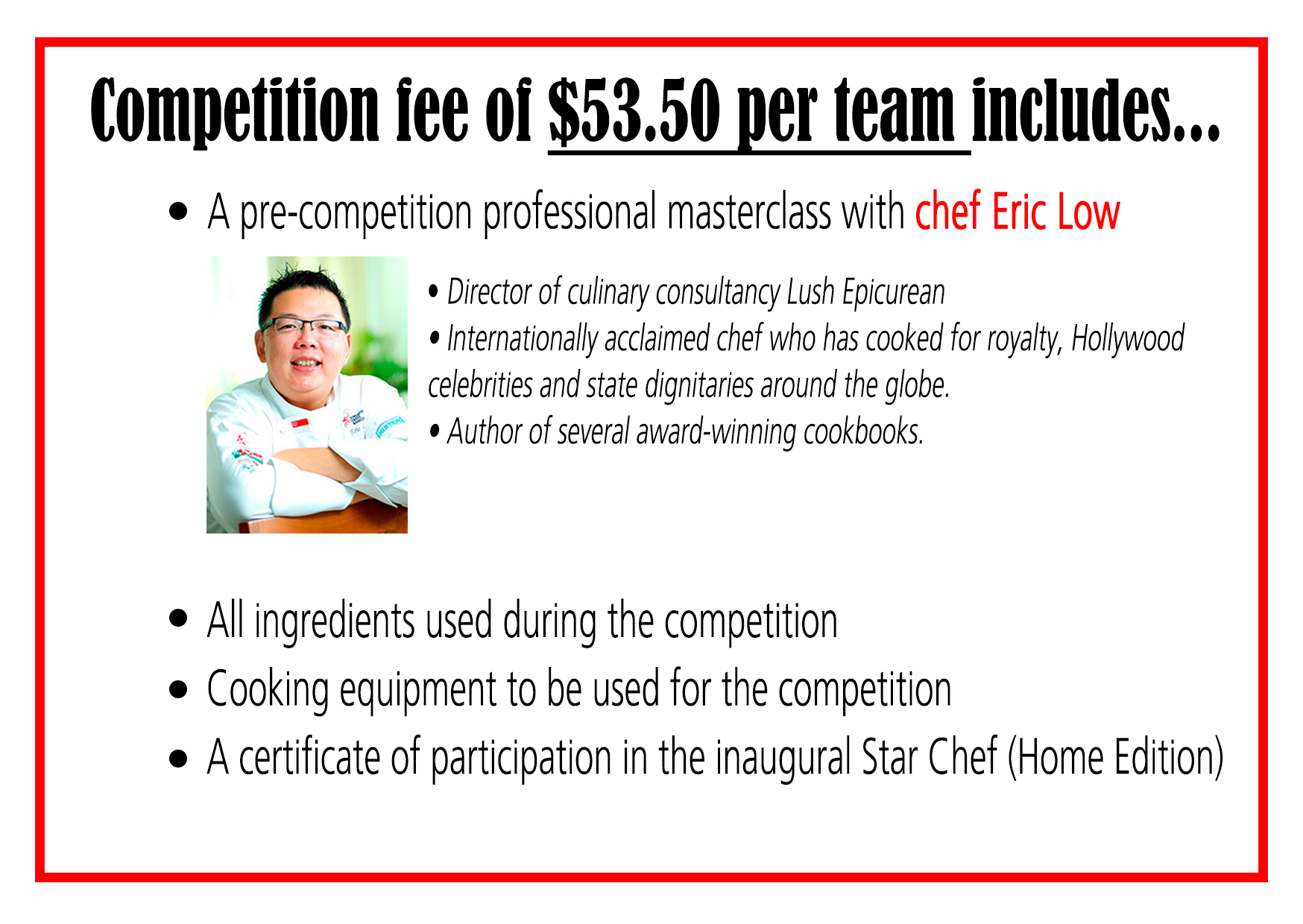 Prizes (per team)
S$500 for Champion

S$300 for first runner up

S$200 for second runner up
Competition details:
Saturday, 26 August 2017
Two sessions to choose from: 8am to 12noon / 1pm to 5pm
Participants must register as a team of 2
Team composition
2 members per team
Age 21 years and above
Participants should not have career experience in the kitchen operations (i.e. chefs, sous-chefs, kitchen assistants, etc)
Participants should not be current students
Dishes to prepare
Appetizer - Seafood (Hot/Cold)

Main Course – (Meat/Poultry)
Strictly no pork, lard & shark's fin in all dishes
Rulebook
Professional masterclass with Chef Eric Low
Will be held on Saturday, 12 August 2017, 9am to 1pm at Asian Culinary Institute
To participate, please select a timing and click on Ticket button above.
For further enquiry please call Jacky Chen or Zac Low at 6479 7723 (Mon - Fri, 9am-6pm).
Registration closes 4 August 2017!
Date and Time
Location
Asian Culinary Institute Singapore
11 Eunos Road 8 #03-01
Lifelong Learning Institute
Singapore, 408601 408601
Singapore