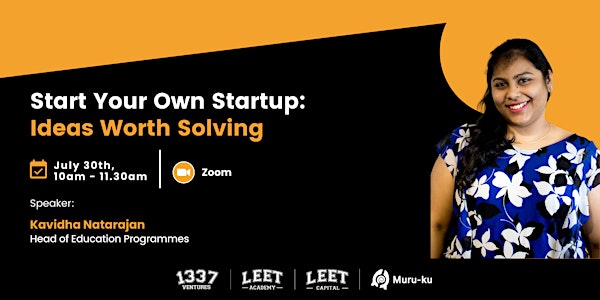 Start Your Own Startup: Ideas Worth Solving
Start Your Own Startup: Ideas Worth Solving
About this event
Ever wondered what's keeping you from starting your entrepreneurial journey? but you don't know exactly what it is you want to do or if it's even the right time? Don't worry, we've got you covered. In this upcoming webinar on 30 July 2022 (Saturday), we'll explore potential ideas worth solving.
We often forget that the most successful entrepreneurs in the world all started the same way: they didn't know what the first step was or what they had to do, but they managed to take it and become the amazing success stories they are today. So if you're looking for some inspiration and advice on starting your own venture—or if you're just curious about what's keeping others from doing so—then join us for this session!
What you'll get from joining the webinar:
Learn how Design thinking improves innovation in terms of market impact, value creation, and speed through a user-centric way of thinking.
Dive into existing problem statements worth solving in Malaysia
About Speaker:
Explore these possibilities with our speaker Kavidha Natarajan, she is currently the Lead of Leet Academy, the education branch under 1337 Ventures. Through that, she has led the project team for two successful digital accelerators, as well as numerous other programmes in support of the academy and 1337 Ventures. Kavidha has been in the training industry for more than 10 years, working with more than 2500 people and corporate executives in the areas of communication, entrepreneurship, design thinking, and leadership in the workplace. Through her expertise in gamification and game-based learning, she inspires breakthroughs through fully immersive simulations that can be applied to real life.
The zoom link will be given closer to the date.