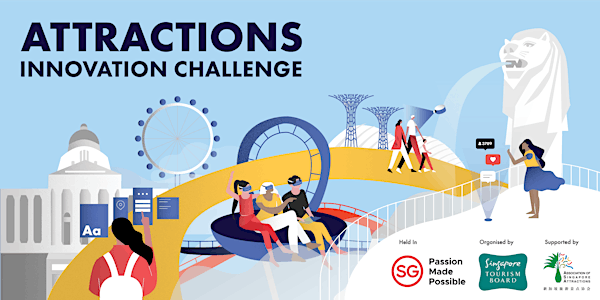 STB Attractions Innovation Challenge: Launch Day
Date and time
Mon, 14 Jan 2019 14:00 - 17:00 +08
Location
Main Event Hall, Singapore Flyer 30 Raffles Avenue, #02-03 Singapore, 039803 Singapore
Description
In Singapore, Attractions is a core pillar of the tourism sector, bringing about both direct economic benefits and demand for related industries such as accommodation, retail, and dining. Sightseeing, Entertainment & Gaming, which accounts for 21% of Tourism Receipts, was also one of the fastest growing components in 2017.
To enable the Attractions industry to stay ahead of the competition and continue capturing the mindshare of increasingly discerning visitors, we are looking for technology companies to come up with innovative solutions to solve some of the most pressing issues faced by the industry today.
Join us at the Attractions Innovation Challenge, where you will uncover exciting business opportunities with various attractions as well as supporting precincts.
We'll unpack this Challenge at Launch Day on 14 January. Join us to find out what's in store for you!
Challenge Topics:
Managing labour more effectively to enhance productivity
1. How might we better connect and train suitable casual labour to available opportunities at various Attractions?
2. How might we automate ticketing sales and its verification process, so that manpower may be optimised to enhance visitor experience?
Designing world-class customer service
3. How might we improve wayfinding within Attractions to maximise visitor experience?
4. How might we overcome language and cultural barriers in a sustainable manner to deliver better service for visitors?
Enhancing visitor experience and driving revenue
5. How might we overcome physical constraints within Attractions to deliver and refresh content and experiences so as to improve experiences and drive revenue?
6. How might we reduce the need for queuing and/or enhance the queuing experience?
7. How might we better track visitor movement and behaviour so as to gain a deeper understanding of visitor interests in order to deliver a better experience, and/or improve resource deployment?

For more information, please visit the Challenge website here, or send us an email at info@padang.co.