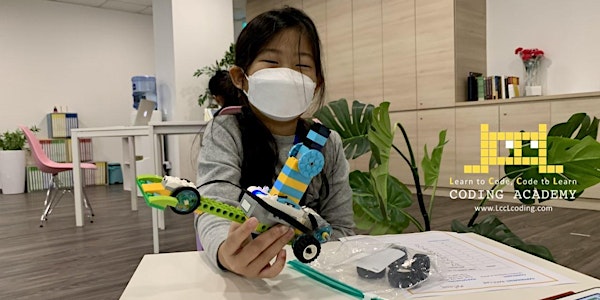 STEM & Coding Camp: Build , Code & Run Science Experiments Level 1 (E-SC1)
Learners engage in hands-on, "minds-on" activities by designing, building and coding useful robots and machines, and then presenting them!
When and where
Location
LccL Coding Academy 19 Tanglin Road #04-20 Tanglin Shopping Centre Singapore, 247909 Singapore
About this event
Event details
For 5 - 6 y.o. and 7 - 8 y.o.
1 week long camp, Monday to Friday, 3 hours each day
Small learning group of 1:6 teacher-student ratio
Devices and materials provided
Camp Levels 1, 2, 3 available based on experience
Intakes
Pick an intake (all Mon - Fri, 09:00am - 12:00pm):
Nov - Dec 2022
7 - 11 Nov
14 - 18 Nov
21 - 25 Nov
28 Nov - 2 Dec
5 - 9 Dec
12 - 16 Dec
Early bird discount
Super Early Bird: $530
Early Bird: $570
Regular camp fee: $600
Sibling discount
10% off for second sibling
15% off for third sibling
Sibling discounts are stacked on to any early bird discounts and apply only if you register via this form.
Pre-requisites
No pre-requisites. Suitable for all children 5 - 6 y.o. and 7 - 9 y.o . who have never worked with Lego Education WeDo 2.0.
Video: Brothers explain the code they programmed on Milo the Rover (from Level 1 camp). At LCCL, we emphasize true learning and understanding.
Video: An activity in level 2 camp: conducting an experiment on resilience of buildings with differing heights of centres of gravity in an earthquake. The young camper created and coded the contraption.
What do students learn?
This is an elective camp at LCCL Coding Academy focused on STEM learning using the Lego Education WeDo 2.0. The Lego Education WeDo 2.0 is developed to engage and motivate students' interest in learning science and engineering-related subjects, through the use of motorized Lego models and simple coding.
Students will be facilitated to learn by asking questions and solving problems. Students will be facilitated to question what they know and explore what they do not yet understand, as part of developing scientific enquiry and curiosity.
Students engage in 4 levels of progression:
Explore - connect to scientific question or engineering problem, establish line of inquiry and consider possible solutions.
Create - build and code a Lego model.
Test - students given tasks to modify the model based on investigation, design and usage goals.
Share - students present and explain solutions they have created.
STEM
Scientific observations and enquiry on the natural and physical world
Engineering enquiry on modern machines and how they work
Engineering design of robot motion
Robotics parts and functions
Fundamental Coding Concepts
FAQs
How do I know if my child is suitable for this?
Beyond age, there is no other pre-requisites. Your child, whether a beginner to robotics and coding, with minimal coding experience or has never worked with the Lego WeDo set before, will be suitable for the class.
Is the class in-person?
This is an in-person class, held at LccL Coding Academy's flagship Tanglin campus with safe management measures.
What happens if my child cannot attend it due to COVID-related matters?
In the event of non-attendance or lockdown due to COVID-19, you may reschedule to another intake within the year. There is no refund to fees paid.
How do I know more about LccL?
Check us out at LccLcoding.com or visit us virtually.
How do I contact LccL?
WhatsApp or call 6817 2957. Click here to WhatsApp instantly.
Video: An activity in level 1 camp: build and code a pulling robot, then conduct an experiment with it.