Sales Have Ended
Ticket sales have ended
Thanks for registering for the upcoming Coaching Class! See you there!
Sales Have Ended
Ticket sales have ended
Thanks for registering for the upcoming Coaching Class! See you there!
Description
Both the US and Singapore markets plunged over 30% in March 2020 but have since recovered about 30% and 16% respectively.
Many analysts say this is a V-shaped recovery, so have you missed the boat of profiting greatly by buying low and selling high?
Yet every day, I am sure you will also read about bad news with some headlines like:
IMF downbeat on global economic forecast
Pandemic send US jobless rate to 14.7%
Cash-strapped people rush to pawnshops in Malaysia
So what's going on? While the stock market reflects the FUTURE collective earnings of the listed companies, does this optimism about the future reflect reality as we can see it?
In this Masterclass, I wish to share with you my analysis and why I think this optimism is misplaced. This is a health crisis which in turn is causing an economic crisis because economies are shut down, supply chains are disrupted and individuals and corporates are holding on tight to their money.
Why then did the market recover so fast? Well, there are some factors such as the low interest rate environment as well as the huge Quantitative Easing adopted by the Fed and many other central banks. Is this the cure? We shall explore this during this Masterclass.
What if my analysis is wrong? Well, the current market valuation is already high anyway (and we will share the indicators to show you). Keep majority of your portfolio in cash and opportunities will come. .
Always invest with a long-term mindset and buy only wonderful companies when they are undervalued. While hard to find now, there are some good companies which are undervalued. Bershire Hathaway is probably undervalued now and you can sleep well when you purchase this stock which will compound your wealth.
During this Masterclass, we will also unveil a strategy through Options instrument that renowned investor Warren Buffett also uses to collect cashflows "while waiting for stock prices to reach target levels", and this can translate to annualized return of 10 to 20%! Below are my actual transactions.

In this workshop, we will first research where we are currently, carry out a situation analysis, re-visit the key pillars of sound stock investment, understand your emotions during a very volatile market, devise a game plan you can follow rationally and discuss some stocks you can buy.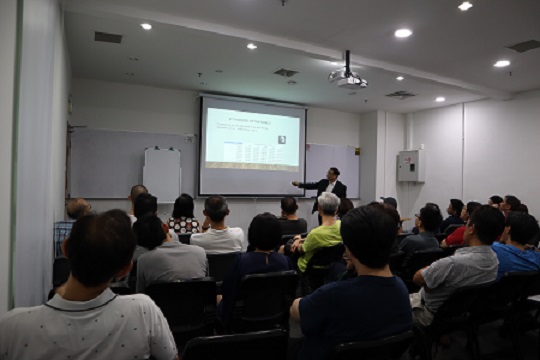 In this 2-hour Masterclass, we will cover:

Where are we in this crisis?

Situation analysis

Key pillars of investing

Managing your emotions when investing

The Game Plan

List of 10 stocks to buy
Zoom details will be provided after your registration.

---
About the trainer
Tan Liong Hai has some 20 years of senior level experience in the telco and technology sectors. He is also a serial entrepreneur who has founded a few successful companies. He spends a large part of his time now just investing in the stock market, growing his stock portfolio which currently stands at $1mil, built up from capital saved and years of investing. When he decided to step away from the corporate world, he took courses in Value Investing and Options strategies.
A prolific reader of investment books and publications, he is co-founder of investment blog Journeywithmoney.com and a trainer of 2 stock investment programs, with unique contents developed by him and his partners. He is also co-founder of the investment Mastermind Group Financial Gym. He is author of personal finance e-book "Journey Towards Financial Freedom"