Location
The Nook Studio (The Improv Company)
#02-05 Aliwal Arts Centre
28 Aliwal Street
Singapore, 199918
Singapore
Refund policy
Contact the organiser to request a refund.
Eventbrite's fee is nonrefundable.
Strangers In-Sync bring you a fun time with classic short-form improv games!
About this event
Show Synopsis
Come join the Strangers In-Sync crew for a night of fun, wit, and chaos with fast-paced improv games! Be a part of the show as they take your stories and prompts to create spontaneous scenes live on stage. From silly blunders to serendipitous moments, these bunch of Strangers will keep you guessing and laughing with them all night!
Cast: BX Tang | Feihong Chen | Hamza Kaiser | Nicole Ng | Paul Monk | Chen Zhiming | Dave Mel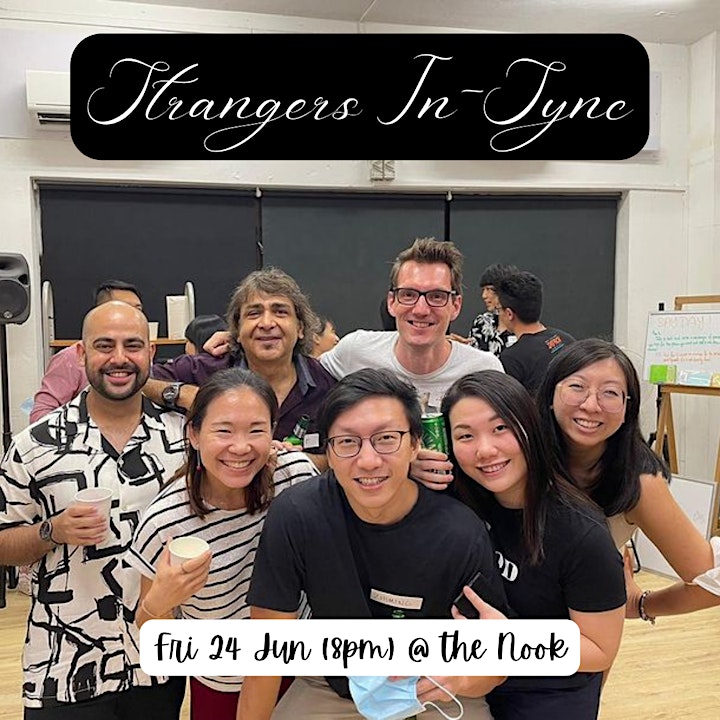 Event Details
Timing
Fri 24 Jun 2022 (8.00pm - 9.00pm)
1-hour performance (no intermission)
Doors open 10-15min before showtime
Venue
The Nook Studio (TIC)
#02-05 Aliwal Arts Centre (S199918)
Price
S$15.00 per person
Free seating on-site
Discounts
TIC Vouchers - Please remember to enter your voucher code when prompted before completing your payment
Early-Bird Discount (20%-off) - Use Promo Code 'pineapple' - Ends Tue 21 Jun 2022 (11.30pm)
Other Details
Performed in English
Rating: Advisory-16 (Some Mature Content & Coarse Language)
About the Performers
Strangers In-Sync is exactly what happens when eight people are united by their love for improv comedy. Formed in 2021, they're dedicated to spreading the joy of improv on stage as a way to escape reality. Come catch one of our show, and we'll show you how in-sync we can be!
What's 'improv'?
'Improv' is short for 'improvisational theatre and comedy'. As the name implies, improv is a special form of theatre wherein no scripts are involved! Rather, the performers have to create their stories on the fly, usually with the help of their audience. This creates a unique experience where no two shows are the same, and where both performers and audiences actively collaborate as part of the storytelling.
About The Improv Company
Founded in 2013, The Improv Company is Singapore's first and biggest school of improvisational theatre and comedy. We welcome dozens of new students every month, imparting the positive values of "Yes, And" to every new cohort.
Over the years, we've also produced and performed in hundreds of improv shows. Our coaches have supported a handful of performing groups; some have gone on to grow as independent troupes, while others stayed as TIC's House Teams. Internationally, we've represented Singapore at numerous festivals around the world. We even host the Singapore Improv Festival, which we produce biennially since 2016.
Ultimately, we hope to keep advancing improv as an applicable approach to daily life as well as a staple form of community theatre in Singapore!