About this Event
Not sure what are your options abroad after Sec 4, Sec 5 , O, N levels, JC 1, JC 2 or ITE?
Considering your options to fastrack your education overseas?
Perhaps you are a National Service man who is going to ORD soon, but has yet to make any plans?
This event is for students who are completing secondary education (IP, O , GCSE, ITE, N or Sec 4) or JC1 or A level / Diploma interested to find out more about Pathways (Foundation or Int'l Year 1) route to World Top 100 Unis Overseas. Choose from more than 60 UK/ Australia Uni Fdn providers offering hundred of programs and find out the difference between Overseas Pathways from local A levels & Polytechnics
Speak to one of our Senior Education Counsellors & Uni Pathway Staff (thru Zoom) who would be able to list down your options and assist you to making an application on the spot! Once you have an offer, your dedicated counsellor will also guide you and your family in making a quick and sharp decision so you can be on your way to start your new journey!
Participating Pathways Institutions (Foundation | Int'l Year One)
International Study Centre (Leeds, Durham, Sheffield, Sussex, Sussex, Surrey, Royal Holloway)
Uni of Adelaide College
Cardiff 6th Form College
Academic program that we cover in this event:
Foundation Studies
International Year One / Diploma
UK A Levels
Bring your education certificates / latest results & copy of passport for free appln & consultation directly with Pathway Staff & our senior counsellors.
ATTRACTIVE SCHOLARSHIP AVAILABLE!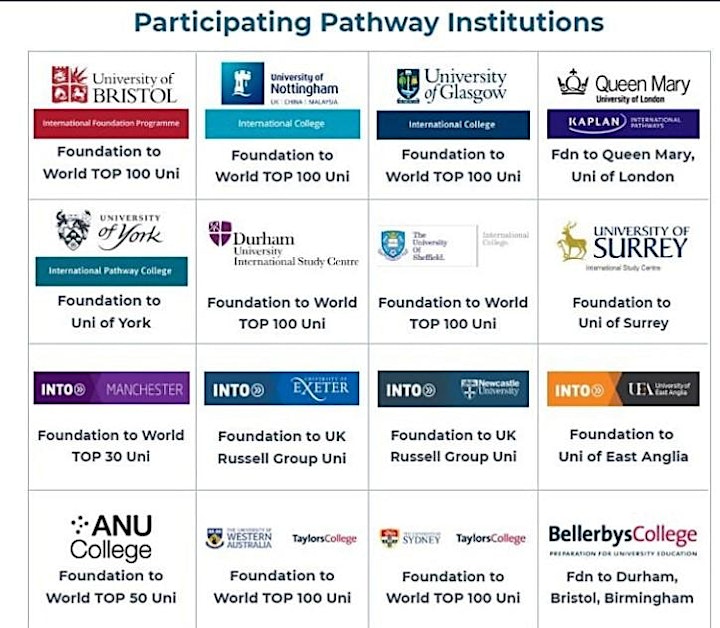 Why FOUNDATION?
Fast track / save time
Get into a high-ranked universities
Smaller class-size / more support
More relevant subject & prepare you well for the degree
Who should attend this event?
O /N/ A levels & IB Students
Polytechnic Diploma Students
Private Diploma Students
Parents
Degree Graduates
*Foreign students who reside in Singapore are welcome
OUR PARTNER LISTS & AVAILABLE SCHOLARSHIP FOR PATHWAYS: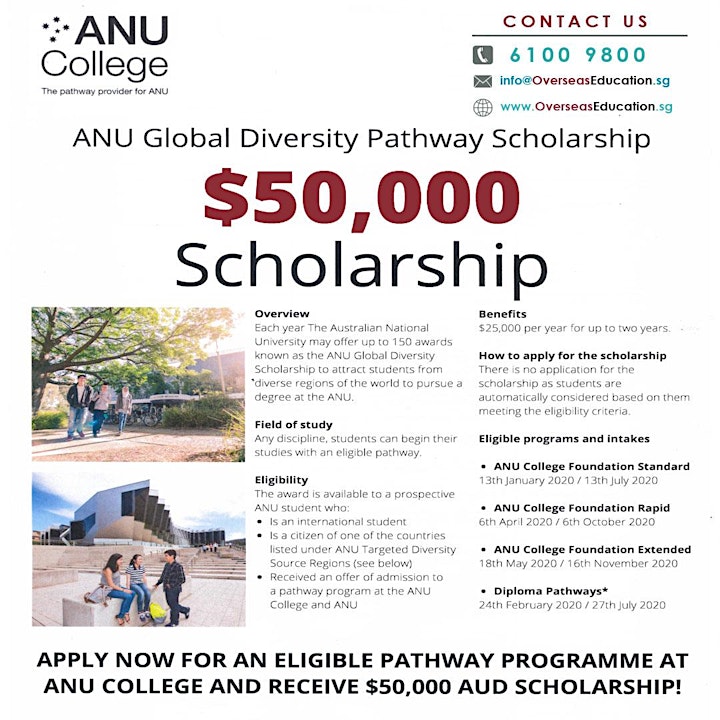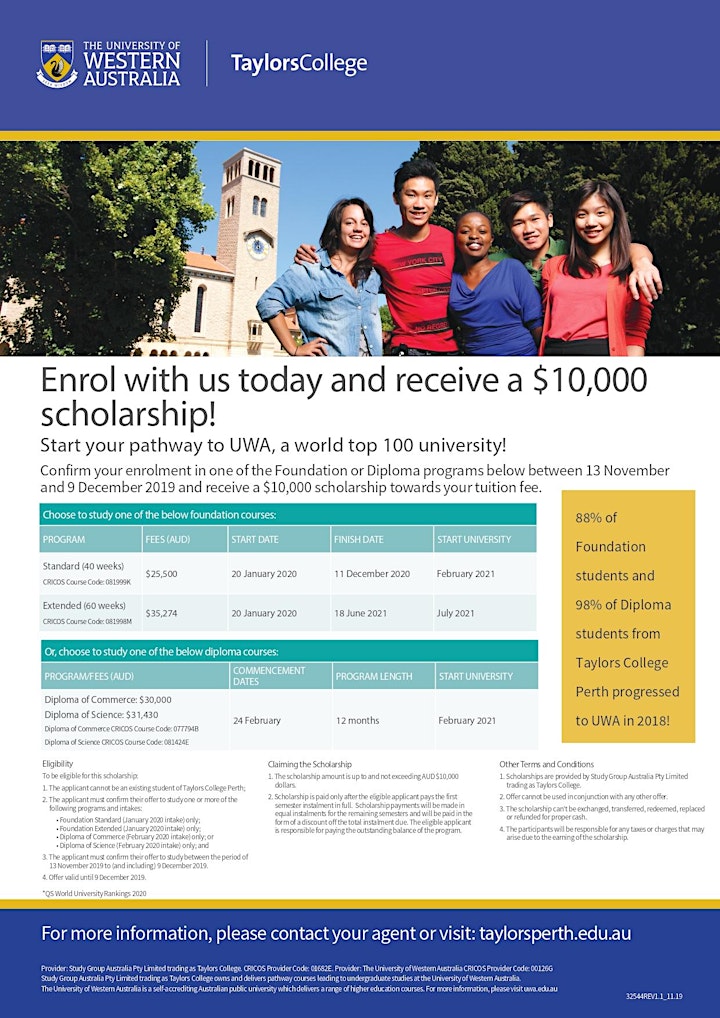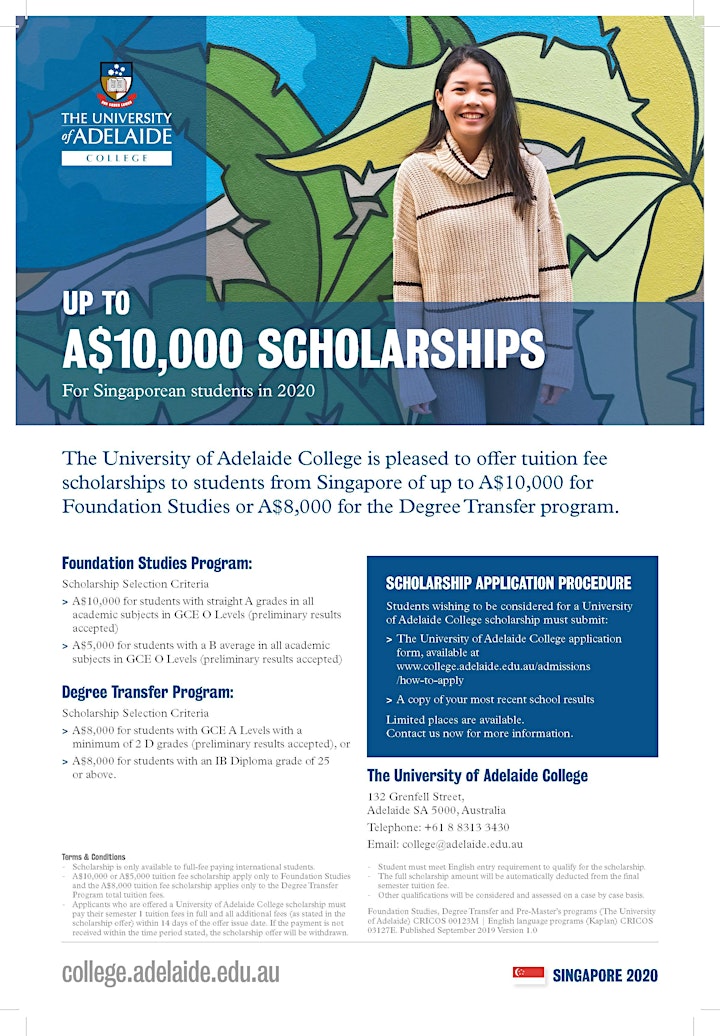 HOW THIS EVENT WORKS: 
Many Renown Unis Staff will be online from Mon 22 June to Sat 27 June (Mon - Fri: 3pm-6pm) & (Sat: 11.30am-2.30pm) for you to E-Meet to discuss your education plan.
Each student will be given 15-30 mins slot/sessions to consult with staff of the participating Unis. 
APPOINTMENT IS REQUIRED as we have limited spots. Book early to avoid disappointment. Upon receiving your request, our senior counsellors will contact you for the time slot & e-meeting link will be sent closer to the date.
You may ask questions & consult to the Uni staff including the eligibility to get the credit exemptions, forecast results, specific entry requirements as well as scholarship information.
ALL OUR SERVICES ARE FREE OF CHARGE
Further information, visit our website at: http://fdn.overseaseducation.sg/ or contact us: 61009800