USHER THE YEAR OF THE TIGER WITH A LAVISH SPREAD BY CHEF JUSTIN QUEK: A ONE-DAY ONLY SPOTLIGHT ON FRANCO-ASIAN CUISINE
About this event
What exactly is Franco-Asian cuisine? When we think of French cuisine, the hallmarks of the utilising ingredients of the highest quality and artful presentation immediately spring to mind. When paired with the diverse flavours and various traditional cooking techniques synonymous with Asian cuisine, the result is a marriage that redefines what we know of both - a wondrous exploration of familiarity with elegance.
Themed "A Chinoiserie New Year" as a double-meaning of a lavish feast that awaits, there's no one else more qualified to flaunt this culinary marriage than with the grand cru of Franco-Asian cuisine himself, Chef Justin Quek of Chinoiserie and JustIN Flavours of Asia.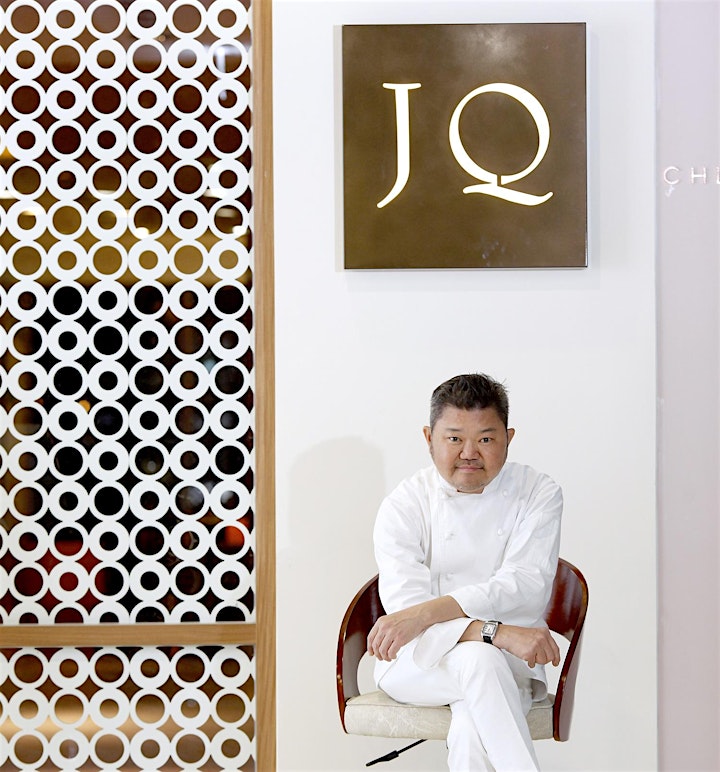 SUNDAY LUXE X JUSTIN QUEK
Revered as one of Asia's most celebrated chefs, Chef Justin's passion for the culinary scene holds an illustrious career that spans over three decades. Upon realising his fire for the industry at a young age while working as a trainee chef at Mandarin Oriental in Singapore, he gradually rose through the ranks and decided to take the plunge by withdrawing his life savings to further his craft in Europe. After diving head first into some of the Michelin-starred restaurants abroad, his career then took off.
Returning home with an understanding of French techniques and love for Asian flavours, he gradually established his personal culinary style by merging both, eventually paving the way to accolades including a string of Chef of the Year Awards back in 2001 (World Gourmet Summit Awards), 2003 and 2004 (San Pellegrino Awards) just to list a few.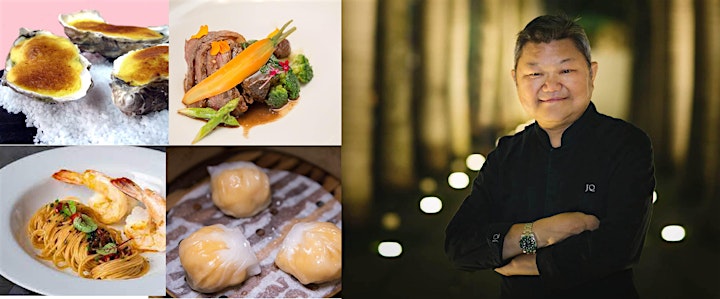 DINE: CHINOISERIE NEW YEAR
ONE-DAY-ONLY EXCLUSIVE MENU BY CHEF JUSTIN QUEK
Chinese New Year fare tends to lean toward traditional staples and the upcoming Sunday Luxe menu is anything but that.  Lined with flights of fancy for a perfect afternoon of repose, and hearty but artful plates for a satiating dinner, you can expect to be awed by classic French dishes, reinvented with a familiar twist of Asian flavours. All best enjoyed with a pairing of Chef Justin's very own JQ wines for a French-Oriental express you'll never want to end. 
------------------------------------------------------------
CHOOSE BETWEEN EITHER FORMATS
Chinoiserie New Year High Tea - 5 Courses, $55, 2PM
Chinoiserie New Year Dinner - 7 Courses, $95, 7PM
**Minimum reservation of 2 pax
------------------------------------------------------------
CHINOISERIE NEW YEAR AFTERNOON TEA MENU
Mushroom Cappuccino en Demitasse | Praline Toast
Seaweed Crackers | Oyster Fritters Chilli Crab Dips | Uni & Scallop Har Gow
Croque Monsieur | Iberico Kong Bak Bao | Sambal Prawn Capellini
Flourless Mandarin Orange Soufflé | Vanilla Ice Cream
Freshly Baked Financier & Salted Almond Tuile
*************
CHINOISERIE NEW YEAR DINNER MENU
Seaweed Crackers
Signature Mushroom Cappuccino en Demitasse, Praline Toast
*****
Chef Platter
Truffle Jiao Zi, Jelly Fish Salad, Iberico Char Siu
*****
Slow-Cooked Salmon Fillet
Ginger & Soy Dressing, Royal Chives, Shio Kombu, Micro Green
*****
Braised Isle of Eden Sea Cucumber
Stuffed with Prawn Mousse, Golden Broth
*****
Australian Full Blood Japanese Wagyu Beef M7
Nam Yu Braised, Oriental Vegetables
*****
Flourless Mandarin Orange Soufflé
Vanilla Ice Cream
*****
Mignardises
Freshly baked Financier
------------------------------------------------------------
WINE PAIRING BY JQ WINES
Complete the experience with JQ Justin Quek Private Wine Selection where you can expect nothing short of a culinary discovery via a flight of wines specially curated by Chef Justin Quek with celebrations in mind.
Available with a top-up of $70 (High Tea) or $100 (Dinner).
------------------------------------------------------------
*Each ticket includes admission to the Sunday Luxe Produce Market from 12.00pm to 6.00pm (valued at $25) and all ticketed patrons will receive one At-Sunrice $20 TakeOut voucher.
*Terms & conditions apply.
LEARN: COOKING MASTERCLASS WITH CHEF JUSTIN QUEK
Designed to be easily recreated with Chinese New Year celebrations in mind, you'll get to learn how to prepare two iconic Franco-Asian dishes in a cooking demonstration by Chef Justin Quek.
DISHES YOU'LL BE LEARNING
PAN-ROASTED SALMON FILLET
Served with Cauliflower Purée, Hazelnut Oil and Balsamic
*****
PRAWN FRITTERS
Served with Fish Curry Sauce and Steamed Rice
------------------------------------------------------------
12PM - 1PM | $80 PER GUEST, $140 PER PAIR
*Each ticket includes admission to the Sunday Luxe Produce Market from 12.00pm to 6.00pm (valued at $25) and all ticketed patrons will receive one At-Sunrice $20 TakeOut voucher.
*Terms & conditions apply.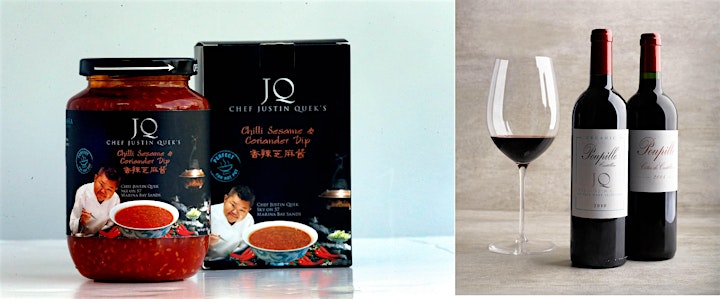 PRODUCE MARKET
Planning to hold a Chinese New Year feast at home? We got you covered with a curation of exquisite wines, dried seafood, and homemade sauces and condiments that are each personally curated by Chef Justin including his own product range 'JQ by Chef Justin Quek'.
Following your meal - or before if you're early - we welcome you to browse the collection of CNY cooking essentials to bring home, along with suggestions for recommended pairings or cooking preparations to guide your menu ideas for the coming festive gatherings.
------------------------------------------------------------
$25 per pax, 12pm - 2pm | 2pm - 4pm | 4pm - 6pm
The Produce Market admission is complimentary for High Tea, Dinner, Masterclass and Workshop registrants, and children below 6 years old.
*Each ticket includes admission to the Sunday Luxe Produce Market, and one At-Sunrice $20 TakeOut voucher. 
*Terms & conditions apply.
Organiser of SUNDAY LUXE: A CHINOISERIE NEW YEAR WITH CHEF JUSTIN QUEK
At-Sunrice GlobalChef Academy is an EduTrust-certified institution that cultivates global chefs and F&B professionals in an environment of culinary authenticity. The Academy imparts skills and knowledge in East and West, Old World and New World cuisines, herbs and spices, innovation and technology. A synchronised study-apprenticeship rotation enable the students to expand their horizons beyond the classrooms, maximising their employability and preparedness for careers as global chefs and F&B professionals upon graduation.
Since 2007, At-Sunrice has been recognised by the SkillsFuture Singapore (SSG) as a CET Institute for Culinary and F&B Management. It has also signed degree articulation agreements with renowned educational institutions including Johnson & Wales University (USA), the University of West London (UK), Technological and Higher Education Institute of Hong Kong. Students can choose from a range of degree and nationally-recognised diploma, certificate, modular, assessment-only-pathway (AOP) and continuing education modular programmes suitable for their level of experience and commitment. Students who are Singaporeans or Permanent Residents signing up for WSQ programmes receive up to 95% tuition subsidy. 
With an international cadre of experienced faculty and staff, state-of-the-art facilities and strong industry partnerships, At-Sunrice celebrates the true craft of F&B industry and advances the culinary arts and F&B profession with integrity and meaning.