Description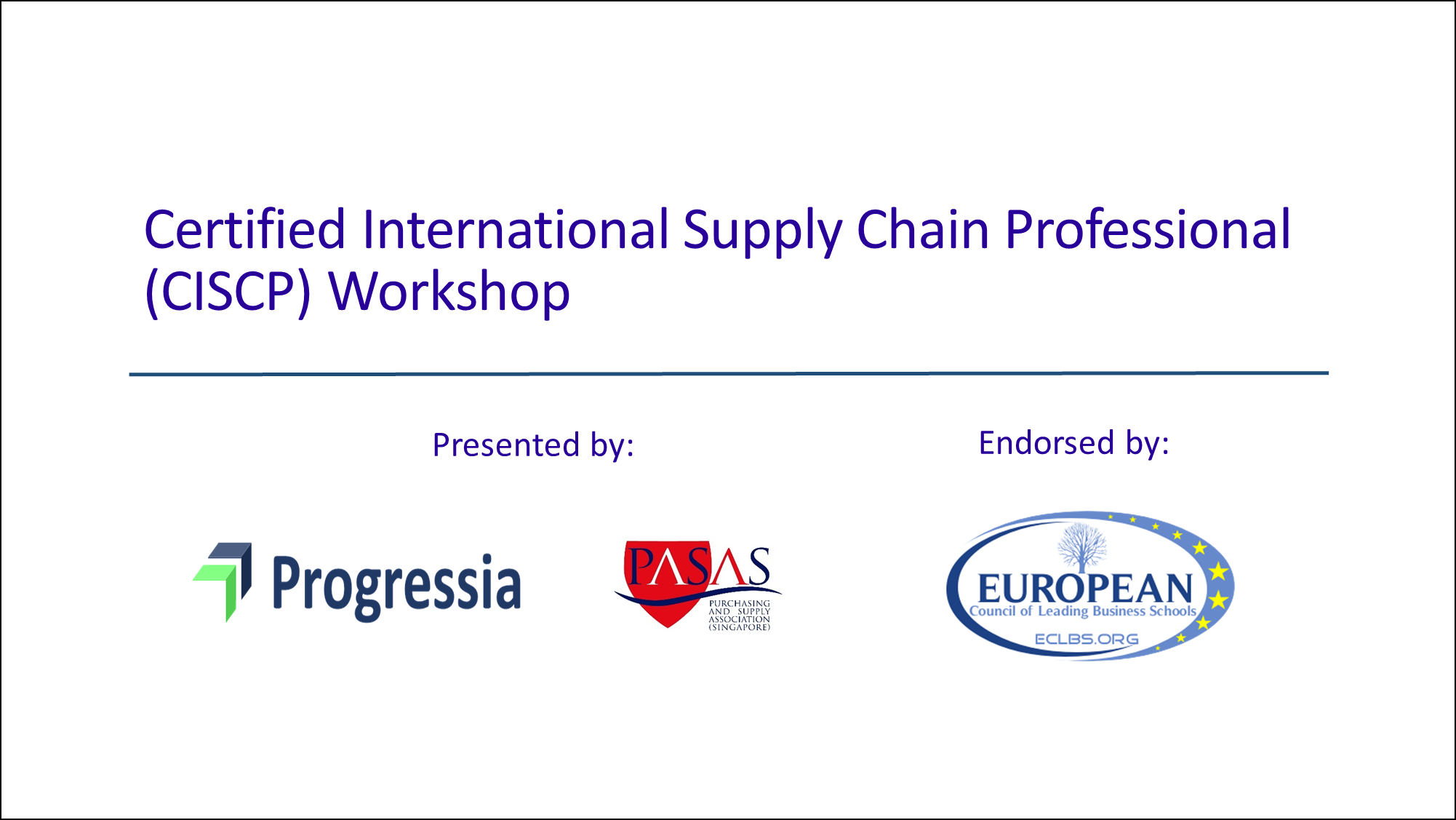 Certified International Supply Chain Professional (CISCP) Workshop
---
CISCP certification is for all professionals and management personnel who aim to enhance their skills and knowledge by obtaining comprehensive understanding of International Supply Chain Management and, more importantly, key insights on how to apply them in their organisation. The certification from Purchasing and Supply Association (Singapore) is endorsed by European Council of Leading Business Schools. The certification program will cover the contemporary international supply chain management.
The awareness of the changes and the insights to integrate supply chain technology, strategy, processes, skills are critical for strategic planning and supply chain integration as competitive imperative. For example, Zara build the global fashion retailer of USD 22.4 Billion turnover on the strength of its supply chain. Li & Fung counts on their ability to architect and operate supply chains to serve customers that give them annual revenue of USD 19 Billion. Business professionals and management need to understand how to use the power of supply chain to win the business as well as to improve customer service and profitability.
CISCP workshop will combine the presentations, discussions, activities to explore the concepts, trends, and key development in various topics of Supply Chain Management. The certification will cover the following modules:
1. Supply Chain Management (SCM)
2. Specific SCM (Cold / Halal / Green SCM)
3. Value Chain Management
4. Globalisation in SCM
5. SCM Outsourcing Strategies
6. Sourcing and Procurement / Supplier Management
7. Logistics / Materials Management
8. Inventory Management
9. Warehousing and Distribution
10. SCM Leadership
11. SCM Risk Management
12. SCM Project Management
13. SCM Corporate Social Responsibility
14. SCM and Technologies
15. SCM Future
---

---
Speaker / Trainer
SM Syed
Regional Director, Purchasing and Supply Association Singapore (PASAS)
Syed has 30 years of vast experience in Supply Chain and Logistics. He held key management positions in Multi National (Manufacturing) Companies working across the regions in Asia, Europe and USA in Global Supply Chain Logistics Projects. Some key customers that he had worked with includes CISCO, Siemens, Nokia, Huawei, HP, Ericsson, Motorola, Foxconn, Seagate and Samsung.
Syed also conducts trainings and lectures for various esteemed institution as ERC institute, TRUST Management Centre (TMC), Supply Chain Asia (SCA) in Singapore and overseas. He leads certification programmes in supply chain, logistics, warehousing and distribution management across Asia Pacific countries.
Syed has a Master of Science Degree in Industrial & Organizational Psychology/HRM with City University of New York (USA)/Baruch College (USA). He also has a Bachelor Degree in SCM Logistics from Curtin University, Australia and Diploma in Project Management from Cambridge University, UK. Syed is a Certified Professional Logistician from Chartered Institute of Transport and Logistics and an ACTA Certified (Advanced Certified in Training & Assessment) by the Singapore Workforce Development Authority.
Guest Speaker
Danny Supriyadi
Advisor, Progressia (Singapore)
Danny has over 25 years of global management consulting expertise with key leadership position in leading international companies like Accenture and SAP. He serves clients in consumer goods, logistics, petrochemical, automotive, telecom, public sector, and retail industry in Indonesia, Singapore, Malaysia, Thailand, Philippines, Greater China and USA
Danny has delivered multi-million dollar results through revenue uplift and cost reduction works for his clients. He guides clients to grow business, improve operations, and deliver positive profitability and customer service impacts. In the supply chain area, he helps clients to strategize and transform their business, turn-around poor performing logistic operations, and leads the inventory reduction to uplift customer service level and profits
Danny has unique business insights from working and living in several countries. He served Indonesia market for 8 years; Malaysia, Philippine, Thailand, and Singapore market for 11+ years; China and Hong Kong for 6 years; and USA for a year. He has a Bachelor of Arts degree in Accounting from Parahyangan Catholic University. Danny is currently based in Singapore where he provides consulting and learning services.
---
Testimonial



Berty Argiyantari
General Manager Logistics - PT Enseval Putra Trading
"The certification meets the requirement in Supply Chain industry to improve and leverage our knowledge"

Kyatmaja Lookman
Director - PT Lookman Djaja

"CISCP training is very useful because we can see the development of the whole supply chain industry"
---