#ExpertChat: Supporting colic & reflux, breastfeeding latch and head shape issues with an Osteopath
About this event
For Parents with Age 0 - 3 child
27 Jul (Tue), 9 - 10pm
Complimentary Online
Register at www.mindfulspace.com.sg
Lucy Moore
Registered structural and cranial osteopath with over 13yrs experience both here and in UK.
A qualified practitioner of ultrasound and shockwave therapy, Kinesio taping, dry needling and paediatric osteopathy.
Experience in multidisciplinary practices and working together with the wider allied health professional community to aid and manage patient care.
BOst MSCCO
By signing up for this event, you agree to be contacted for future events.
Please turn on the video during the zoom session to create a safe and respectful space for the parents in the session. Together we build a positive and mindful parenting community!
Mindful Space
97837313
https://www.mindfulspace.com.sg/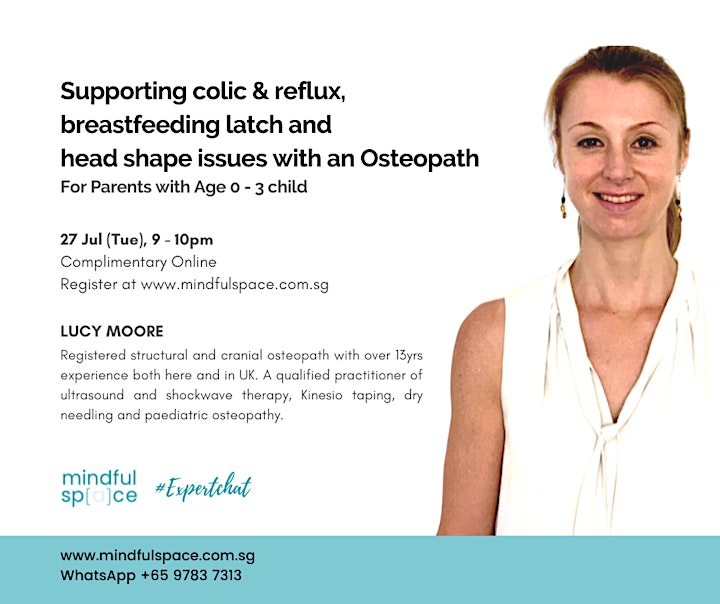 Organiser of Supporting colic & reflux, breastfeeding latch issues with an Osteopath
Holistic and inclusive space to empower parent & child with life skills - develop & balance the mind (IQ), body (PQ), emotions and behaviour(EQ).
We believe in order to support the child, we must first support the parent.
1. Parent's Well Being
2. Parenting Knowledge & Skills
3. Parent's bonding & learning with their child
OUR SERVICES:
Parent & Child Classes
Kids Enrichment
Yoga & Fitness
Life Coach
Business Coach
Family Consultation 
Parenting Workshops 
Teacher Trainings
Corporate Events
Holiday Programmes