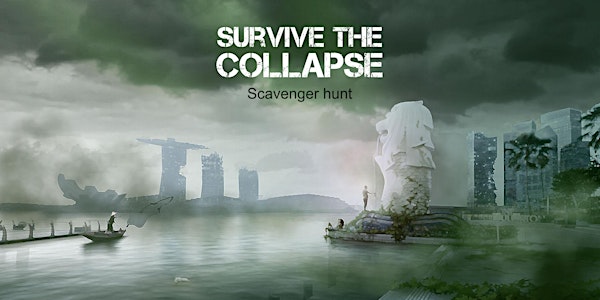 Survive the Collapse is back! - 26 August 2023
Onboard on a unique adventure to hunt and scavage resources around Singapore. "Amazing Race"-like game.
Date and time
Sat, 26 Aug 2023 14:30 - 19:00 +08
About this event
4 hours 30 minutes

Mobile eTicket
It is 2060... There is 10 billion people on Earth.
The daily average temperature is 45 degrees in Singapore, and energy has become so expensive that most households can't afford aircon anymore.
The weather is unbearable, and the shortage of water due to successive years of drought has pushed the government to suddenly move to the newly discovered planet Bootopia, with other elites.
This move has created a sudden panic and chaos in Singapore that can be compared to the 2020 pandemic time, for those old enough to remember.
Earthlings, including YOU, are left to themselves, struggling to survive with dwindling resources on a hostile Earth.
The only way to survive is to fight over the few left resources… but you can't win alone, you will have to collaborate and trade resources with others as well, if you survive to climatic catastrophes along the way!
So… Will you survive the collapse?
Onboard on this unique adventure to hunt and scavage resources around Singapore.
This is going to be an exciting and fun experience in which you will also discover new places in Singapore and reflect on the main challenge of this century
* Teams of 3-5 people : Build your team or meet new people on the day itself ! Each team must include min 3 people and min 1 adult.
* Scavenger Hunt/Amazing Race: Compete and collaborate in a thrilling scavenger hunt game inspired from The Amazing Race.
* Acting Performance: Be part of a narrative and interact with actors along the way. 
* Tech-enabled: The game will be played via an app which will guide you through the game and keep track of your score. At least one member of the team will need a phone and an internet connection.
* Virtual briefing: Before you travel all over Singapore with your team, you will receive instructions for your mission in a virtual environment.
* Everyone welcomed: Come with friends or bring your family on an unforgettable and educative adventure !
Rain or shine event.
Tickets type
- Individual Ticket (adults): 25$
- Individual Kids Ticket (kids under 15 years old, and must be in a team with at least 1 adult): 10$
- Team ticket (max 5 people): 90$
Check the website to know more: https://survive-the-collapse.com/
About the organiser
OCERA Games is the company behind Survive The Collapse, the first scavenger hunt to raise awareness on climate change in Singapore.