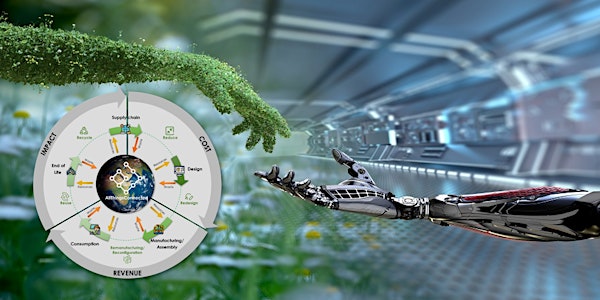 Sustainability and Digitalization in Advanced Manufacturing
Realizing, Accelerating, and Enhancing the Impact with Emerging Technologies for Sustainable Manufacturing
About this event
Advanced Manufacturing sectors are under increasing pressure to reduce the environmental impact of their operations, especially in relation to emissions and impacts on global climate change. Manufacturing activities have led to the creation of vast amounts of waste, the exploitation of natural resources, and excessive consumption of energy.
Join AllThingsConnected's Thought Leadership Series and listen to the experts as they discuss the critical issues in manufacturing, such as resource effectiveness and efficiency, process optimization, life cycle engineering and assessment, water, utilities and energy efficiency and management, sustainability assessment, and optimization etc.
WHEN: (Singapore Time)
Friday 2 Sept , 2022, 4:30 pm - 5:30 pm
SPEAKER:
C K Vishwakarma, Founder/CEO- AllThingsConnected
CK is a senior Business Strategy, and Digital Transformation leader with extensive international experience in solutions architecture, program management, business and operations process transformation.
As a CEO of AllThingsConnected, founder of IoTSG, CK works with organizations crafting their transformation and complex digital solutions strategy, implementation and ecosystem approach, organisational behaviour, and excellence frameworks to accelerate their current state to future state journey.
CK conducts business & technology research and has shared insights at 130+ leadership forums, and prestigious international conferences. He advises senior leaders on how advanced technologies can prime enterprises for the future. He has created practical strategies, and frameworks on how the traditional operational processes can be integrated with emerging technologies for the successful acceleration for the organisations to remain relevant, scale and sustain in the future. CK has successfully led and managed multimillion USD complex system and solutions projects in various industries.
CK earned his Bachelor of Technology degree in Electrical Engineering from Indian Institute of Technology Roorkee, and a Master of Technological Design, Mechatronics from National University of Singapore. He lives with his family in Singapore since 2003, and travels extensively in Asia, managing different cultures & dynamics.
IMPORTANT NOTE:
Please make sure you enter your details correctly and use your business email id. Personal email ids are not accepted.
This is an invite-only session- register your interest, if your request is approved you will be sent the event details.
PARTNER WITH US:
Write to: connect@athingsc.com to receive information about future sessions.