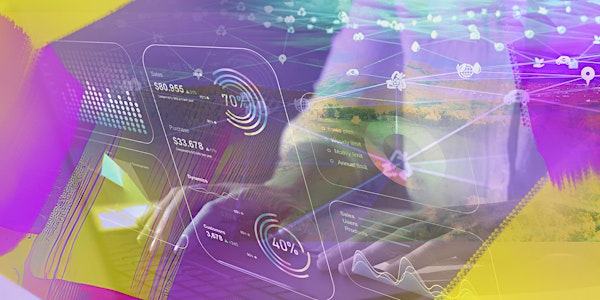 Sustainable Digital Transformation: Making Sustainability an Advantage
Singapore Standard Time 8:00 AM - 11:10 AM (GMT+08:00)
Date and time
Wed, 26 Jul 2023 08:00 - 11:10 +08
Location
Sheraton Towers Singapore 39 Scotts Road Singapore, 228230 Singapore
About this event
3 hours 10 minutes

Mobile eTicket
Achieving SG Green Goals Through Leveraging Innovative Technologies and Collaborative Efforts of Stakeholders
The inevitability of digital transformation in government is undeniable, and its progress will persist. However, it is not enough to simply adopt digital technologies; instead, they must be leveraged to their fullest potential to guarantee enduring value and advantages for both organisations and the public at large.
To establish a sustainable change process, it is crucial to carefully select technologies that can enhance business processes, boost efficiency and productivity and improve customer experiences. However, it is equally important for stakeholders to engage in collaborative efforts and implement environmentally conscious and socially responsible practices. By doing so, organisations can foster long-lasting positive outcomes for both their operations and the broader community.
The Call for and the Benefits of Digital Sustainability
The production and operation of equipment and tools utilised for digitalization require energy and natural resources, resulting in a considerable impact on pollution levels, carbon emissions and waste generation.
While the energy consumption of information and communication technology (ICT) products remains relatively low, estimates suggest that ICT equipment could account for as much as 20% of global electricity usage by 2030.
Sustainable digitalisation initiatives aim to reduce the environmental footprint of both the manufacture and use of ICT equipment. Another option for achieving this goal is by relying on renewable energy sources to power digital technologies.
The principles and implementation of sustainability have a profound impact on the economy. Digitalisation by itself can catalyse the acceleration of economic growth by creating new opportunities, and jobs and opening doors for innovation and entrepreneurship.
But by embracing sustainable practices - out of social responsibility and a concern for the environment - organisations can not only promote economic growth but also ensure that the benefits are shared equitably across society and safeguard the planet's long-term health and well-being.
Public sector organisations can reap numerous benefits from implementing sustainable practices in their operations. They can enhance their reputation, attract and retain top talent, earn the respect of the community and government and meet the growing demand for environmentally friendly and socially responsible products and services.
Sustainable practices also contribute to cost savings, operational efficiency and improved resilience against potential disruptions, thus helping the public sector achieve its goals and deliver value to its stakeholders more effectively.
Moreover, sustainability will ensure that organisations, communities, governments and nations can continue to derive the benefits of digital innovations today and into the future. By embracing sustainable practices, organisations can reduce resource depletion, economic waste, environmental disasters and social unrest, thus safeguarding their operations and the broader community's well-being.
Shared Responsibility
The SG Green Plan is a crucial framework that guides public and private sectors, as well as communities, towards achieving sustainability goals. However, it is equally important to recognise and strengthen the role of each sector in engaging communities to promote sustainable practices.
The challenges of sustainability are numerous and complex, and no single organisation or sector can solve these issues and achieve the goals set out in the SG Green Plan. Therefore, a collaborative effort is essential, bringing together diverse perspectives, expertise and resources from the public sector, businesses, communities and individuals.
The obligation to clean up the environment and keep it habitable for humans is a common one. This requires a shared commitment to sustainability, a willingness to collaborate and innovate, and a sense of urgency in addressing the challenges that lie ahead.
Collaborative efforts give a sense of shared responsibility and ownership, enabling stakeholders to work together, from identifying shared goals to choosing solutions. The public sector, businesses, communities, and individuals must all come together with a concerted plan and effort to see the fruition of SG Green's goal of creating a sustainable future for all.
The private sector, in particular, has a significant role to play in supporting the public sector's efforts to raise awareness about the SG Green 2030 national mission and goals. The expertise and resources that are available in the private sector must be leveraged to help consolidate data, resources, and efforts to meet the government's national key performance indicators.
By collaborating and taking ownership of sustainability efforts, every sector can contribute to creating a more sustainable future. Ultimately, building a sustainable future requires collective action and engagement from the wider community.
Creating Leveraged Synergies
The private sector can utilise its expertise to create synergies and facilitate collaboration among the various stakeholders of the nation. Such an approach leverages complementarities in the sustained effort to achieve sustainability.
Increasing Effectiveness
A coordinated and strategic approach towards sustainability brings varied expertise to the table and creates a pool of ideas that could be collated and discussed. Collaboration helps to avoid duplication of efforts and maximises the impact of initiatives, resulting in significant savings of time and resources that can be allocated to other strategic matters.
Provides a Venue for Engagement
A team effort encourages continuous dialogue and communication among stakeholders, which is critical to achieving sustainability goals. The engagement of stakeholders, from developing solutions to implementing initiatives, strengthens relationships, builds trust, solidifies social legitimacy, and bonds stakeholders with a shared purpose and commitment.
OpenGov Asia is pleased to invite you to an exclusive OpenGov Breakfast Insight, where the latest developments on sustainable digital transformation will be discussed. This event is by invitation only and will be an interactive session with decision-makers from Singapore's public sector.
We will:
Explore and achieve a unified view of sustainability stakeholders
Understand how sustainable digital transformation can benefit governments, organisations and communities
Discover how sustainability efforts might help organisations strengthen their reputations and solidify community trust
Examine how sustainable digital transformation can help all sectors of society to reduce costs and maximise valuable resources
Explore synergies that could be created among various stakeholders in the journey towards sustainable digital transformation
Establish collaboration with stakeholders to achieve SG Green goals on time
Who should attend:
Chief Information Officers
Chief Data Officers
Chief Technology Officer
Chief Transformation Officers
Chief Innovation Officer
Chief Digital Officers
Directors and Heads of IT
Directors and Heads of IT Transformation
Head of Infrastructure
Head of Data Science
Heads of Networks
About the organiser
OpenGov has over 20 years' experience in providing a platform enabling collaboration. The last 5 years, solely to Public Sector within the Asia Pacific Region, including Australia and New Zealand. We are a team that has revolutionised the traditional conference platform, having developed a method to return real and tangible value to the delegates that attend. By creating an environment that enables and enhances true collaboration and knowledge exchange, OpenGov enhances the experience which provides true insights from lessons learnt. These insights are delivered from, and by the many leaders in government agencies from around the world that attend these events. These events cover ICT, Health, Education and Crisis Assessment Response Effectiveness (CARE). Our team has been past winners of the "Best CEO Level Conference in Asia" award.
In speaking with over 500 Government ICT officials this year, we have detailed the challenges many government CIO's face. Due to the ever changing digital environment, CIO's struggle to keep up with all these changes. To assist these CIO's, OpenGov has embarked on a journey of exploration, finding solutions and best practice examples to assist CIO's in bridging this knowledge gap.
OpenGov has organised many types of events. These events being small training seminars, large scale conferences and industry based exhibitions. They specifically focus on Government, in the areas of Public Sector ICT, Health care and Education. To add further value to these events, we have included private sector representation, which has further expanded on our knowledge based and understanding in the delivery of services to our citizens.