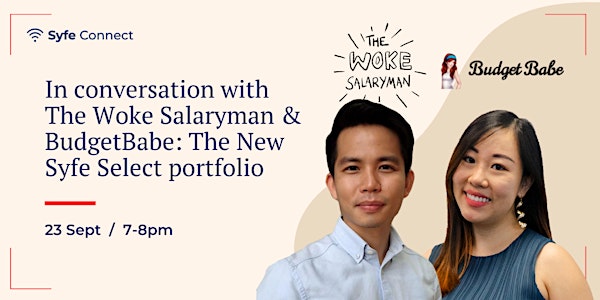 Syfe Select: In conversation with The Woke Salaryman & BudgetBabe
The New Syfe Select portfolio
About this event
Everyone is unique. We all have different values, preferences, experiences and backgrounds that shape who we are. You could be a passionate advocate for the environment or an ardent believer in new technology. No matter your ideals, wouldn't it be great if your investments could reflect your beliefs?
With Syfe Select, you can now invest in a portfolio that's as unique as you are.
Join us in this webinar with Ruiming from The Woke Salaryman and Budget Babe, Dawn, as they discuss about our 5 thematic portfolios, go through some of their favourite Syfe Select features, and talk about how they incorporate Syfe Select into their investment portfolios via a core satellite investing strategy.
Disclaimer
Syfe Pte. Ltd. ("Syfe") is licensed by the Monetary Authority of Singapore under the Securities and Futures Act (Chapter 289) of Singapore. This webinar is intended solely to provide general information only and is not an offer to sell to any person, or a solicitation from any person of an offer to buy, any securities. Syfe makes no representation or warranties about the accuracy or suitability of any information in the webinar and related materials (such as handouts, presentation documents and recordings); all such content is provided to webinar participants on an "as is" basis. The information in the webinar is commentary only (i.e. our general thoughts). It is not intended to be, nor should it be construed as, investment advice. Before making any investment decision, you need to consider (with your financial adviser) your particular investment needs, objectives and circumstances.