Chat about ancient artforms, time travel, research and process-driven creative process, and creating art in a post-Covid world.
About this event
Date: 7 Aug 2021 (Sat)
Time: 3.30pm--5pm
Platform: Zoom
Speakers/Panelists: Gong Pan Pan, Rupa Lavanya, Li Ruimin, Neil Chua, Lynn Tan, Madeline Arissa Xiong
While traditional artforms are important legacies from the ancient past, they have been evolving with the times to remain relevant to whichever patrons they serve. It is impossible for anyone to accurately represent the ancient past, but it is still possible to reimagine the spirit of the time, and share that experience with the modern audiences through a time-travelling make-believe experience. The Hanfugirls Collective undertook a 3-year research project into the ancient past to understand the context and socio-political environment that contributed to one of the most glorious periods in Ancient Chinese performing arts history over 1,200 years ago, and the forgotten tales of the Courtesans who were central to its development. The process-driven exploration is then scripted into an immersive theatre piece only to be disrupted by the onset of Covid-19. Join us this afternoon with our panelists and speakers as they share about their research and creative process of adapting their traditional artforms for this ancient-modern world, and the various issues surrounding performing arts in a post Covid world.
This workshop is targeted at industry professionals and cultural enthusiasts who are interested in process-driven creative works with a focus on history and traditional artforms.
This project is supported by National Arts Council.
ABOUT THE SPEAKERS/PANELISTS
Gong Pan Pan (Hanfugirl)
Pan Pan was first introduced to the term "Hanfu" in late 2015 when she chanced upon a beautifully made garment that looked nothing like the ubiquitous cheongsam yet was referred to as the traditional dress of the Han Chinese. She combines her visual photo-artworks with editorials that often challenge pre-existing assumptions or stereotypes about the Chinese culture, and draws parallels between the past and the present, the East and the West. She formally established the Hanfugirls Collective with like-minded people in 2019 and received a residency opportunity at the Stamford Arts Centre under the National Arts Council where the collective conducted lectures, workshops and immersive performances related to ancient Chinese women and their arts. The collective seeks to challenge stereotypes and misunderstandings about women identity in ancient Chinese narratives and present the contextual understanding of ancient and traditional Chinese artforms and psyche.
Rupalavanya
Rupa's deep rooted passion for the performing arts is undeniable. She has been involved in major roles for many productions both locally as well as internationally. She was formerly trained under the faculty of dance in SOTA (School Of The Arts, Singapore) from 2008 to 2011 where she specialized in Classical Ballet as well as Modern Contemporary, but her forte has always been Indian Classical Dance (Bharatanaatyam), which she had started learning from the age of 6 under the tutilage of SMT Suganthi Kumaraguru and SMT Jayanthi Balasubramaniam (Bharathaa Arts). Having a good foundation as a stage performer over the years has molded her to better understand the aesthetics and dynamics of a production.
Rupa aspires to educate and inspire fellow dancers through her journey as a growing artist, as well as train young dancers and mould them into future artists.
Li Ruimin
Li Ruimin graduated from the Hong Kong Academy for Performing Arts (HKAPA) with a Bachelor of Fine Arts (Honours) Degree in Dance. Majoring in Chinese Dance with a minor in Choreography, Ruimin was awarded the Chinese Dance Faculty Scholarship and the William Au Arts Education Scholarship during her studies. She is also the recipient of the Singapore National Arts Council Arts Scholarship (Overseas).
Ruimin is currently a Senior Dancer at the Singapore Chinese Dance Theatre and has performed as the female lead role Du Li Niang in Dance Drama: A Startling Dream. She also performed in their tour to Qianjiang, China for the premiere of The Wilderness as female lead, Jinzi, and in the company's original dance drama Life's a Stage as the female lead, Sai Yu. Apart from dancing with the company, Ruimin is also teaching with the company and has presented many of her own works locally and abroad.
Neil Chua
Graduated from the prestigious Shanghai Conservatory of Music, Neil is the first and youngest musician of the Conservatory to receive a Master Degree in Music - Ruan (阮). Currently a permanent resident in Singapore, Neil is the Founder of Ruanatworkz Musical Arts, a non-profit Society in Singapore which promotes traditional culture, music, art and other form of traditional values. Neil is also the first musician to be invited to represent Malaysia to participate in the highly acclaimed OneBeat, which is a U.S. State Department's Bureau of Educational and Cultural Affairs exchange programme in 2014 whereby he had the opportunity to interact, educate and promote Ruan (阮) to students and musicians from around the world in the United States of America.
Lynn Tan
Lynn started performing Chinese dance at the age of 7 and attributes her skills to the tutelage of mentors in Singapore's Chinese dance scene. Today, she hopes to pass on her love for dance to the next generation, and passionately dedicates her life to dance education. She incorporates her knowledge of both Eastern and Western dance forms to continuously develop her pedagogical techniques. Her fun but meticulous teaching method allows students to not only enjoy the sessions but to also learn dance techniques with great understanding.
Founder of Zhiyun Chinese Dance Academy, Lynn was a full-time dancer with Singapore Chinese Dance Theatre in which she represented Singapore both locally and internationally in events such as the Vietnam-Singapore 45th Year Diplomatic Relations celebrations. She was formally educated in Lasalle College of the Arts, where she received her Diploma in Dance while she completed her Beijing Dance Academy Chinese Dance Graded Examinations certifications. Lynn is also a certified instructor with the Chinese Ethnic Folk Dance Center.
Madeline Arissa Xiong
Madeline started out as a photography hobbyist before turning into a freelance wedding and events photographer. She has amassed a wealth of knowledge on the technical aspect of audio-visual production over the last decade and started her own creative pursuits in the last few years. Inspired by the short films and movies, particularly those with an ancient Chinese focus, Madeline began experimenting with videography just about the same time as she joined the Hanfugirls Collective about 2 years ago. As a key member of the collective, Madeline began documenting the first Yanzilou encounter as part of the Stamford Arts Centre residency programme in 2020. When Covid struck, Madeline took on the role of Director and Cinematographer to conceptualize and transform the Yanzilou experience from an immersive physical theatre piece into a virtual interactive experience. Madeline is Hanfugirls' answer to female representation and empowerment in a traditionally male-dominated industry.
This session is facilitated by Teoh Chai Lean.
Teoh Chai Lean
Chai Lean identifies as a multi-passionate creative or multipotentialite. Trained as a scientist, she now partners industry needs to innovation solutions at A*STAR's Enterprise division. She came on board #HanfugirlsCollective in 2018. She enjoys Chinese caligraphy and poetry narration in her pastime.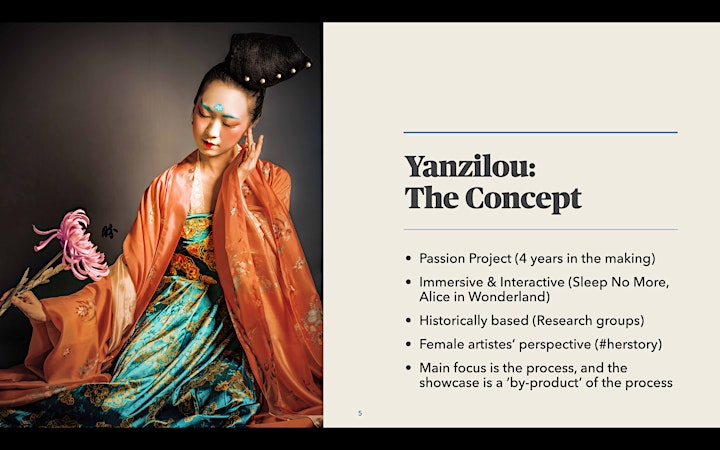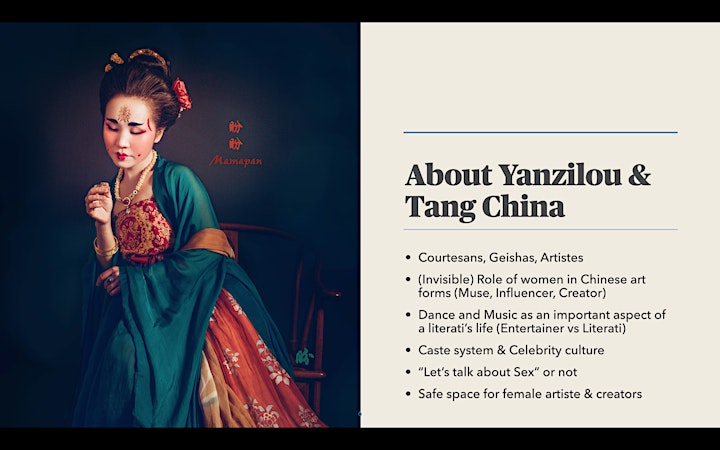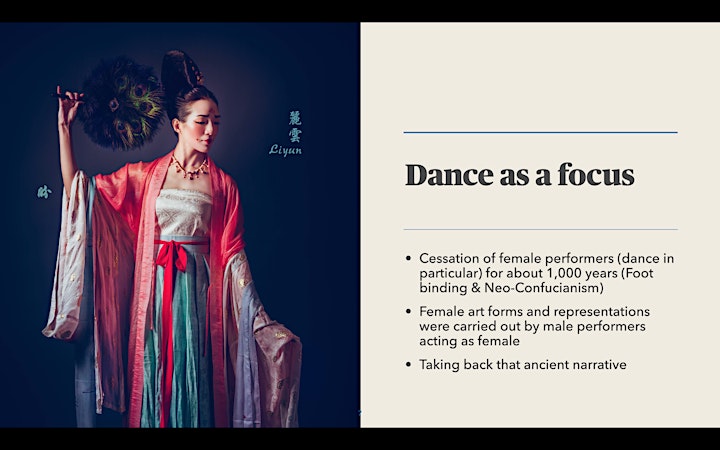 Organiser of Tales through Time--Ancient Art, Modern Take (Pane
The Hanfugirls Collective seek to re-examine and re-present the authentic Chinese cultural experiences and educational programmes. Focusing on female empowerment, the group's content will focus on female experiences, identity and representation in history, including concepts of Chinese femininity, role and rights of women in ancient China, courtesan narratives and of course, what fashion, make-up and accessories meant for an ancient Chinese woman.