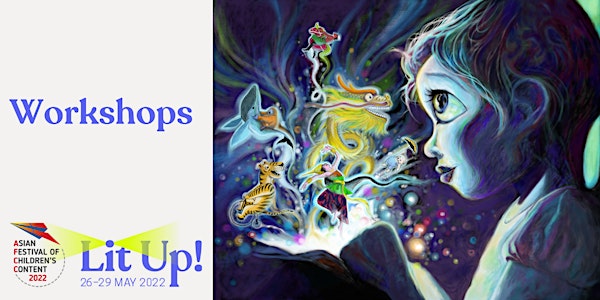 Talking Your Way Out!
Join us for an afternoon of unique and interactive multilingual storytelling session!
When and where
Location
National Library Building 100 Victoria Street Singapore, 188064 Singapore
About this event
Talking Your Way Out!
Date: 28 May 2022 (Sat)
Time: 3.30pm - 4.30pm (SGT)
Featuring: Abhi Krish, Evelyn Sue Wong, Quek Hong Shin and Rilla Melati
Format: In-person*
Venue: National Library Building
When mysterious clues pop up across Singapore begging for their true meaning to be uncovered, a group of unsung heroes steps up to the challenge and form...The Super Golis! But they won't be able to do it on their own. Join hands with Singapore's favorite children's storybook characters as they dive through a zany maze of multilingual clues and work together to unlock the final mystery. 
Super Golis...Unite! (Psst...Golis are marbles)
Participants* will be split into teams. This interactive session will be in English with help (if needed!) to solve clues in Mandarin, Malay and Tamil. Suitable for children from six (6) years to nine (9) years.  Pre-registration is required for this session. 
*Please note that participants will need to be fully vaccinated in order to attend this in-person session. 
About the Facilitators
Abhi Krish is the founder of Nool Monsters—a bilingual platform sharing contemporary stories, songs, and approaches for children to learn Tamil playfully. Through laughter, music, and utter silliness, she's raising a generation of wee magical guardians who will protect and usher their mother tongue into the future.
Evelyn Sue Wong is a children's author. Her bilingual and multilingual stories have been performed in children's theatre, at festivals and schools. Just a Little Mynah, the first in a series, was shortlisted for Best Picture Book in the 2021 Singapore Book Awards. As a researcher and educator, she advocated fair labour practices and sustainable development in Asia.
Quek Hong Shin is a Singaporean picture book author and illustrator. He has illustrated several picture books and his work has been shortlisted twice for The Hedwig Anuar Children's Book Award. His book The Incredible Basket, published by Epigram Books, was the winner of Best Children's Book at the 2019 Singapore Book Awards.
Rilla Melati is a two-time winner of Anugerah Persuratan is an educator, author, entrepreneur, TV presenter and pioneer of Malay speech and drama programmes in schools in Singapore. She builds creative content for the classroom and television and has written more than twenty-five Malay as well as bilingual children's books. As the founder of the educational company Mini Monsters Ltd, she hopes to reignite the love for the Malay language through workshops, bilingual publications and cross-media educational materials that are relevant for today's generation of children.