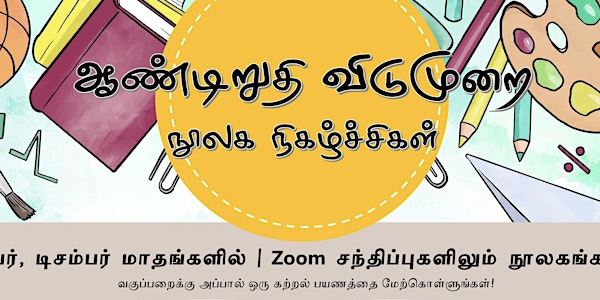 [Tamil Holiday Programmes] Word-ly Wise
சொல் விளையாட்டு
About this event
சுவாரசியமான கதைகள், விரிவான விளக்கங்கள், தகவல் விவாதங்கள், ஊடாடும் வினாக்கள் மூலம் உங்கள் சொற்களஞ்சியத்தை விரிவுபடுத்துங்கள். தொடக்கநிலை 4 முதல் 6 வரையிலான மாணவர்களுக்கானப் பயிலரங்கு.
Widen your vocabulary with interesting stories, detailed explanations, informative discussions, and interactive quizzes. This programme is suitable for students in primary 4, 5 and 6.
The programme will be conducted via Zoom. Meeting details are below. More information will be shared with a confirmation note 3 days before the programme.
(Zoom Meeting ID: 999 9684 6958, Passcode: 970424)

About the Workshop Facilitator
Tamizha being a student-initiated Tamil organization, aims to provide a platform for all members of the Tamil community to appreciate the Tamil language and culture, as well as the opportunity to give back to the society.