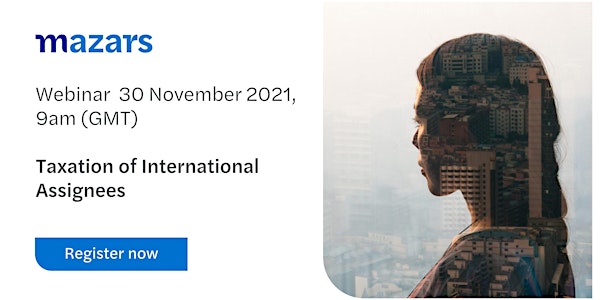 Taxation of International Assignees
Join Mazars' webinar on Taxation of International Assignees.
About this event
In this new normal, the global tax landscape is dynamic and ever-changing. To keep up, companies and individuals have to understand the various issues concerning tax in their market of choice.
After this webinar, you will learn:
Hiring of international assignees and short term business travellers working in Europe and Asia
Tax issues for digital nomads
How Mazars can help 
In this upcoming session, join our Tax experts:
Alexander Rasink, Partner, Global Mobility Services, Tax (Netherlands)
Do Thanh Tam, Director, Tax (Vietnam)
Joe Pilley, Global Mobility Tax Director, Tax (UK)
Elaine Chow, Director, Tax (Singapore)
Jonathan Stuart-Smith, Partner, Tax (Thailand)
Oscar Chow, Senior Manager, Tax (Hong Kong)
Come join us for an insightful session over a complimentary webinar. You can find the full webinar details below:
*Attendance strictly by registration only. Please note that this webinar is held in English.
*Registration closes on 26 November.