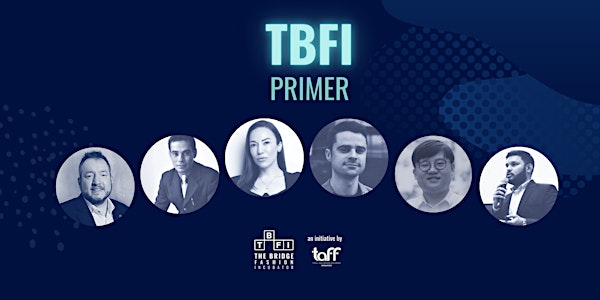 TBFI Primer
Get a sampler of TBFI, through this handpicked, specially curated workshop series across the business categories from our 16-week progamme!
Refund Policy
Contact the organiser to request a refund.
Eventbrite's fee is nonrefundable.
About this event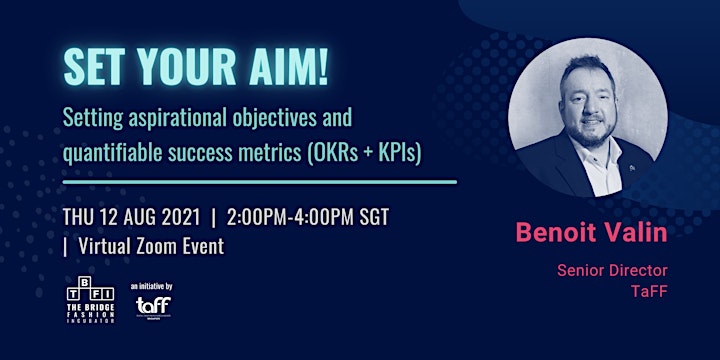 This workshop explores the fundamentals of the Objectives and Key Results (OKR) methodology, reviewing proven OKR success stories and interactively work on an OKR case study. Learn how to harness and implement OKRS in your business.
OKR is a goal-setting methodology designed to push you and your team to align your ambitions and unite your efforts under a specific group of objectives set in pursuit of fulfilling your brand's vision and mission.
**Pre-Work: Watch John Doerr's Measure What Matters here
About the Speaker
Benoit Valin | Senior Programme Director, The Bridge Fashion Incubator (TBFI)
Benoit has a science & engineering track record spanning more than two decades, working in artificial intelligence & data sciences, biology & drug discovery, electronics & IoT, business process automation and product design, prototyping & manufacturing, and their connected fields. Working with global leaders such as Pigeon, Coca-Cola, Colgate,Bayer, P&G, Ecco, Ricoh, Electrolux, Land Rover, KLM-Air France as well as Singapore established names such as Fraser and Neave, AviTech and Matex.
In recent years Benoit has focused his attention on improving the scalability and sustainability of 3D printing, collaborating extensively with companies in the eyewear, footwear and jewellery industries;emphasising in technology development to increase design freedom & flexibility while minimising the manufacturing cost and dependency on manpower.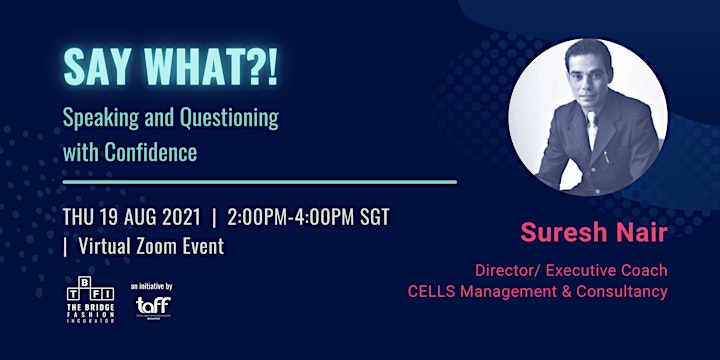 This workshop will focus on speaking, interview and engagement skills, enabling you to effectively convey and deliver your message, thoughts and ideas.
To ensure the success of your business and you, you need to increase the effectiveness of your communication skills. More importantly, the way we speak, listen and question has a profound influence in our relationship with people and to the outcome of the business.
About the Speaker
Suresh Nair | Director/ Executive Coach , CELLS Management & Consultancy
Suresh is a leadership coach who trains and develops people in leadership positions or roles to be effective. Over and above Personalized Leadership Coaching, he develops and facilitates customised training workshops for Supervisors to Senior Management across organisations and varied generations, focusing on people skills on leadership, basic and advanced coaching, managing generations, mentoring, critical thinking, systems thinking, learning organisation tools, values inculcation, strategic planning and visioning and seminar talks and learning festivals. I coach and develop people of all ages and positions, I bring joy and happiness to them by unleashing their latent abilities and make their aspirations come true both in Life and at Work.
I have facilitated more than 3,000 training workshops for over 45 organizations ranging from Government, Statutory Boards, MNCs, Education Institutions across Singapore, Malaysia, Indonesia, India, China, USA, Australia, Middle East, organisations such as Coca Cola, Panasonic, National Parks, Gardens By the Bay, Shangri - La Group of Hotels, Keppel Offshore Marine, Singapore Armed Forces, Wildlife Reserves, Honda Motors, Aircel, Jet Airways, SIA- SATS, GovTech, EagleBurgman, Emerson and many others.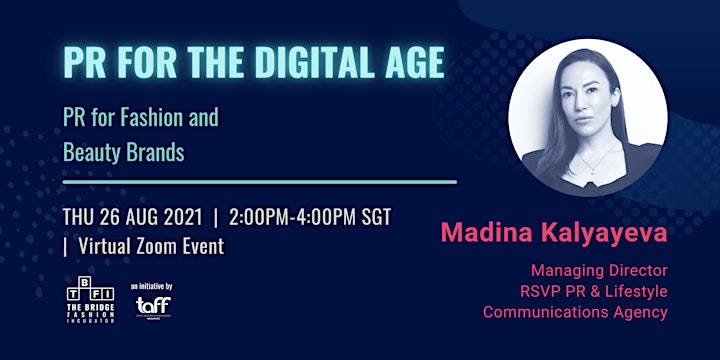 Madina will be sharing insights from her many years of experience on the ins & outs of communication with the media and consumers. Some of the areas covered will be the evolution of PR in today's time. She will be sharing case studies to exemplify the best practices of classic public relationships , the power of influencer marketing and the importance of digital for storytelling.
About the Speaker
Madina Kalyayeva, Managing Director, RSVP PR & Lifestyle Communications Agency
Madina Kalyayeva is the Managing Director and shareholder of R.S.V.P Singapore & Malaysia with primary focus on providing strategic guidance and support for further development of the agency and it's projects in the SEA region. She has over 10 years agency experience out of which 8 she has spent in Singapore split between Advertising and Public Relations. Madina has led global, regional and local accounts across aviation & hospitality, fashion, beauty and technology.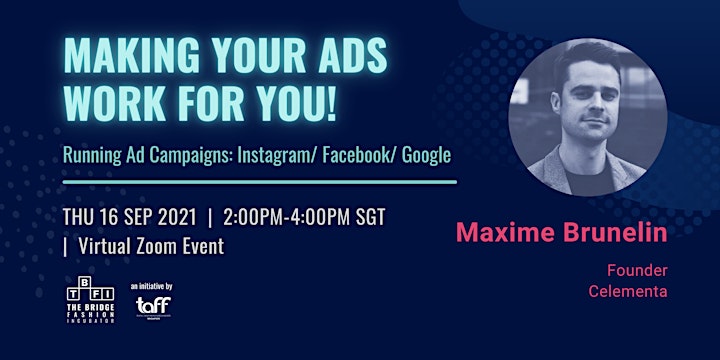 The goal of this workshop is to enhance participants' understanding of Google and Facebook/Instagram ads. At the end of the class, you should be able to launch campaigns and bring changes to them based on the results observed in order to optimize the returns ads deliver; also you will be better equipped to recruit the talent needed to operate your brand's advertising accounts effectively. We will begin with theoretical concepts and finish with practical exercises so that the knowledge acquired will be as actionable as possible. The workshop will be conducted by Celementa, a digital marketing agency currently running ads for 20 e-commerce brands.
About the Speaker
Maxime Brunelin, Founder, Celementa
Maxime has 10 years of work experience in advertising technologies and website / mobile apps data analytics. He is the founder of Celementa, a digital marketing agency that focuses on e-commerce brands. He is also an MBA graduate from INSEAD.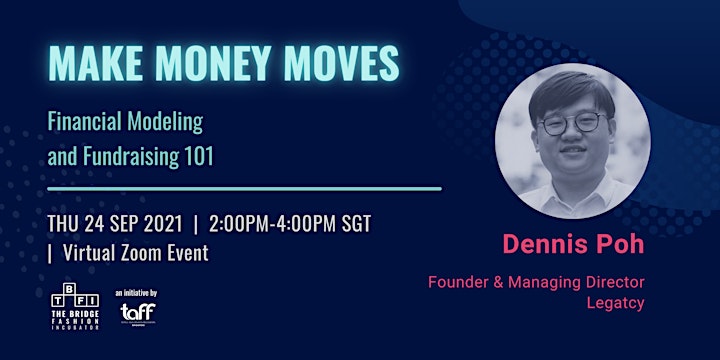 We live in the post WeWork and Uber age where start-ups think they can win investors over with zealous pitches promising steep hockey curves in the name of market acquisition. The new reality in this economic downturn is that investors are more cautious with their investments. Founders are expected to be able to explain their start-up story with numbers hat are backed with proper basis assumptions. Are you prepared? Attending this workshop will not only prepare you to explain the numbers (from finance to capital table) for your start-up, but also let you understand what investors are looking for.
About the Speaker
Dennis Poh | Founder, Managing Director of Legatcy
Experienced Director with a demonstrated history of working in the government administration industry, Dennis Poh is skilled in Accounting, Tax, Corporate Legal, Corporate Structure Advisory, Corporate Governance and Cross Border Structuring matters. Dennis founded the Company RescaleLab and overall manages a transnational corporate service/tool company through leading a team of advisor and consultants in Singapore and Asia. He is an expert in advising business owners and founders coming from different countries around the world, on cross border structuring and compliance and business strategy planning.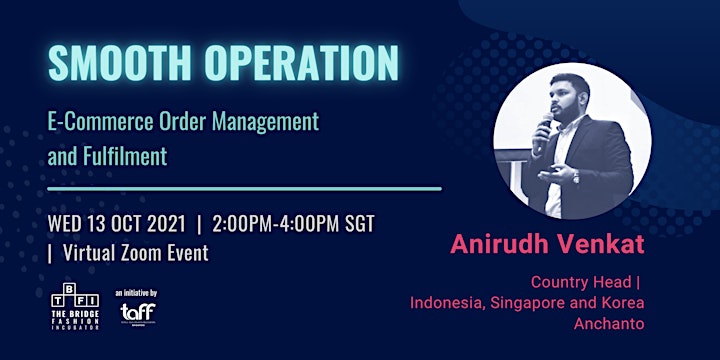 In this global commercial space, thinking global and establishing scalable business practices is key to succes. In this workshop will focus on addressing key elements of operating a business, such as: Order management and fulfilment Inventory Management; Logistics (direct & 3PL); Warehousing & stocking The workshop will be conducted as a short seminar followed by a facilitated discussion and Q&A session.
Anirudh Venkat | About the Speaker
Anirudh is the Country Head for Singapore, Indonesia, and Korea at Anchanto. He oversees the creation & implementation of business strategies to make Anchanto's vision an operational success in these countries. Anirudh started as a Customer Success Director at Anchanto and built the Customer Support, Account Management, and Subscription Sales teams across Singapore, Indonesia, Philippines, Malaysia, Korea, and India. He began his career in Marketing & Sales in the Engineering Software Industry and later moved into the internet space with Directi Group- in their SaaS business unit handling large customers in SEA. In 2014, Anirudh started his own company to help brands and retailers micro-target, acquire, convert, and retain customers. Passionate about entrepreneurship and the SaaS ecosystem in Asia, Anirudh is a seasoned speaker and regularly participates in Panel Discussions and Keynote Sessions across APAC.