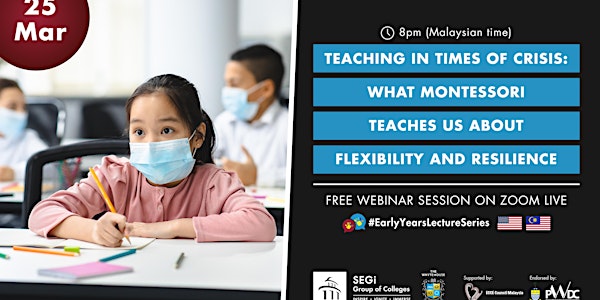 Teaching in Times of Crisis: Montessori | Flexibility | Resilience
Teaching in Times of Crisis: What Montessori Teaches Us About Flexibility and Resilience
About this event
Teaching in Times of Crisis: What Montessori Teaches Us About Flexibility and Resilience
Date: 25 March 2022 (Friday)
Time: 8pm Malaysian Time
Our Speaker:
Prof. Catherine McTamaney, Vanderbilt University
Background:
An award-winning teacher and author, Professor McTamaney works primarily with undergraduates in Peabody's teacher licensure programs, focusing on the social and political context of public education and the integration of education and the arts. A three time graduate of Peabody College, Professor McTamaney has been at Vanderbilt for most of the last twenty five years.
In partnership with the Montessori Group, Dr. McTamaney consults on issues of Montessori teacher education and community impact and is the host of the Montessori Group's podcast, Momentum in Montessori. She is the author of two books on Montessori education and compassionate teaching, The Tao of Montessori and A Delicate Task, and noted Montessori lecturer across the US and abroad.