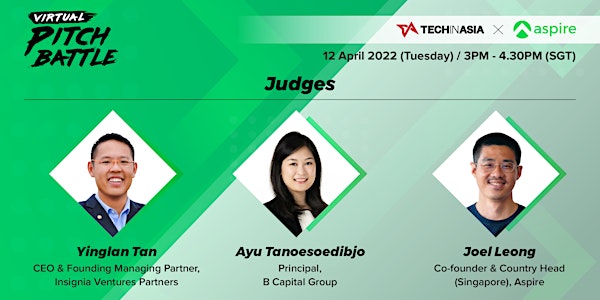 Tech in Asia x Aspire Virtual Pitch Battle 2022
Tune into the awaited pitch featuring early start-up finalists across the SEA region battle out.
About this event
If you're a founding member and perhaps want to become a founder, this is a perfect opportunity to view how other start-ups pitch. If you are an investor, you may be capable of meeting your future portfolio start-ups or catching rising start-up trends, among other things.
Gained dozens of applicants from early start-ups throughout Southeast Asia and partnered with Aspire, six hand-picked start-ups were selected through a precise screening process to pitch in front of the most reputable judging panels and other tech ecosystem industry players.
Watch the finalist battle it out from your comfort home for free!
Who should attend?
Founders and founder-wannabe
Founders who want to stay ahead of the curve on the tech scene
Venture capitalists on the hunt for new and coming start-ups
Why should you attend
Boost your pitching and presentation skill set.
Connect with other entrepreneurs and people who share your best interest.
Discover the various questions that investors enquire.
Get viewpoints from the best start-ups in your country/region.
Judging Panel
Yinglan Tan, CEO & Founding Managing Partner, Insignia Ventures Partners
Ayu Tanoesodibjo, Principal, B Capital Group
Joel Leong, Co-Founder & Country Head (Singapore), Aspire
About Tech in Asia
Tech in Asia (TIA) is the largest English-language technology media company that focuses on Asia. From the latest news and hottest trends to the boldest start-ups and strongest titans, TIA covers everything tech in the region. The company aims to build Asia's tech and start-ups community by bridging the gap between businesses and the information, talent, and connections they need.
About Aspire
Aspire is the all-in-one finance operating system for growing businesses. We help companies save time and money with borderless payments, corporate cards, expense management, and more. Our mission is to empower the next generation of entrepreneurs with the financial tools they need to realize their company's full potential. Headquartered in Singapore, with offices in Indonesia and Vietnam, Aspire is backed by some of the world's best VCs, including Y-Combinator, the #1 start-up incubator in the world.
----
By registering, you're giving your consent to receive marketing and promotional emails from Tech in Asia.