TECH-OUT!
By Office of Learning Technologies
Date and time
Starts on Thu, 26 Apr 2018 14:00 +08
Location
Ngee Ann Polytechnic Blk 58, 535 Clementi Road Singapore, 599489 Singapore
Description
TECH-OUT! is for educators

, academics and key personnel overseeing Information & Communications Technology

to learn the latest trends of educational technology from institutions and industry experts.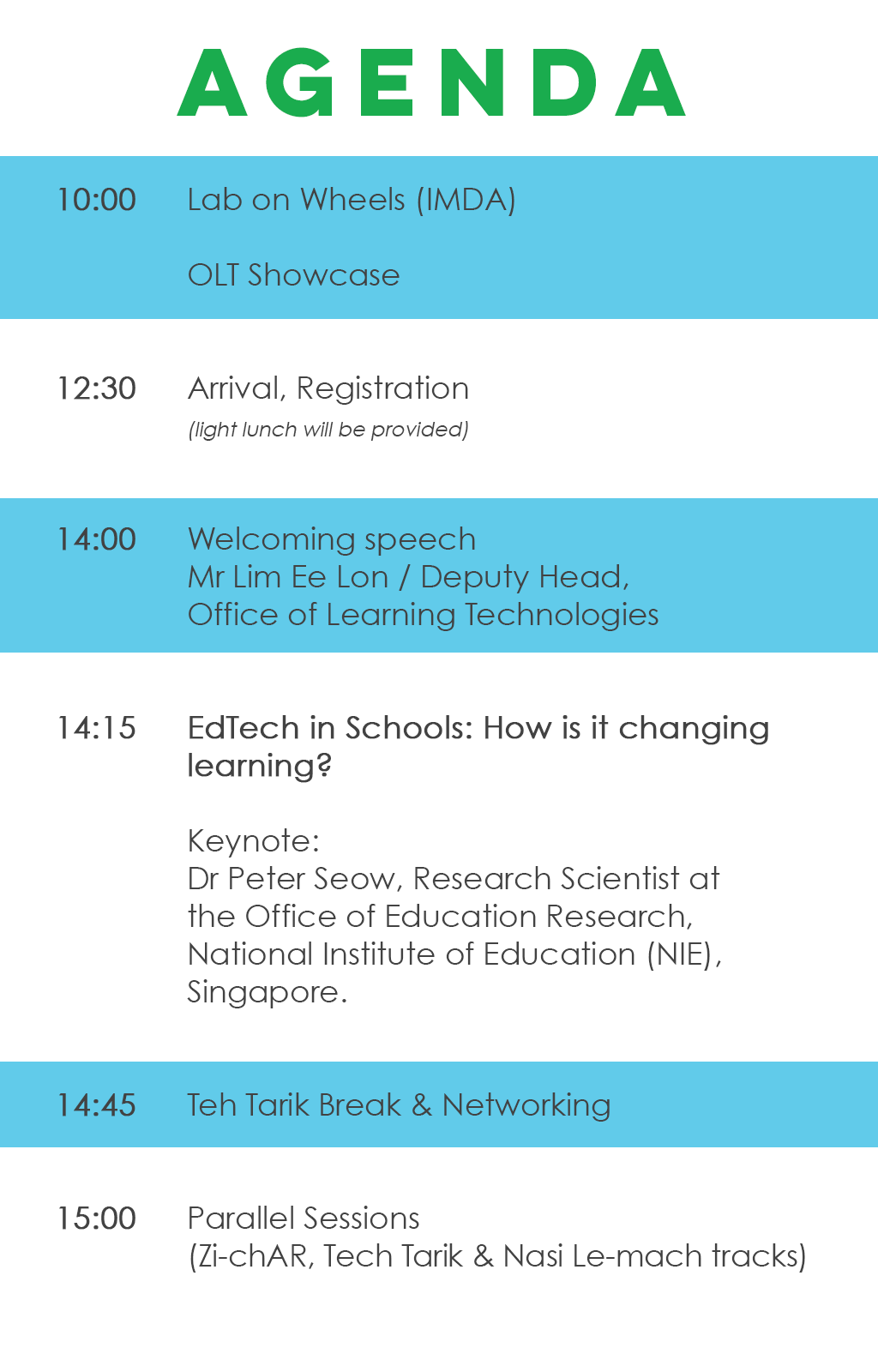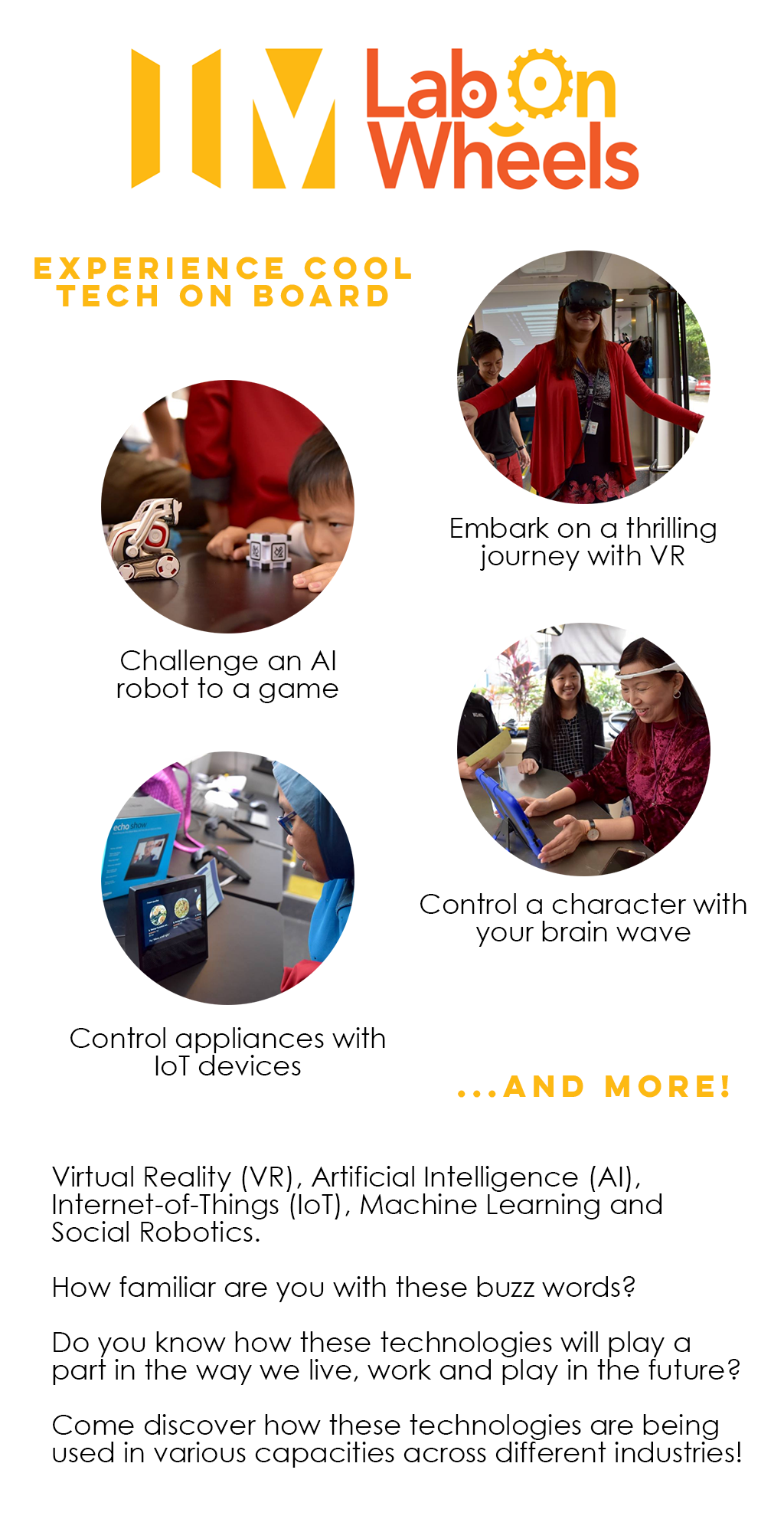 Dr Peter Seow is a Research Scientist at the Learning Science Lab under the Office of Education Research in National Institute of Education (NIE) of Nanyang Technological University, Singapore. He obtained his PhD in the area of technology use for learning and teaching; qualitative research and phenomenological methods. Peter has worked for more than a decade in schools via design-based research, with school leaders, teachers and researchers in implementing, scaling and sustaining school-based 1-to-1 mobile technology curriculum innovation.
Mr Benny Ho is a Course Manager in ITE College Central (ITE CC), where he manages two courses, namely, the Higher Nitec in Games Design & Development course and the Higher Nitec in Mobile Unified Communication course. In Apr 2017, he set up an Immersive Technology Centre in ITE CC to focus on the development of AR and VR learning contents for vocational education.
Benny also has 16 years of commercial experience in the Wireless Communication and Defence industries. In 2015, Benny was awarded the highest level of recognition – Gold Medal for his Master of Arts (Educational Management) Degree from NTU/NIE.
Mr Mark Lee, is a Senior Lecturer with ITE College Central (ITE CC). He is currently with the Higher Nitec in Games Design & Development course. Over the past 10 years, Mark has taught in various IT- based courses including, Multimedia Technology, Information Systems Quality and Mobile Unified Communication. Mark is an advocate of Lifelong learning. He has a Masters in Networking and Systems Administration (with High Distinction), and in 2017, obtained his Specialist Diploma in Internet of Things (with Merit).
Dr Daniel Sparing, Ph.D. is a Machine Learning Specialist with Google Cloud, helping organizations build large-scale predictive models that create impact. Daniel has more than 10 years of research and global consulting experience in artificial intelligence and mathematical optimization, across a wide range of industries including telecom, finance, transportation and logistics, and the public sector. His interests include recommender systems, AutoML models, and model lifecycle management.
Mr Kee Cheng Heng is the Sales Lead and co-founder of HelloHolo. Having previously worked with Microsoft Singapore's Developer Experience and Evangelism team as a Technical Evangelist, he has used his wealth of knowledge and experience with Microsoft's development platforms and tools to empower the community to achieve more. He now leads the HelloHolo team to inspire other enterprises and consumers by providing consultancy and guidance on ideating the next frontier of applications.
A/P Alfred Tan has been a faculty member since 2011 at the Singapore Institute of Technology (SIT), Singapore's university of applied learning. He is also the Programme Director of two joint degree programmes in collaboration with the University of Glasgow; Mechanical Design Engineering and Mechatronics. Recently, he is interested in the use of augmented reality devices to enhance the learning in kinesthetic learners. He is also actively looking out for collaborative projects opportunities and recently gave a presentation at the SIT's inaugural Applied Learning Conference entitled "Theme-based, Small-group Collaborative Learning Approach in Engineering Final-year Projects".
Mr Ng Wee Chong is a System Administrator with Ngee Ann Polytechnic and he manages infrastructure for various IT projects such as Data Analytics. He is a keen free-style drone pilot for over 2 years and has been building his own racing drones from parts, tweaking, racing, crashing and the cycle repeats. His other hobbies includes CAD Design for 3D printing.
Mr Terence Chan is a Systems Manager with Ngee Ann Polytechnic and he manages the Computer Labs and Campus IT projects involving End-user technologies. He has more than 10 years of experience in both IT and RC (Radio-Control). His interests include IT Project Management methodologies, RC Rotary Models (helicopters/ multi-rotors) and Antenna Designs for Drone systems.
Ms Germaine Chua, BSc, is an Optometry lecturer with Ngee Ann Polytechnic. She is the Senior Manager of Ngee Ann Polytechnic Optometry Centre, managing the operations of the learning center for the Optometry students. She has a keen interest in education and contact lenses, earning a Postgraduate Diploma in Higher Education, and being a Fellow, International Association of Contact Lens Educators.
Ms Jessica Yang, MSc, is an Optometry lecturer with Ngee Ann Polytechnic. She manages the staff learning and development for the School of Health Sciences, and has a keen interest in education. She has also earned a Postgraduate Diploma in Higher Education
Directions to Ngee Ann Polytechnic > click here.
Parking Information:
Nearest carparks to Blk 58 are CP-N, CP-P & CP-M. You can find out the carparks here & the directions to the carparks here.
Click here for parking rates.

For enquiries > click here.
*NOTE: Photographs & videos taken at TECH-OUT! may be used for NP's publicity material. By participating in this event, you consent to NP photographing and using your image & likeness.

About the organiser