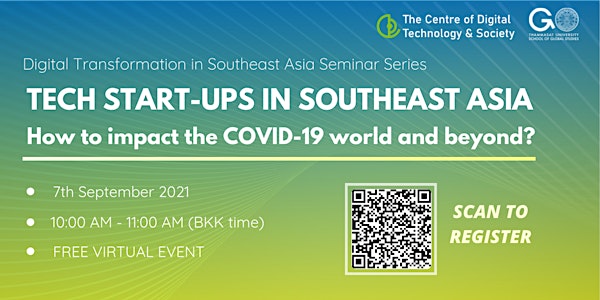 Tech start-ups in SEA: How to impact the COVID-19 world and beyond?
Start-ups help respond to the pandemic, rebuild while creating more inclusive economies that can address the challenges of the future.
About this event
The Centre of Digital Technology & Society (CDS) at Thammasat University is organising the Digital Transformation in Southeast Asia Seminar Series. The series begins with two panels on the impact of COVID-19 on start-ups in Southeast Asia and how they can help society respond to the crisis and rebuild. We bring together start-up founders, investors and ecosystems from around Southeast Asia.
REGISTER NOW
Session 2: "Tech Start-ups in Southeast Asia: How to impact the COVID-19 world and beyond?"
Date & time: 07 Sep 2021, 10:00 AM - 11:00 AM (BKK time)
Location: online meeting on Zoom
Moderator: Jes Kaliebe Petersen
Proposed Speakers:
Kanpassorn Suriyasangpetch - Founder of Ooca telemedicine
Artak Robert Melkonyan - Global Lead, UNDP Impact Venture Accelerators
Shuyin Tang - Partner at Patamar Capital, CEO Beacon Fund
Hoai-Tuong Nguyen - General Manager at Titops
Audience:
Scholars and stakeholders in the start-up ecosystem in Southeast Asia who are interested in how start-ups can make a positive impact in the new economy.
Broad Panel Questions:
At this critical juncture, why should tech start-ups focus on their social impact and helping create sustainable, resilient, and inclusive economies in Southeast Asia?
What are the emergent challenges that tech start-ups are positioned to take on?
How can stakeholders from investors, governments and inter-governmental organisations guide and support start-ups positively impact the new economy?
---------
UPCOMING
Session 3: "Education and Online Learning in Southeast Asia: What's changed in the time of crisis?"
Date & time: 23 Sep 2021
Location: online meeting on Zoom
Organiser: The Centre of Digital Technology and Society (CDS)
Housed at Thammasat University's School of Global Studies, CDS conducts research and facilitates dialogue on the social impact of digital technologies while supporting capacity development and innovation for an inclusive and equitable digital economy that empowers the most marginalised and vulnerable.
For more information, please visit us at: