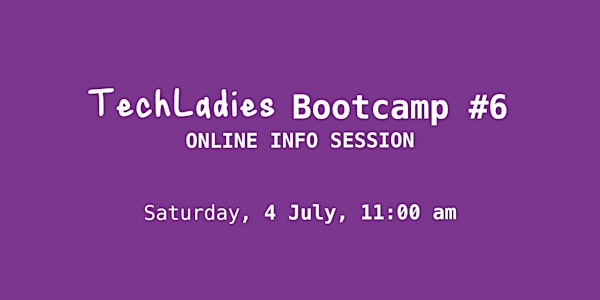 TechLadies Bootcamp Info Session 2020
Your ticket to a career in technology awaits you!
About this event
TechLadies is a community for women to connect, learn and advance as programmers. Part of what we do is the highly subscribed TechLadies Bootcamp that was featured in the Straits Times.
The TechLadies Bootcamp is a 14-week program where women learn how to code by creating web applications for non-profit organizations, under the guidance of industry experts. 33% of the TechLadies Bootcamp graduates eventually found software-related jobs and internships.
The next TechLadies Bootcamp will run from September 2020 to December 2020.
This is a part-time program where you will be required to attend weekly sessions on Saturdays and code on your own throughout the week. You are required to commit at least 15 hours per week in total.
During the virtual info-session, we will introduce our Bootcamp Builders who will be coaching and guiding the participants during the Bootcamp. We will also announce pre-bootcamp workshops to prepare you for the task you will need to complete in order to apply to the TechLadies Bootcamp. A detailed agenda will be shared with you a week prior to the session.
Join us at this info session to know more about how the TechLadies Bootcamp can be your gateway into the tech industry and the application process. You can find more information about the TechLadies Bootcamp on our website.
The event will be streamed live on the TechLadies Facebook Page. Feel free to share this with other lady friends who could benefit from the Bootcamp!