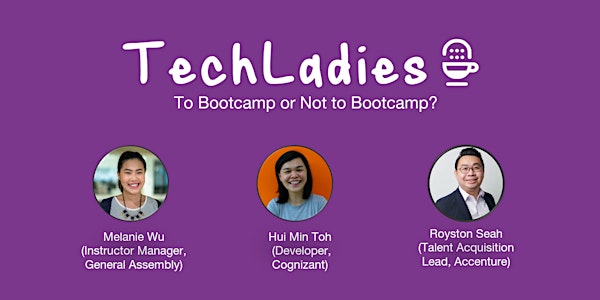 TechLadies Brunch Livestream: To Bootcamp or Not to Bootcamp?
Note: Tickets to our events usually go out quickly so follow us on our TechLadies Facebook Page/Group to receive the latest updates!
About this event
Just can't get enough of the valuable doses of insights & inspirations that TechLadies has brought to you? Well, we're back to satisfy your addiction with the 3rd installment of our Brunch Live-stream Series!
This month, we have the honor of hosting 3 panelists on the topic of Bootcamps!
" What are bootcamps all about? Will it help me secure a job in the tech industry? Do I need to have coding experience?"
We'll discuss these questions that we know many of you have had. More importantly, each panelist will share from their respective perspectives as a recruiter, bootcamp graduate and bootcamp training provider in this tech industry. Sounds exciting already isn't it?? What better opportunity to get hold of such a panel to provide advice from different angles! So wait no more and grab your ticket to yet another not-to-be-missed event from us! Oh, and of course, don't forget to share this good stuff with your friends!
As per our previous event, there will be a live Q&A for you to post your question to them! Feel free to also share your question ahead of the session (upon checkout for a ticket).
Once you have RSVP'ed, you'll receive a link to join our TechLadies Facebook Group where the live-stream will take place.
Speakers' Bios:
Melanie is currently the Instructor Manager at General Assembly Singapore.
She started her career at GA as an Education Programs Producer and managed all of Singapore's full-time and part-time courses. She's had experience in working with great instructors and meeting students from all walks of life. Melanie is passionate about engaging with the community and continues to work towards enabling learning for everyone.
Prior to joining the GA family, she was a secondary school visual arts teacher with the Ministry of Education (MOE) for 4 years. She graduated with a Bachelor of Education from York University and a Bachelor of Arts (Honours) specialising in Arts Management from the University of Toronto.
Min is a developer with Cognizant and enjoys building interfaces that are useful, beautiful and intuitive. An analyst turned developer, she is passionate about the community and contributes where she can by sharing her experiences and lessons learned along her journey into tech. Outside of work, Min works with personal projects to improve and build competency. She also loves her coffee.
Royston is in the Human Resources – Talent Acquisition Team for Accenture. As the Recruitment Lead, he is responsible for handling Recruitment Acquisition strategies and operations in the Technology Service space covering SEA, and works with recruiting team within the region.
Graduated with a Bachelor's Degree in Business with a HR Major, Royston comes with more than 10 years of working experience in both Talent Acquisition and HR Management functions. In his previous role with an IT Consultancy firm, he was tasked to manage end to end recruitment delivery functions within a team covering Singapore business operations. Having worked with firms from a varied range of industries from logistics to audit and accountancy practice, he was exposed to different HR perspectives and work alongside diverse groups of people. From these engagements, he understands the need to partner business organizations closely in selecting the right talent for fulfillment and in parallel managing necessary expectations for all stakeholders.
Outside work, Royston is an avid Manchester United fan and plays the game leisurely during weekends. He enjoys all sports, and likes to catch up on movies and dramas in his free time.
Commitment to Diversity in Tech
As we are trying to improve the gender ratio of the tech industry, this event is designed for women and those who identify as one, as well as folks from underrepresented backgrounds. We are for-women, but we are not anti-men. Men are still welcome to register!
If you have any questions, please reach us at events@techladies.co.
About TechLadies
TechLadies is a community for women in Asia to connect, learn, and advance as programmers. Since our launch in 2016, we've have grown to a community of over 4000 members across Asia; taught over 500 ladies in Singapore and Malaysia how to code; and saw 12 ladies getting technical internships or hired as junior software engineers.
Do sign up for our mailing list so no more FOMOs' on our future events (online, and hopefully offline, soon!).