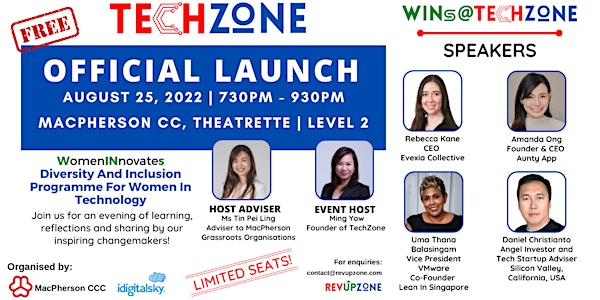 TechZone Launch Event
Join Us at TechZone Launch Event - August 25th
When and where
Location
379131 MacPherson CC, Theatrette Level 2 400 Paya Lebar Way Singapore, Singapore 379131 Singapore
About this event
TechZone is Macpherson Citizens' Consultative Committee (CCC) and RevUpZone joint collaboration platform supporting diversity and inclusion programs.
We are pleased to announce WomenINnovates - WINs@TechZone as our 1st diversity and inclusion program for women in technology. WINs@TechZone was founded in May 2022 to build an inclusive women-in-technology community centered around learning, empowerment and growth (LEG) – giving women a LEG up.
WINs@TechZone is dedicated to empower learning, training and development in building a future of diversity and inclusivity for women in innovation and digital technology. We connect members with learning opportunities in tech through a hybrid of online and face-to-face events and regular updated resources to help members acquire new skills to thrive in their careers.
We are delighted to invite you to our launch event for TechZone on 25th of August 2022 in Singapore. This is a great opportunity for you to hear from our exciting line-up of speakers who will be sharing their empowering stories and network with women, at different stages of their careers and life.
Here is how you can benefit from our session:
• Get an overview of the vision of TechZone and how you can be a part of that vision.
• Hear the following speakers sharing their stories and amazing journey in the tech industry:
1. Rebecca Kane, CEO of Evexia Collective
2. Amanda Ong, Founder & CEO of Aunty App
3. Uma Thana Balasingam, Vice President of VMware, Co-Founder of Lean In Singapore
4. Daniel Christianto, Angel Investor and Tech Startup Adviser, Silicon Valley, California, USA
• Network and connect with attendees and gain inspiration.
Save the date, book your seat now!
We look forward to meeting you in-person. Feel free to reach out in case of additional questions.