Countdown is a global initiative to champion and accelerate solutions to the climate crisis, turning ideas into action.
About this event
The goal: To build a better future by cutting greenhouse gas emissions in half by 2030 in the race to a zero-carbon world – a world that is safer, cleaner and fairer for everyone.
The ongoing health and economic crises are reminding us of an important fact: We're all part of the same fragile system, dependent on nature and one another.
As we look to the future, we must build forward and emerge more sustainable and resilient than before.
We can change climate change – #JoinTheCountdown to a safer, cleaner, fairer future. Countdown invites collaboration from every organization, company, city and nation and from citizens everywhere. It is a movement open to everyone – and everyone has a vital role to play.
Countdown seeks to answer five fundamental, interconnected questions that help inform a blueprint for a cleaner future.
We are bringing together scientists, activists, entrepreneurs, urban planners, farmers, CEOs, investors, artists, government officials, and others to find the most effective, evidence-based ideas out there. Our goal is to identify the bold solutions that can be activated when people break out of their silos and rise to the challenge.
Date - 1st November
Time - 2:30pm - 5.30pm
Stay tuned for the schedule!
TEDxDuxtonHill is an independently organised TEDx event, licensed by TED. It is completely volunteer-run and financially supported by generous partners. This chapter of TEDx in Singapore is named after the Duxton Hill area, which sits in the Downtown Core of Singapore, on the former 13-hectares nutmeg plantation with 1,800 trees of Dr J. William Montgomerie (1797–1856), who first arrived in Singapore in 1819 together with the founder of Singapore, Sir Stamford Raffles. Apart from being the first official surgeon in Singapore, his impact on Singapore's early community went beyond medicine, extending to the administration of the town, new scientific discoveries as well as social activities.
In addition to contributing to TED's vision for 'ideas worth spreading', we also hope to promote the values of progressiveness and build a community of change advocates who are courageous like Dr William Montgomerie and be open to stepping up to be the change they want to see.
Join our Facebook support group and start a discussion by sharing your commitment to climate change and how you can make a difference.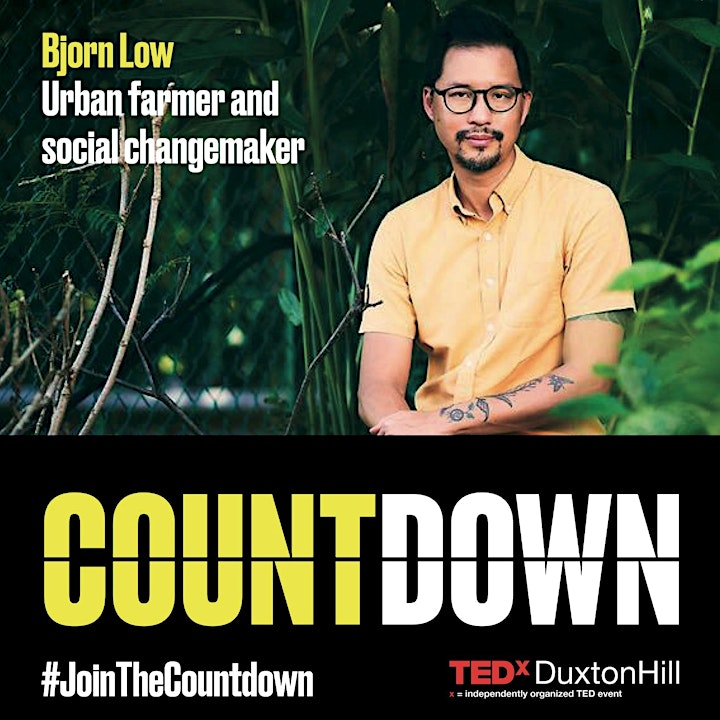 We are proud to announce that urban farmer and social changemaker Bjorn Low will be one of our speakers at the much anticipated TedXDuxtonHill Countdown event happening on the 1st of November 2020.
Recently we visited Bjorn at the Edible Garden City to capture his speech.
Bjorn is an Ashoka fellow, a young leader of the World Cities Summit and the co-founder of Edible Garden City, an urban farming social enterprise. Bjorn's practice and research focus on identifying the value that urban agriculture brings to the communities of highly dense and food import-dependent cities such as Singapore.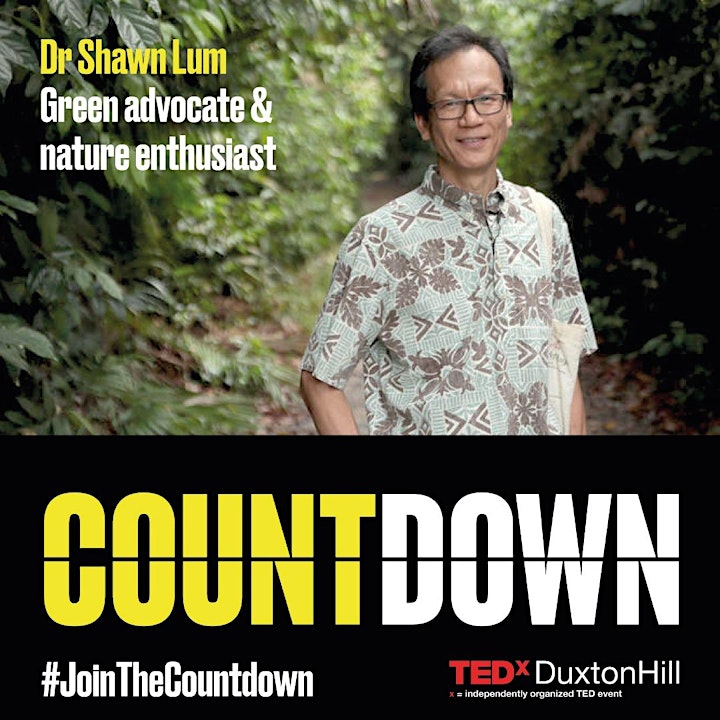 Our second speaker from Singapore is green advocate and passionate nature enthusiast, Dr Shawn Lum.
Shawn Lum is a botanist and lecturer at the NTU Asian School of the Environment. He is an active volunteer in the nature community in Singapore.
Shawn is the President of the Nature Society (Singapore) and a former member, of the PUB Water Network Panel. He has worked hard to make progress with collaborations on nature and water issues over the past decade.
We were at Upper Pierce Reservoir last week to capture his speech.
Don't miss Shawn's share his insights on how we can all make a difference when it comes to climate change.
Check out our fantastic lineup of speakers. Join us for this FREE event happening in two days.
Come ready to take action. We are counting on you!
Don't come alone, invite a friend to join as well!
#JoinTheCountdown with #TEDxDuxtonHill #TurnTalkToAction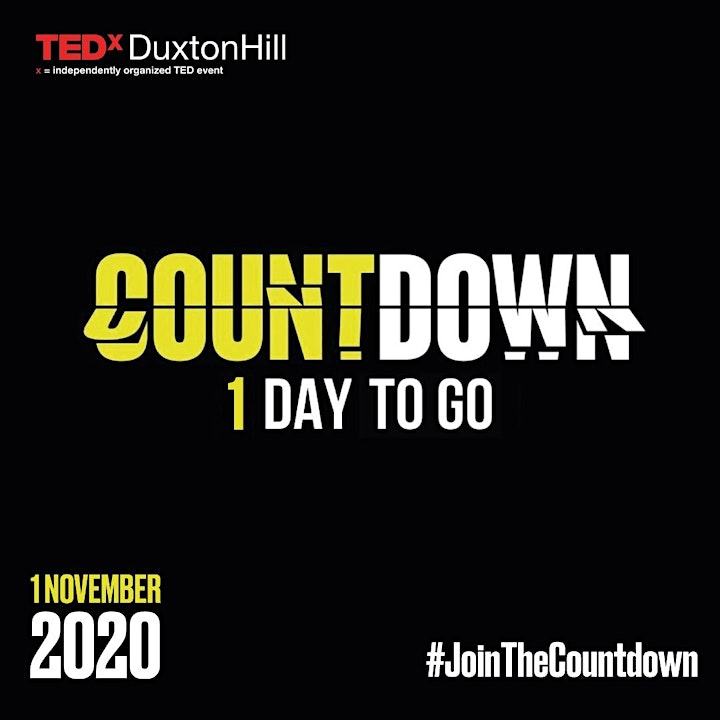 This is what the world needs now. Join us tomorrow to take action, and don't forget to bring a friend.
We want to give you two critical points to ponder on before tomorrow:
1. What would you like to see change when it comes to climate change?
2. What is your pledge towards climate change?
Remember, the onus isn't just on big corporations to change the way they operate. We, as individuals, have a vital part to play as well.
We're looking forward to seeing you tomorrow!
Follow us on Facebook and Instagram
#JoinTheCountdown with #TEDxDuxtonHill #TurnTalkToAction