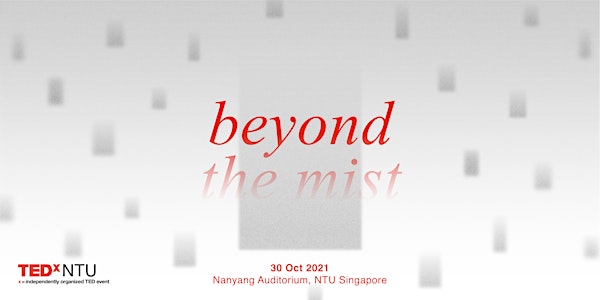 TEDxNTU 2021: BEYOND THE MIST
TEDxNTU 2021: BEYOND THE MIST
About this event
Do you remember what it feels like to be in a dense mist? In such a hazy moment is the dominant feeling fear about what you might encounter next or uncertainty about which way to head? While we indeed encounter mist that challenges our physical vision, what of the metaphorical mist we encounter as we navigate life itself?
Mist in life can represent uncertainty—that feeling of having no clear way out. Such a feeling can be deeply debilitating because the need to be in control of our own fate runs deep in human nature. We wish to feel safe about the future, trying our best to ensure that every step we take is one that leads us in the right direction. Yet, we are bound to face moments of unclarity, disorientation, and struggle; moments like the loss of a loved one, receiving a rejection letter, or falling into addiction. How do we deal with such personal mists?
The metaphorical mist can also act as a veil that masks ugly but critical truths around the world. This past year, we witnessed extreme social and economic injustices: for instance, for the wealthy, worldwide mandatory lockdowns represented disruption of their daily activities; but for the poor, it meant hunger, despair, and economic instability. Although some may have purposefully decided to look the other way, several others have unknowingly fallen prey to misinformation while many more live in ignorance. How do we seek out and identify the truth?
At TEDxNTU 2021 we warmly invite you to come explore and go beyond the mist in its distinct forms. We bring the spotlight on those who have emerged out of the mist, those who can offer illuminating inspirations and guide us by sharing ideas that focus on unifying us, challenging the status quo, and putting us back on track. As a community we aim to cocreate answers for questions such as:
· How can you find meaning in your life through the arts?
· Why is solar panel technology in need of a complete overhaul?
· How can daily emotional care heal our trauma and pain?
· How could understanding and communicating with plants change the world?
Our collective journey through the mist and beyond will feature the following practitioners who are offering innovative ways for going beyond the mist.
Speaker List
Andy Hau Yan Ho, Empirically Creative Healer
Annalisa Bruno, Futuristic Solar Technologies Advocate
Devi Sahny, Ed-Tech Disruptor
Hakim Young, Humanitarian Peace-builder
Xiaodong Chen, Plant Communicator
Also featuring a dialogue with
Walid Jumblatt Bin Abdullah (Conversation), Researcher of Politics
But there is more! Participate in street photography contests, get an introduction to investment, and, for the first time ever, dance to the melodic TEDxNTU theme song!
Food Workshop
Food waste is a major concern in Singapore. In 2019, Singapore generated around 744 million kg of food waste. Tai Tai Chef and TEDx NTU have decided to collaborate to conduct a workshop on Food Waste Management using the ugly looking produce sourced by Ugly Foods, an F&B social enterprise. Tai Tai chef will teach the students how to prepare a 3-course meal using the ugly looking produce, encouraging the students to eat flexibly and increase their acceptability threshold.
Click HERE to register!
Photography Workshop
Students will send in their entries through Instagram by tagging the TEDxNTU page and adding the hashtag 'PhotowalkTEDxNTU' on their posts. An expert on street photography, Azrizal Anu Che' will be asked to judge the entries. Azrizal was named as one of the 20 Awe-Inspiring Street Photographers by EyeEm magazine in 2014. The top 10 entries will be selected to participate in this workshop. These top entries will be displayed in the foyer on the TEDxNTU event day.
In this workshop, you will learn the fundamentals of street art photography while shooting alongside a professional street photographer. You will get to see and learn how to compose and capture perfect shots in a matter of seconds. Throughout the class, participants will have the opportunity to have their photographs assessed and discussed. The class will also cover the dos and don'ts of clicking strangers in public areas, as well as tips on public photography without invading an individual's privacy.
Click HERE to register!
Dance Workshop
For the very first time in the history of TEDxNTU, we have come up with a Theme Song and collaborated with Poh Chin, composer and singer. TEDxNTU is teaming up with NTU Korean Cultural Society to organise this dance workshop on the theme song. Students will get to develop their talent and confidence through this unique experience of sharing their sensibility for movement with the NTU Korean Cultural Society (NTUKDP).
Click HERE to register!
ARTISAN Clay Workshop
Have you ever thought about the relation between your favourite food and emotions? ARTISAN is an experience that brings together the community to embark on a journey of facilitated intergenerational storytelling and creative art-making. In this version curated for TEDxNTU, you will explore clay art with others, and share your stories around your favourite foods. You will be guided throughout the experience. Just enjoy and unlock your creativity!
Click HERE to register!
MCAT-DC: Empowering Self-Care (Stress transformation) Experiential
MCAT-DC is a group intervention to reduce stress, build resilience and raise awareness for more self-care. In this version curated for TEDxNTU, you will experience mindfulness through meditation and engage in expressive art-making to transform personal experiences into symbolic art pieces. Join us to immerse yourself in a mindful compassion art-based therapy and release all stress!
Click HERE to register!
Seal the Deal in 60 Seconds
This activity would allow the participants to embark on a gamified start-up journey without missing out on the excitement of a real-life experience. The game is intended to provide the participants an opportunity to demystify the start-up journey. The participants will get to understand the basic nuts and bolts to starting up with NTUitive and potentially benefit from the wealth of resources they have to offer to budding entrepreneurs and nascent stage start-ups.
Click HERE to register!