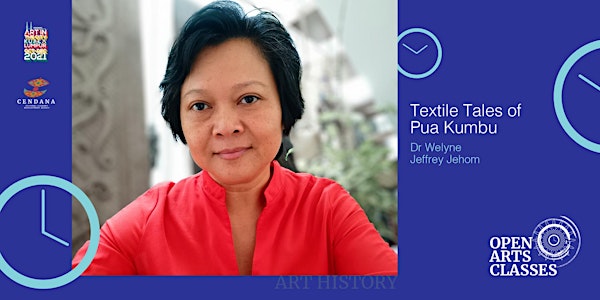 Textile Tales of Pua Kumbu with Dr Welyne Jeffrey Jehom
Listen to tales of Pua Kumbu and learn about its history and its making.
About this event
ARTIST BACKGROUND
Dr Welyne Jehom is a senior lecturer at the Department of Anthropology and Sociology, Faculty of Arts and Social Sciences, Universiti Malaya. Her most successful research and sustainable community engagement has been the development of the Indigenous knowledge of the traditional textile, the Iban Pua Kumbu, which has led to a series of exhibition, the "Textile Tales of the Pua Kumbu" since 2015.
CLASS SUMMARY
History and function of Pua Kumbu
Screening of an animation of the origin of Pua Kuumbu
The ritual involved in the making of Pua Kumbu
The preparation of the threads
The preparation of weaving
IMPORTANT NOTES
Class will be conducted in English
Suitable for students and beginners
Expand your knowledge and interest in ethnic heritage and history