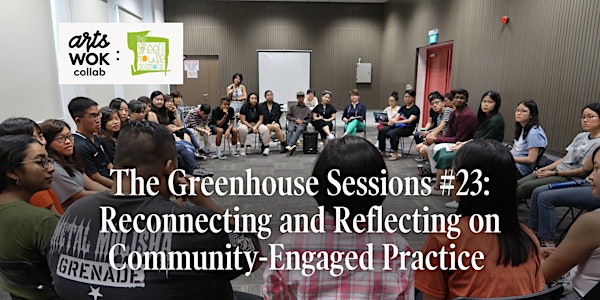 TGHS #23: Reconnecting and Reflecting on Community-Engaged Practice
Join us at The Greenhouse Sessions #23: Reconnecting and Reflecting on Community-Engaged Practice for our first physical session in 3 years!
Date and time
Sat, 25 Mar 2023 10:00 - 14:00 +08
Location
Goodman Arts Centre 90 Goodman Road Multi Purpose Studio 1+2 Singapore, 439053 Singapore
About this event
It's been 10 years since The Greenhouse Sessions was convened and we have looked back at all past 22 session reports to share with you the salient questions, concerns and needs that emerged from this community, at TGHS #23.
We will be getting together for a chance to share, listen and reflect on how we've been practising, questions we're grappling with, challenges we're facing as well as hopes we have for arts-based community development. Plus, to makan together!
Whether you are working in community-engaged arts, or with communities and have some exposure to arts or creative approaches, this is an opportunity to dialogue, learn from one another and network. Through smaller groups, and a discussion with all present, we will identify new questions, gaps, as well as opportunities that have emerged.
Contributions at this session will also inform the designing of a larger learning event to take place in early 2024.
Date and Venue
Saturday, 25 March 2023
10am - 2pm (lunch included)
Goodman Arts Centre
90 Goodman Road
Multi Purpose 1+2, Blk O #01-55/56
Singapore 439053
---
Registration
Please register by 21 March 2023, 2359.
The session is free but limited to 30 pax. Please register early, and before the event to avoid disappointment.
Note that registering for a ticket is taken as an indication of interest and not a confirmation of your participation. We will be in touch to confirm your attendance.
Do note that if there are more than one participant from the same organisation, we may limit the number of participants per organisation to allow for more diversity in the room.
Contact
For more info, please visit https://artswok.org/programmes/the-greenhouse-sessions/ or email connect@artswok.org
---
FAQ about The Greenhouse Sessions
What is The Greenhouse Sessions?
The Greenhouse Sessions is a programme by ArtsWok Collaborative. It is a community of practice where people who share a common concern for arts-based community development teach one another to do it better through a process of regular engagement.
Our sessions involve:
Connecting with other experienced practitioners working in the field of arts in communities
Exchanging information, stories and personal experiences in a way that builds understanding and insight
Generating new knowledge and collaboration opportunities through this shared platform to kick-start meaningful action
Is this for me?
As this is a community of practice, the sessions will be open only to those who have some knowledge, experience or expertise related to the session, as well as individuals who have a keen interest to contribute to the topics of the session.
How can I contribute?
The emphasis here is on group learning, so while literature and other resources will be made available to participants from time to time, the collective wisdom of the community of practice is the real treasure. So come prepared to give and to receive.
Personal Data Protection Act (PDPA)
ArtsWok Collaborative respects your privacy. We will be taking photos, videos as well as recording audio at this event. These may be used for archival, education and publicity purposes. Comments made by attendees may be used in publications by ArtsWok Collaborative but will not be attributed. By registering for this event, we understand that you have consented to the above.
About the organiser
ArtsWok Collaborative is an arts-based community development organisation that connects communities by harnessing the power of the arts to create dialogue, invite social participation and build bridges across difference. We do this through:
1. Producing innovative arts-based community programmes
2. Providing capability-building and networking opportunities
3. Conducting research and advocacy for the field