About this Event
Our local market has been stuck in a trading range for large part of 2019. After making a low in Oct, local banks, big developers and particularly electronics manufacturers have a good run, partly fueled by US markets hitting an all-time and progress made in US-China trade talk. Investors heaved a sign of relief but is this run likely to be short-lived?
Experienced investors and traders know a storm is brewing - it's been more than 13 years since the previous one. Doomsayers have been warning about an impending crash since years ago and it's not hard to understand why.
At some point, the consequences of the loose monetary policies, geopolitical conflicts, and rising debt levels will break out into a global financial "storm".
Will US and China sign the trade deal and ends the trade war? Will there be a new deal on Brexit. US Federal Reserve has begun to cut interest rates, how would that impact the market further?
Will all these development spark a global financial "storm" much fiercer and stronger than any we've seen before?
CK Ee will share how you can benefit from this and upcoming event.
Attend this 2-hour seminar and learn how you can finally be on the right side of the market CONSISENTLY and make profits from a highly uncertain market.This seminar is jam-packed with content for retail investors and traders like you.
Here's what you will learn:
✔ Hidden forces (apart from global economic/political events) that drive the market and why most investors and traders lose money
✔ How to recognize signs of a bear market in the making and take advantage of it
✔ What are some of the variables to keep tab on during market slowdown?
✔ Which market will reap the most benefits and which will be most affected
✔ Gain insight into the various asset classes and more...
About The Speaker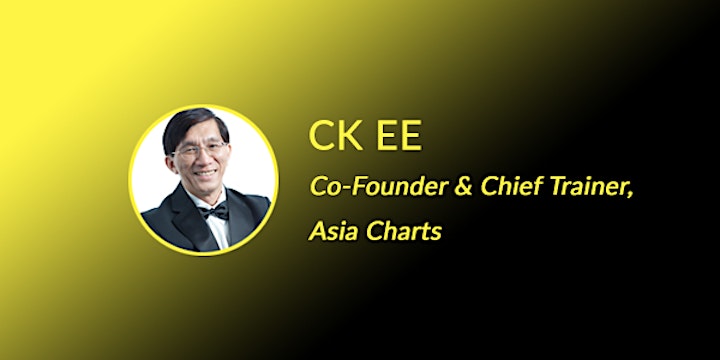 CK has been trading actively since 1993 in Singapore, Malaysia, Hong Kong and US. He focuses in trading growth / momentum stocks that have potential for big gains and using derivative instruments like CFD and warrants for better returns.
He has trained thousands of students in Singapore, Malaysia, Indonesia and Vietnam. CK emphasizes the key important of aligning oneself with the underlying behavioural structural of the market and be true to oneself in term of investing/ trading style and developing basic but critical money management skill with the right trading mindset.
CK has also been featured in local & overseas media including Bloomberg News, Channel News Asia, The Straits Times, Business Times, Borneo Post, Sin Chew Daily, Oriental Daily News, Storm and many more.