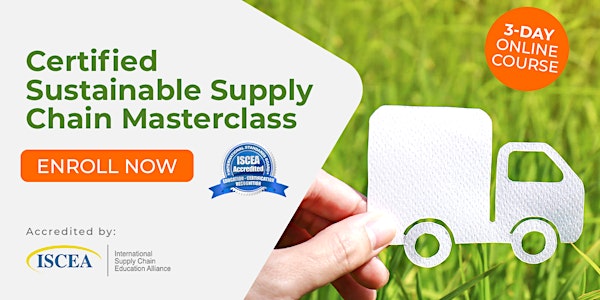 The 3-day Certified Sustainable Supply Chain Professional Course (CSSCP)
A course that sets you apart and be the future in Sustainable Supply Chain
Refund Policy
Contact the organizer to request a refund.
About this event
This CSSCP programme is delivered in collaboration with ISCEA and B2G. Join a growing community of global executives, and benefit from the opportunity to validate your expertise in supply chain sustainability management.
The 3-day Certified Sustainable Supply Chain Professional Course (CSSCP) is a comprehensive supply chain education course designed for senior executives; the program integrates sustainability into all chapters within the course.
The topics will be supplemented with real industry examples of sustainable supply chain in practice. These may be initiatives, goals, or current programs that are being executed within diverse industries to move toward a circular supply chain. The CSSCP programme is applicable to all global industries: transportation, agriculture, fashion, energy, etc. The CSSCP program will educate executives on ways to add sustainable practices to the existing supply chain or how to rebuild current supply chain with sustainability in mind.
The end goal of the CSSCP course is to educate all professionals on how to maximize success of supply chain in a way that protects the future of the planet and is sustainable in nature without sacrificing supply chain efficiency. The course aims to show that sustainability and optimized supply chain are not mutually exclusive, but rather can complement each other.
The CSSCP program supports some of the UN SDGs and can be used to educate those who are interested in pledging to the SDG Ambition Goals.
You will walk away from the programme with the ability to:
• Understand/Analyse sustainability practices that can drive change
• Influence management, leadership, and other key stakeholders as to the competitive advantages of being a purpose-driven business to success
• Explore the broader political and social landscape in which you operate
• Equip the skills and knowledge to apply design, innovation and leadership competencies within your team or organisation
• Determine what YOU can do in your career/role to become a purpose-driven leader
COURSE OUTLINE
SECTION 1.1
INTRODUCTION
1.1.1: Introduction to Sustainability
1.1.2: Approach Toward Sustainability 3 Immediate Actions
1.1.3: Sustainable Development Goals
1.1.4: Actions that Companies Should Take Now Corporate Success
SECTION 1.2
ISSUES AND CHALLENGES
1.2.1: Issues and Challenges
1.2.2: Macro Challenges
1.2.3: Business Issues
1.2.4: Micro Challenges
SECTION 2.1
STRATEGY & SCOPE
2.1.1: Introduction
2.1.2: Priorities: Sustainability in the Supply Chain
2.1.3: Importance of Sustainable Supply Chain Strategy
2.1.4: Importance of Sustainable Supply Chain Strategy
2.1.5: Sustainable Supply Chain (SSC) Program
2.1.6: Implementation with the Sustainable Supply Chain (SSC) Scorecard
2.1.7: Strategy Model
2.1.8: Supply Chain Strategies
2.1.9: Integrated Cost Leadership/ Differentiation Strategy
2.1.10: Five Forces Model Analysis
2.1.11: Strategic Implications of the Five Competitive Forces
2.1.12: Sustainable Supply Chain Practices in Different Industries
SECTION 2.2
MATERIAL PLANNING
2.2.1: Inventory Optimization
2.2.2: Forecasting
2.2.3: Sales & Operations Planning
2.2.4: Aggregate Planning & MRP
SECTION 2.3
INVENTORY
2.3.1: Role of Inventory
2.3.2: Cradle-to-Cradle Design Model
2.3.3: Business Case
2.3.4: Inventory Management
SECTION 3.1
SOURCING
3.1.1: Relevance of sustainability for Procurement
3.1.2: Achieving Environmental Impact
3.1.3: Improving Human Rights Standards
3.1.4: Sustainability as Integral Part of the Sourcing Process
SECTION 3.2
PURCHASING
3.2.1: The Role of Purchasing
3.2.2: Trade-off: Economic vs. Sustainable
3.2.3: The Importance of Integration into Planning Sourcing Process
3.2.4: System Integration and Process Improvement
SECTION 3.3
SUSTAINABILITY IN MANUFACTURING
3.3.1: Sustainability in Manufacturing
3.3.2: Sustainable Manufacturing Goals
3.3.3: Life Cycle Assessment of Manufacturing Systems
3.3.4: Lean Vs Green Manufacturing Towards Sustainability
3.3.5: IR4.0 Technologies for Manufacturing Sustainability
3.3.6: Approaching Sustainable Manufacturing
SECTION 3.4
LOGISTICS
3.4.1: Sustainability and Logistics
3.4.2: Background to Logistics
3.4.3: Sustainable Logistics
3.4.4: Green Logistic Practices
3.4.5: Increasing Awareness Among Customer Base
3.4.6: Alignment with Governmental Regulations and Goal
SECTION 3.5
TRANSPORTATION
3.5.1: Defining the role of Transportation in Supply Chain
3.5.2: Modes of Transportation
3.5.3: Improvement Potentials
3.5.4: Impact to Sustainability and Trade-Offs
SECTION 4.1
ENABLING TOOLS
4.1.1: Data and Information Value
4.1.2: Emerging Technologies
4.1.3: Edge Analytics
SECTION 4.2
CIRCULAR ECONOMY
4.2.1: Linear to Circular Economy
4.2.2: What is Circular Economy
- The Ellen MacArthur Foundation Model
- The Gartner Model
4.2.3: How to employ the Strategies
4.2.4: The Business Cases
WHO SHOULD ATTEND:
• All level supply chain or sustainability professionals.
• Organizations in need of a baseline integrating sustainability into their supply chain team.
• Individuals involved in sustainable supply chain improvement projects or systems implementation (eg. corporate responsibility, pledged UN SDG Ambition Goals).
• Proactive individuals looking to acquire relevant information on sustainable supply chain practices.
• Organization wanting to leverage supply chain transformation to meet business objectives and create long-term value
Course Includes (Level 1 Certification)
• 6 classroom hours led by an experienced supply chain management expert
• Study guide with all slides and exercises.
•1 hour program review.
• Multiple choice exam (70% minimum pass mark)
About Course
• Pre-Requisites: None, but basic supply chain knowledge recommended
• Delivery Methodology: Online
• Course Language: English
• Workshop & Exam Session Fee: US$ 1,600 & Optional Additional US$ 600 for Project
ONLINE PROCTORED EXAM PRACTICE EXAM
• Duration: 30 minutes
• Questions: 25 questions
• Examination; Online
• Passing Criteria: None
• Schedule: Available Last Day of Workshop
ONLINE PROCTORED EXAM FINAL EXAM
• Duration: 180 minutes
• Questions: 150 - Multiple Choice
• Examination: Online From USA
• Passing Criteria: 70%
• Schedule: Last Day of Workshop
ABOUT THE TRAINER
Frederic Gomer is the Founder and Managing Partner of B2G Consulting. With 20+ years' experience, Frederic is a skilled, hands-on trainer who supports training with his international industry expertise. He has extensive experience in the development of sustainable supply chain process improvements for various industries. Frederic holds a Master's degree (MSc) in Material Science & Process Engineering Institute National Polytechnique de Grenoble – France. He is also a certified ISCEA trainer for Sustainable Supply Chain Professionals programme (CSSCP).
• Awarded 2017 APICS Leadership Excellence Award for a major transformation program with Schindler.
• Recognised with the Excellence in Execution award at 2019 Global Leaders in Consulting - Consulting Magazine, London
• Extensive experience in Manufacturing, Aerospace, Automotive, Retail, FMCG, Heavy Industries, Pharmaceuticals, Mining, Oil & Gas
• Deployed +30 sustainable projects at leading global organizations
• Regular contributor to supply chain and sustainability publications and a speaker at regional and global seminars and conferences
• Host of the largest global summit for sustainable supply chain.
• Conducted training sustainable supply chain programmes for clients and public
For more information, you can contact the trainer directly at frederic.gomer@b2g-consulting.com