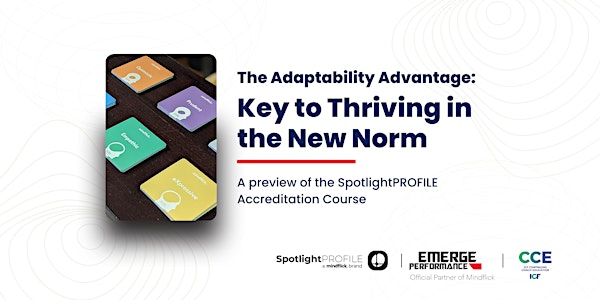 The Adaptability Advantage: Key To Thriving In The New Norm
The introduction session will provide participants with an overview of the SpotlightPROFILE® Accreditation course.
About this event
The ability to adjust our mindset when we are under pressure is what underpins adaptability – the key to thriving in an ever-changing, dynamic landscape.
We all have areas of our character that are strengths and weakesses, and there is no single best 'type' of personality. But how useful can a certain 'mindset' or ' behavioural style' be without the ability to adapt in different situations and environments?
In this introduction session, let's explore how individuals and teams can adapt their thinking or behaviours that can enable them to stay focused on a goal and adjust the way of going about it in a more efficient way.
Join Lim Han Ee, our resident Spotlight expert, as he shares how adaptability is the new competitive advantage and how Spotlight can help you to build resilient teams.
The next run of the SpotlightPROFILE Accreditation course will be held on 6 & 7 Oct 2022. Want to register for the course? Fill up the form here: https://zfrmz.com/Tz7lYQWNawvQwnMVDLUb
What is Spotlight?
Spotlight is a unique personality profiling tool, designed with adaptability, performance, and development at its heart. Spotlight helps you identify and get the most out of your natural mindset and behavioural style preferences, and provides two intuitive frameworks to help you develop your adaptability.
What is the Spotlight Accreditation Course?
Develop an understanding of the Spotlight philosophy, the practical skills, the underpinning theory and research, and how to apply it. After successfully completing the program, you will receive the following:
Spotlight practitioner account, allowing you to generate your own client profiles, and access a series of slides, resources and other materials that will help you bring Spotlight to life for you and your team or clients
A set of Spotlight cards and table mat
3 free Spotlight profiles to get you started
Furthermore, as an accredited Spotlight practitioner, you will have the opportunity to learn about new developments, share experiences with the community of practitioners, and hone your skills at refresher days.
Official certificate from Mindflick® and accredited Spotlight practitioner status for one year.
Who should attend the program?
The SpotlightPROFILE® Accreditation course is suitable for anyone looking to develop the adaptability and performance of those they work with. It is particularly suited to:
Professional and executive coaches
Career and leadership coaches
HR/ Learning & Development professionals
Performance psychologists
Business consultants