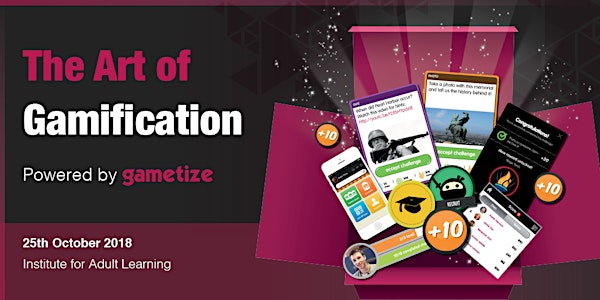 The Art of Gamification Workshop, powered by Gametize
When and where
Location
Breakthrough Room, iN.LAB #05-03 Lifelong Learning Institute 11 Eunos Rd 8 Singapore 408601 Singapore
Description
Update: The event is almost fully subscribed, so please do ensure you sign up before you attend, and if you will be joining late, please drop us a mail to academy@gametize.com so we can plan for your attendance and a bigger room.


---

In collaboration with iN.LAB, Gametize is proud to present The Art of Gamification, a complimentary workshop to bring out the "game designer" in anyone.
Great for you if you are:

In-house HR Professional (Talent Acquisition, Employee Engagement, L&D, etc)

External HR Consultant looking for engagement tools
External Trainer looking for engagement tools
Thinking of creating a community advocacy compaign
Thinking of using gamification for all sorts of use cases, e.g. CSR, environmental causes, mental health
What you can expect:
Gain a working knowledge of what gamification is

Identify an audience (either within or outside of their organizations) to target and engage using gamification

Learn how to design gamified experiences using Gametize's design framework to meet your strategic goals (marketing, HR, learning, etc)

Create a prototype gamification campaign on web/mobile by end of this 5 hours.


What is Gamification?
Gamification is the application of game psychology and game mechanics into real life or non-game settings which has been increasingly used to address the lack of engagement in various businesses today with proven results.
In this age of connectivity and social media, orthodox means of engagement and motivation are increasingly defunct. Managers, marketers, and educators are struggling to engage employees and consumers alike with boring engagement solutions, and this disengagement extends to many business areas such as compliance training, safety and health, innovation management, and culture building.
In this 5-hour workshop, Gametize (http://gametize.com) will be illustrating how we and other organizations have used gamification to solve different engagement issues in various industries and use cases and maintain through the exploration of gamification frameworks, case studies, and a practical hands-on session.

What you will learn
12-12:30PM: Introduction to Gamification
Learn what gamification is and examples of gamification.
12:30-1PM: Gamification Use Cases
Explore gamification case studies from Gametize and other organizations across various industries.
1PM-1:30PM: Motivation Design Frameworks
Learn the science behind motivation and about the essential motivation design frameworks.
1:30-2PM: Build your Gamification Strategy
Using the motivation design frameworks, build your own gamification strategy.
2-5PM: Gametize Prototyping (psst... this is the highlight of the day)
Learn how to use the Gametize.com platform to prototype your gamification experience.

About your facilitators
Firly Yusmal (Lead for Project Management, Client Engagement)
Firly is Gametize's go-to person when it comes to thinking up of the best solutions for engagement solutions and fix-its for our clients. He also is in charge of Gametize's analytics and data visualization (i.e. finding the best way to analyze user data to make it useful for people using our platform).
Prapim Chutaprutikorn (Lead for Academy, Lead for Creatives)
Prapim is Gametize's resident creatives person and instructional designer, and has extensive experience as a mentor and an instructor for both children and adults. Her first experience as an instructor was teaching art to children, and she has since transitioned to designing learning materials and experiences for corporate training programs.
*Registration closes on Wednesday 24th of October 2018.

---
FAQs
How do I get there?
This workshop will be conducted at iN.LAB at the Lifelong Learning Institute (closest MRT station is Paya Lebar MRT, which is only 5 minutes away).
Take the lift at Lobby B to Level 5 and you'll be able to find us in the open area. Do make sure to arrive at least 10 minutes before the workshop so we have time to register you (just look out for the people in the Gametize shirts).
What should I bring to the event?
For this workshop, you'll need to bring your own smartphone, and a laptop or tablet - you'll be creating your gamification experience with these (we won't be providing you with your own).
Also bring along your Eventbrite pass so we can check you in when you arrive.
Please also note that we won't be providing lunch, so bring your own food - there are light refreshments available at the venue, and that it can get quite cold, so make sure you bring along a coat or jacket too!
How can I contact the organizer with any questions?
Feel free to drop us an email at enquiry@gametize.com for any questions you have. Otherwise, we'll get in contact with you via email before the event with more details on the workshop.
What if I can't make it on this date?
If you can't make it on this date, we'll have many more dates coming up. Just register yourself at corp.gametize.com/workshops to stay updated on our workshops! We will also be streaming this session online at this link and recording the session.