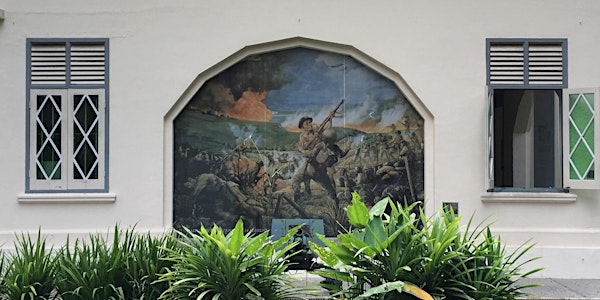 The Battle of Pasir Panjang Commemorative Walk 2020
When and where
Location
University Cultural Centre - National University of Singapore 50 Kent Ridge Crescent Singapore, 119279 Singapore
Description
A walk with NUS Toddycats, volunteers of the Lee Kong Chian Natural History Museum, National University of Singapore. All are welcome. Please cancel your registration if you are unable to make it as rthere is a waiting list.
It is 13th February 1942, and the Japanese Imperial Army which stormed through Malaya turn their attention to Pasir Panjang Ridge. Approaching Singapore City from the west, a seasoned Japanese army is forced to engage the small force of the Malay Regiment on the high ground of Pasir Panjang Ridge.
A fierce battle is put up by men of the Malay Regiment amidst the confusion of aerial and artillery bombardment, smoke of a burning fuel dump, loss of communications and the early deaths of senior officers who had moved about to keep their men coordinated.
They would battle on for nearly two days and the company is wiped almost to the last man by the numerically superior Japanese on the eve of Chinese New Year.
The next day, on 15th of February, 1942, General Percival marches down Bukit Timah Road to surrender to General Tomoyuki Yamashita of the Japanese Imperial Army at the Ford Factory.
The National University of Singapore is built on part of the old battleground and its forest still contains a 1930's military outpost which strategically oversees Jurong, Bukit Timah and Singapore City. In 1954, the Pasir Panjang ridge was renamed 'Kent Ridge,' and the old stone marker which commemorates this event persists to this day at the Gap, though it is often overlooked.
The account of the heroic battle left a strong impression on the Pasir Panjang Heritage Guides, so we have humbly commemorated the Malay Regiment's defense of the ridge every year since 2002. We share with you stories about the Battle of Pasir Panjang, the geography, history and the flora and fauna of the area that first drew us to explore the ridge decades ago and explain how the ridge got its name.
Our trail takes us from the National University of Singapore to Kent Ridge Road and the The Gap. We then make our way to Kent Ridge Park and end at Reflections of Bukit Chandu (note that this is closed for renovations until 2021).
Everyone is welcome – you must wake up early enough to join us at 7.00am and are physically fit enough to walk 5km at a moderate pace over five hours and climb lots of stairs!
The day of the walk
Meet us at the entrance of the University Cultural Centre in NUS at 7.00am [map]


This is a five hour walk and February is a hot month, so please wear good walking shoes, and bring at least a litre of water and some sandwiches or snacks, and a hat or umbrella in case of sun.

Rain is always possible so do bring an umbrella and waterproofing for your barang-barang! If sensitive ot mosquitoes, bring insect repellent.
Links

Click the map for a larger view or see Google Maps