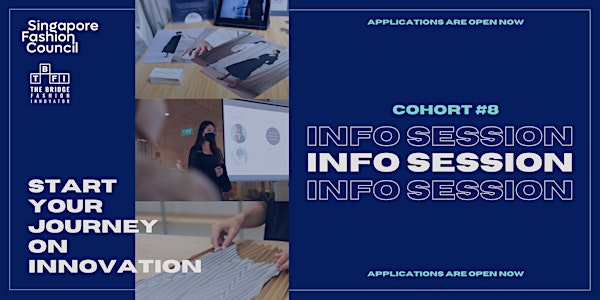 The Bridge Fashion Innovator (TBFI) | Cohort 8 Info Session
Join the Info Session with your questions about TBFI Programme and we will address it over a virtual Q&A Session.
About this event
LEARN MORE ABOUT THE BRIDGE FASHION INNOVATOR (TBFI)
Where Ideas Ignite.
The Bridge Fashion Innovator (TBFI) is a regional Fashion and Lifestyle innovation hub that bridges the gap between Fashion, Technology and Sustainability.
Supported by the Singapore government, the 8-week Bootcamp is a structured programme that identifies and grooms early-stage startups in the Fashion and Lifestyle sector to refine and validate their products, services or solutions; as well as business and commercialisation strategies through knowledge transfer from industry mentors and a series of design thinking workshops. Our aim is to bring these businesses closer to market and investor readiness. Beyond the bootcamp, participants will also be exposed to the innovation community through networking and events, equipping them with the knowledge, tools and opportunities for business partnership and continued fundraising.
TBFI COHORT 8 KEY DATES & LINKS:
Application: From now until Mon 6 February 2023, 11:59 pm SGT / GMT +8.
Submit applications here
8-week bootcamp: Mon 20 Feb - Fri 12 May 2023
Follow TBFI LinkedIn: https://linkedin.com/company/tbfi
Visit TBFI webpage: https://www.sgfashioncouncil.org.sg/business-incubation-programme/
WEBINAR AGENDA:
4:00pm-4:05pm: Attendees join Zoom meeting.
4:05pm-4:30pm: TBFI Cohort 8 presentation by TBFI Team
4:30pm-4:40pm: Q&A
4:40pm-4:50pm: SFC membership presentation
4:50pm-5:00pm: Q&A
5:00pm: End of webinar.
ABOUT SFC:
The Bridge Fashion Innovator (TBFI) is an initiative of Singapore Fashion Council.
SFC is a non-profit trade association that brings together leaders across multiple sectors to bolster the fashion industry both in Singapore and internationally. SFC actively works to develop the entire industry, positioning Singapore as an innovative fashion hub in Southeast Asia centred in Technology & Innovation, Sustainability, and Asian Craftsmanship. Working closely with the Singapore government, SFC is working to position Singapore as an innovative fashion hub in SEA. SFC further champions programmes that build capability, expand Singapore's fashion and textile businesses internationally, and promote environmentally friendly business practices. With strong local and international networks, SFC is able to raise the visibility of local fashion brands and businesses at home and overseas.