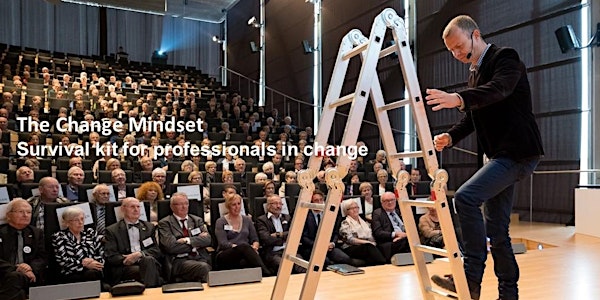 The Change Mindset
Survival kit for professionals in change
By Belgium Luxembourg Chamber of Commerce (BLCC)
Date and time
Thu, 8 Oct 2020 03:00 - 04:30 PDT
About this event
Dear members,
Welcome to BLCC and FBC joint webinar on The Change Mindset!
Every day, we're confronted with new challenges: global competition; demanding clients; new technologies; ... We need professionals who dare to leave their comfort zone and suspend their judgement. We need professionals who explore the world from a different perspective and can turn problems into opportunities. We need professionals who get into action and who aren't scared to fail fast, often and forward by experimenting with Nano actions. Are you one of those professionals?
YES ... suspend your judgement to break fixed thinking patterns.
AND … explore the world from a different perspective to generate new ideas.
ACT … take small actions because the key to real innovation is doing experiments & fail fast, often & forward.
In this interactive and entertaining presentation (yes, even in the online version), you will get the spark, tools and language to influence others to be more creative & entrepreneurial and give a big boost to your own Change Mindset. Yes And Act … Now. And did we mention yet that Cyriel is the founder of NoMoreBoringWebinars so during this session you will get access to his favorite methods to create more interaction, engagement and fun during online, live sessions.
The webinar is complimentary for both BLCC and FBC members. FBC members, please, register via FBC event registration.
Non Members pay $25
The webinar is a public Zoom meeting event and organizers reserves the rights to tag the participants and post event photos on social media (Please let us know if you would not want your name of picture published. You will receive Zoom meeting link with a password at the afternoon on October 8, 2020.

Become a BLCC member prior to this event and immediately enjoy:
the discounted member rates,
free entrance at our Opening and New Year's receptions,
access to delegations from Belgium & Luxembourg visiting Singapore
and of course our BLCC business network.
For more info, please explore our website www.blcc.org.sg
Confidentiality Notice:
Photos taken from the event may be use for publicity purpose.
See you there!!

About the organiser
BLCC SUPPORTS BELGIAN AND LUXEMBOURG BUSINESSES AND PROFESSIONALS IN SINGAPORE
BLCC, the Belgium Luxembourg Chamber of Commerce in Singapore, supports Belgian and Luxembourg businesses and professionals in Singapore. We offer visibility and networking opportunities to our members as well as to other professionals in Singapore actively involved in or seeking business with Belgium or Luxembourg. Our goal is to expand business opportunities between those parties and develop business relations with local and regional actors.
Visit our website for more info and details!