We will present a headline summary of our brand new research into the most suited leadership traits and skills for the decade ahead
About this event
A brand new research project to define the leadership dimensions most suited to preparing our organisations for tomorrow; today.
Our webinar will:
> highlight the research outputs from across 27 countries, incorporating both leader and employee research responses.
> present case studies, emerging best practices and leader role-modelling
> summarise suggested actions for leaders to build the traits and skills most suited for the decade ahead
Background:
The perfect storm of factors is impacting business and leaders – digital transformation, workforce transformation, dispersed working, hyper competition and increasing uncertainty are challenges business leaders are tackling. some more successfully than others.
At times like this, new leadership approaches and styles can often trump more traditional ways of working, as we have witnessed through the COVID19.
This is leading to an emergence of a brand new leadership framework for the next decade and beyond. a framework that is more human-centred, flatter, more empowerment minded, enabled by the appropriate technologies – to unleash the human potential within our organisations. this, in turn, will ensure everyone is focused on short term performance and longer term business health. The purpose of our researchOur survey goal was to understand the emerging leadership best practices and watch outs, as our organisations and people continue to transform.
The outcome of the research From research insights must come action. Our aim across the research and within the White Paper, has been to provide the new insights and to suggest actions, next steps and share emerging best practices.
We want our research to be useful, practical and action-oriented. In fact, as a result of the research itself we have created a brand new framework for success, creating 'future-now' leadership must do's. In essence, the new DNA for what a future leader needs to model, today. We call it The Enlightened Leader© Model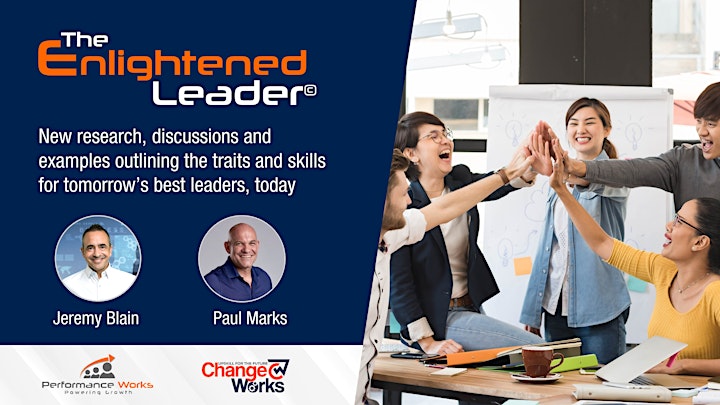 Organiser of The Enlightened Leader© - Research and Action Briefing
Jeremy Blain is an award-winning business leader, a recognized International GameChanger™ and a human capital expert. He is also CEO of Performance Works International, a professional consultancy that helps traditional organizations transform into dynamic businesses ready for the demands of the future. Over the past 20 years, Jeremy has supported businesses in most major markets in the world. He has helped leaders and teams drive cultural shifts that respond well to the fast-changing digital era. Jeremy lives in the UK.