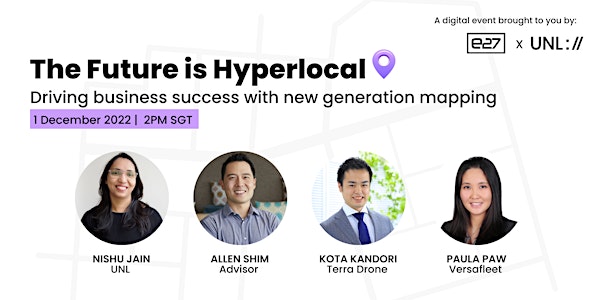 The future is hyperlocal
Driving business success with new generation mapping
About this event
With an increased demand for hyperlocal services in Southeast Asia, so comes increased reliance for businesses in various sectors on accurate mapping.
But with 75% of the world is badly addressed and 4 billion people unaddressed, companies are facing operational challenges that snowball from inaccurate addressing.
We have invited industry leaders to talk about addressing and how technology today can help us solve issues that come along with it.
Allen Shim is currently an advisor and angel investor based in Singapore. Prior to this, he was Chief Financial Officer of Slack where he was responsible for Slack's financial management strategy, which included overseeing global operations, finance, administration, and IT.
Nishu Jain is the Chief Product Officer of UNL. She has more than 20+ years of experience in ideating, strategising, and managing complex geospatial data and application products throughout the product lifecycle. She's currently heading product management of UNL's next-generation micro-location and mapping technology.
Paula Paw is the CEO of Versafleet. Paula works closely with customers to help digitalize their supply chain and how to gain end-to-end visibility. Paula also conducted market analysis to help determine determined suitable markets for new entry or expansion and analyse & track team performance metrics to support business growth. Additionally, Paula has led partner strategy for various ASEAN markets, cultivating partners for product implementation & system integration.
Kota Kandori, after graduating from Hitotsubashi university, joined Terra Motors since its founding and served as director of various countries, mainly overseas. He has been involved in the founding of Terra Drone as Head of Overseas Business Development.
In this digital event, we will cover:
What does it mean to be a hyperlocal business today
What are the key opportunities and challenges faced by hyperlocal businesses
The key role that accurate data and mapping plays in your business operations
The challenges and cost of inaccurate data and how you can solve this
The future of maps
The event will also feature a real-life case study of how UNL is helping companies in Indonesia execute the hyperlocal model successfully.