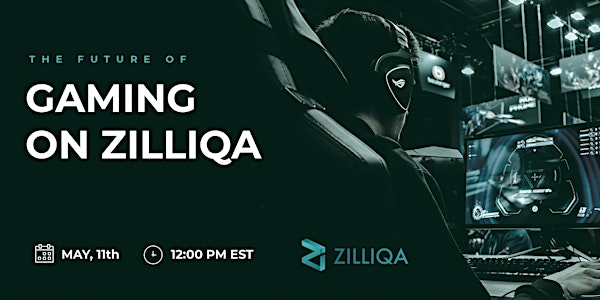 The Future of Gaming on Zilliqa
The P2E has been dominating the blockchain conversation over the last year.
About this event
The topic of Play-To-Earn (P2E) Gaming has been dominating the blockchain conversation over the last year. Yet, P2E is still in its infancy when it comes to games people actually want to play, and which can compete with and even be superior to their non-blockchain brethren.
The size of the traditional gaming market is estimated to be over 400 billion dollars globally, and it is ripe for disruption.
Zilliqa's state-of-the-art blockchain allows for lightning fast speeds and microtransactions, which makes gaming an ideal use case that you won't want to miss out on.
"NFT-powered play-to-earn games are revolutionizing the gaming world, with many gamers now earning a living playing titles like Axie Infinity. " - Decrypt
With gameplay in mind, Zilliqa is providing the platform and tools that will allow developers to create the next generation of Play-To-Earn games - games that people actually want to play.
Want to know more about what's coming?
Join this event for a sneak peak at what's coming to Zilliqa gaming pipeline.
Where? Online (RSVP required)
When? May 11th, 12pm est
In this session, get a behind the scenes look at what's cooking in Zilliqas game studio.
Don't miss out! Join us for a fireside chat with Tom Fleetham and Valentin Cobelea; Tom is leading our Esports & Gaming Department, and Valentin is at the helm of our Gaming Technology.
Zilliqa Speakers:
Moderated by Kevin Meyer: Former Pro Gamer on Team Epic (Counter Strike Global Offensive)
Tom Fleetham comes to the blockchain world with over a decade of experience at Fortune-500 tech giant IBM, where he most recently held the position of Sports and Entertainment Lead. He was responsible for delivering digital transformation and developing partnerships with global brands across sports, gaming and esports. Fleetham is committed to building products for the esports and gaming sector and will help Zilliqa scale up its partnerships in the next phase of its growth.
----
Valentin Cobelea has worked in the software development and gaming space for more than 20 years. Through the years he worked with the number of major companies, including AAA gaming studios. He is bringing new range and expertise to ZIlliqa's P2E vision.
Are you excited? RSVP and grab your spot.