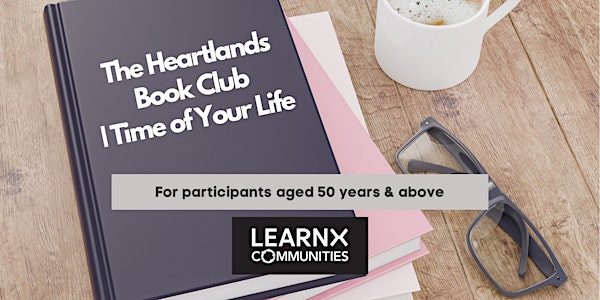 The Heartlands Book Club: You Might Want to Marry My Husband | TOYL
Read together with The Heartlands Book Club, a dedicated club for book lovers.
By GoLibrary | National Library Board, Singapore
Date and time
Fri, 24 Feb 2023 17:00 - 18:30 +08
Location
Bukit Batok Public Library - Activity Room 1 Bukit Batok Central Link West Mall #03-01 Singapore, 658713 Singapore
About this event
About the Programme
Hear from the author Mary Yap as she offers insight into the common experiences of girls and women in Malaysia and Singapore over the last 75 years through this intimate collection of personal stories.
From the convent sisters in Malacca who educated her and fellow classmates about sex, to grappling with issues of life and death, and even recalling memories of the unforgettable men in her life, this book captures the richness of Mary's experiences. Look forward to hearing more about the interesting characters she has met over the years in this heartfelt series of short stories. 
About the Author
Yap Swi Neo, Mary is the author of You Might Want to Marry My Husband: Reflections from Life. The book is a collection of fifteen short stories exploring her journey through womanhood in Malaysia and Singapore.
Mary was born and raised in Malacca, Malaysia, and now lives in Singapore. She is a retired educator with over 40 years of teaching in schools in Malaysia and institutes of higher education in Singapore. She enjoys recapturing her youth in stories that bring to life old Malaysia and Singapore and the struggles of women in society, which can be enjoyed by young and old alike. 
*Note: For those who wish to participate but are unable to be present physically, you can also join us on Zoom. The Zoom details will be sent via email to all registrants at a later date.
About LearnX Communities 
The Heartlands Book Club is one of NLB's many LearnX Communities that connect like-minded people to create a modern kampong of communal learning. These communities cover a wide range of topics and can be found in libraries all over the island.  
Interested? Head over to https://go.gov.sg/what-is-a-learnx-community to join an existing community or start one of your own! 
About Time of Your Life
Organised by the National Library Board, the Time of Your Life (TOYL) features informative talks, creative workshops, learning communities and resources for those aged 50 and above. Covering a wide range of topics such as Digital, Careers, Sustainability, Arts & Wellness, start your learning journey with us today. Visit https://go.gov.sg/toyl for the full programme listing and check out our dedicated publication at https://go.gov.sg/50plusmag.
Please note the following: 
All participants are required to register for a ticket. Each ticket admits 1 person only. Please present your ticket when you enter the library and the event venue. 
Arrive 10 mins before the session commences. Seats of late attendees may be given to those in the waitlist. 
NLB reserves the right to deny entry to participants who do not abide by the ground rules. 
Please note that photos and/or videos of this programme and its participants may be taken.
About the organiser
The National Library Board (NLB) manages a network of 28 libraries, the National Library and the National Archives of Singapore. NLB promotes reading, learning and information literacy by providing a trusted, accessible and globally-connected library and information service through the National Library and a comprehensive network of libraries.